Commentary
Will La Liga spread the wealth?
Updated:
October 14, 2010, 1:44 PM ET
By
Graham Hunter
| Special to ESPN.com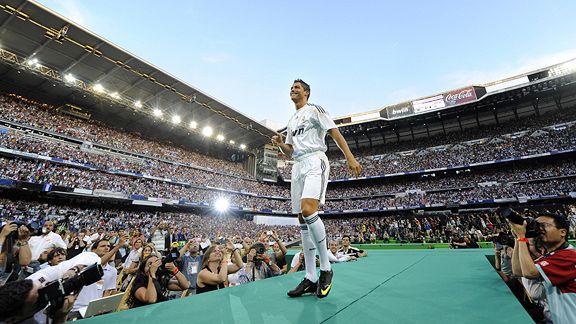 Dani Pozo/AFP/Getty ImagesLike its rival Barcelona, Real Madrid has been able to afford the best players money can buy. But will the league try to level the playing field?
BARCELONA -- Whisper it, in these troubled geopolitical times, but Spain is getting ready to invade China.
The fact that sports economists predict that there is at least $210 million to be gained by the Spanish clubs if they market and sell a properly structured package of television rights to China has been a galvanizing force in the Primera Division.
Spain does not have a coherent sales structure for Primera Division rights in China -- or any other important part of Asia. The problem is that, unlike their major European competitors, Spain's clubs do not sell rights collectively. It's every club for itself, so to speak.
Although massive entities such as Manchester United, Arsenal and Liverpool would benefit from selling their own global match rights, the clubs are bound by Premier League rules to join in collective bargaining. Although that does limit the amount these megaclubs could earn individually, collective bargaining has had two key benefits in the EPL. First, because the Premier League is marketed as one entity, foreign markets buy into the total product and not just a small handful of clubs. This raises the overall profile of the league and brings in more money. The EPL is far ahead of La Liga in this respect.
Second, the collective bargaining agreement shares revenue among all the clubs. This means that smaller outfits such as Bolton, Wigan or Hull receive $47 million simply for avoiding relegation and a slightly smaller sum the first season of being relegated to the Championship.
In Spain, the smaller clubs are left to fend for scraps. Real Madrid's last TV rights sale was announced by then-President Ramon Calderon as being worth $1.2 billion over seven years, paid by Catalan broadcaster Mediapro. The veracity of that specific figure has sometimes been challenged by Calderon's critics, but it is generally accepted that Madrid receives $150 million per year for its television rights.
Mediapro also has the principal television rights for FC Barcelona, at a similar price, and that revenue is about 30 percent of Barcelona's annual revenue.
The other clubs? Comparatively, they earn next to nothing -- sums ranging from from a couple of million per year to $15 million for larger outfits.
You've heard this story before: The rich get richer…
This, in turn, has diminished the ability of smaller clubs to be competitive and forced them to go into increasing levels of debt.
But now, at long last, Barcelona and Real Madrid are willing to talk about collective bargaining.
Not because of altruism, mind you. Conquering Asia as a continent -- and making up lost ground on Germany, Italy and England -- means selling La Liga rights as a package. The two giant clubs are the main attraction, but as long as Atletico Madrid has Sergio Aguero, Athletic Bilbao has Fernando Llorente, Villarreal has Santi Cazorla and Joan Capdevila, and so on, the Asian consumers will want to see their games on television, Internet and mobile devices.
The fact that the next El Clasico between Barca and Madrid was under consideration to be played at noon, Central European Time, so as to hit Asian television prime time, suggests how serious this issue is becoming.
And next summer will see the launch of the International LFP Cup in Asia. It's an exhibition with three Spanish sides competing against a local team. The competition is scheduled to rotate between countries such as China, Japan, Indonesia, Malaysia and Korea.
For Barcelona and Madrid, the greater good of the league is now more acceptable -- as long as the overall cash pot can swell dramatically through a coherent sales and marketing strategy in Asia (and, for that matter, North America).
Of course, hashing out the short strokes of a collective bargaining agreement will be challenging. The latest proposal put forth that the two biggest clubs would share 34 percent of the global sum (down from Barca and Real's originally proposed 50 percent), Atletico Madrid and Valencia about 11 percent each, with the remainder of the clubs on a sliding scale depending on league position, trophies won and number of appearances in national or international live matches.
Most clubs approved of the movement in concept, but too few of them like the formula. Sevilla and Villarreal, naturally, consider themselves to deserve a place apart from the "also-rans" and want to be ranked with Atletico and Valencia.
Negotiations recommence Oct. 22. And although any new formula wouldn't be due to kick in until the end of 2013-14 season, something very precious for the future of Spanish football is at stake when the clubs sit down at the bargaining table again.
Show no gratitude
League champion Barcelona faces league leader Valencia on ESPN3.com and Deportes this weekend. Don't miss it for any reason.
Since I moved to Spain, Valencia has done some damage to FC Barcelona. Los Che knocked Barca out of the semifinals of the Champions League in 2000 and the Copa del Rey in 2008. In between, Valencia has four draws and two wins in La Liga competition at the Camp Nou.
But Barca fans owe Valencia a debt of gratitude. I was at the game in January 2003 when Rafa Benitez's Los Che won 4-2 at the Camp Nou. After months of dismal football, it was the final straw. Almost 90,000 people waved white hankies and chanted "fuera, fuera" at Barcelona president Joan Gaspart, who stood masochistically and rigidly as he took the abuse in the directors' box. A few days later, he resigned and, by the end of the season, Joan Laporta won the presidential elections. Frank Rijkaard became the new coach; Ronaldinho joined the club; and a new era began.
Four Spanish league titles, two Champions Leagues titles, one Spanish Cup, a World Club Cup, and four SuperCups later, it seems that humiliation at the hands of Valencia was a vital catalyst for the modern Barcelona.
But this is no time for gratitude. Shaky at home against Hercules, Mallorca and Sporting Gijon, it's time for Pep Guardiola's team to show its more recent form against Valencia -- 6-0, 4-0 and 3-0 in recent seasons. Can the champions reassert their authority?
Graham Hunter is a Barcelona-based freelance writer for ESPN.com who specializes in La Liga and the Spanish national team.
Spain writer
Graham Hunter is a Barcelona-based freelance writer for ESPN.com who specializes in La Liga and the Spanish national team.