Man U's Wayne Rooney wants out
Updated:
October 19, 2010, 2:39 PM ET
Associated Press
LONDON -- Wayne Rooney's desire to walk out on Manchester United has left the Premier League club facing the loss of a third world-class attacker in two years.
Manager Alex Ferguson said Tuesday he was "dumbfounded" at Rooney's decision not to enter into negotiations about extending his contract beyond the summer of 2012.
"We just don't know what's changed the boy's mind... I was shocked," Ferguson said. "I had a meeting with the boy and he reiterated what his agent had said. He wanted to go."
Rooney has become most marketable asset at United since the acquisition of Portugal forward Cristiano Ronaldo to Real Madrid for $125 million in June 2009. The same summer, Carlos Tevez left the 18-time champions to join cross-town rival Manchester City, one of the few clubs that would be able to afford the wages the 24-year-old Rooney will demand.
The prospect the reigning soccer player of the year in England leaving United would have seemed unthinkable last season, when Rooney scored 34 goals in the Premier League to establish himself as one of the top players.
But his form this season has dipped dramatically and his private life became the subject of newspaper allegations that he had repeatedly cheated on his then-pregnant wife with a prostitute.
Having said in March that he was prepared to sign for United "for life," Rooney is looking for an escape route from Old Trafford, which may come in January before his transfer value plummets.
"I was in the office on Aug. 14 when [United chief executive] David Gill told me he'd had a call from his agent saying that Wayne wasn't going to sign his contract," Ferguson said.
[+] Enlarge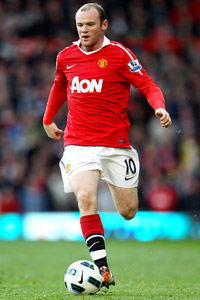 Alex Livesey/Getty ImagesWayne Rooney is adamant he wants to leave Manchester United, the club's manager, Alex Ferguson, said Tuesday.
"He said he couldn't believe it and neither could I. I was dumbfounded, I couldn't understand it at all because only months before he'd said he was at the biggest club in the world."
Following the allegations about his private life, Ferguson benched Rooney for the next game against Everton -- the club who traded him to United for more than $40 million in 2004 -- to shield him the fans' abuse. However, Rooney has continued to see limited playing time since, with Ferguson saying an ankle injury forced him to miss several games.
Rooney publicly contradicted those claims last week after playing in England's European Championship qualifier against Montenegro, saying he had not had any problems with his ankle. That sparked much speculation that the pair had fallen out, which Ferguson denied on Tuesday.
"We've never had any argument," Ferguson said. "You have to understand the mechanics of these situations when someone wants to leave the club. It's an easy one to say you've fallen out with the manager.
"I said to him, 'Just remember one thing -- respect this club. I don't want any nonsense from you, respect your club," Ferguson added. "What we're seeing now in the media is disappointing because we've done everything we can for Wayne Rooney, since the minute he's come to the club."
Despite his poor form this season, which continued on Saturday after coming on as a substitute during the 2-2 draw against West Bromwich Albion, there should be no shortage of bidders if United tries to sell Rooney during the January transfer window.
Chelsea and Manchester City are viewed as the two most likely destinations in England, with Chelsea manager Carlo Ancelotti saying Monday he would be interested in signing the player.
"If Rooney is on the market, I think that not only Chelsea but a lot of teams would be interested," Ancelotti said.
British newspapers were united Tuesday in saying Rooney would be open to a move to City, following in the footsteps of Tevez, who has flourished in his 15 months at Eastlands.
Ferguson is not closing the door on Rooney staying at United.
"David [Gill]'s prepared to offer the best terms possible for any player in the country," Ferguson said. "We realize and recognize the quality of the player, that's why negotiations were started early summer, two years before his contract was up, to extend that contract."
Rooney's immediate aim will be to get back to full fitness. He was carried off on a stretcher during training on Tuesday, ruling him out of Wednesday's Champions League match against Bursaspor.
It remains to be seen how is treated by Ferguson and United's fans as he attempts to clinch a money-spinning move away from the club.

Copyright 2010 by The Associated Press