Commentary
Where will Wayne Rooney go?
Updated:
October 19, 2010, 11:29 AM ET
By
Ravi Ubha
| Special to ESPN.com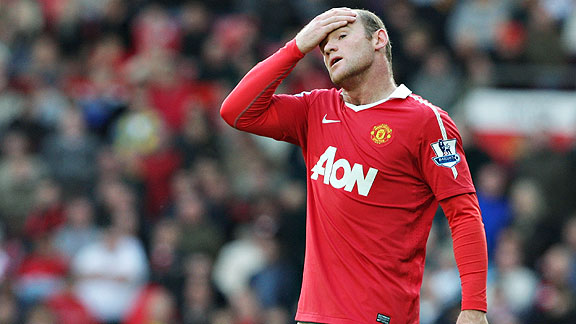 John Peters/Getty ImagesRooney wants out of Old Trafford, but where will he land? We handicap the field of suitors.
LONDON -- Given the speculation surrounding Wayne Rooney's future, Sir Alex Ferguson's admission Tuesday that the star striker wants to leave Manchester United wasn't a bombshell. But it was still a surprise.
Ferguson usually comes out swinging in such situations -- think of his rifts in the past with Ruud van Nistelrooy and Jaap Stam, for example. But the manager appeared somber in a press conference ahead of United's Champions League game Wednesday. He didn't take questions.
Now that Rooney is all but gone, where will he land in the January transfer window? He'll have no shortage of takers, with United's city rival leading the pack.
MANCHESTER CITY
Odds: 7/4
Why it might happen: Despite the fact, according to Fergie, that Rooney was offered a new deal that would be hard to top, City most certainly has the funds to go one step further. Quite simply, City is now the richest soccer team in the world. The Mirror reported that City is set to offer United $79 million for Rooney, then give the player himself a four-year contract worth another $79 million. And United, which recently announced a loss of more than $130 million, could use the cash.
Why it might not happen: United wouldn't be too keen to sell Rooney to a major rival, and certainly not one in the same city. Oh, the outrage. However, allegiance seems to mean nothing nowadays. Carlos Tevez joined City from United, Michael Owen, once a hero at Liverpool -- a club more loathed by Red Devils fans than City -- is now at United. Rooney himself was at Merseyside prior to joining United.
BARCELONA
Odds: 11/2
Why it might happen: Even with Lionel Messi, Barcelona needs some help up front to score goals, especially after enigmatic Swede Zlatan Ibrahimovic was off-loaded. Rooney has praised Barcelona in the past, coming up short against the Catalans in the Champions League final in 2009. And who wouldn't want to play for the most attractive side around?
Why it might not happen: Cash, cash and cash. Barcelona isn't in a period of massive spending, having lost $109 million in the 2009-2010 season.
REAL MADRID
Odds: 6/1
Why it might happen: Real president Florentino Perez, instigator of the Galactico era at the club, has long been a fan of Rooney. And Real general manager Jorge Valdano didn't exactly rule out signing Rooney this week. Further, two other Englishmen, David Beckham and Steve McManaman, enjoyed success at the Bernabeu. Becks would surely put in a good word for Real. And the manager Jose Mourinho loves Rooney. A swap deal involving French striker Karim Benzema, plush cash, might entice Ferguson, who wanted Benzema when he was at Lyon.
Why it might not happen: Club officials insist Real Madrid won't be signing anyone in the transfer window. Despite decreasing its net debt, it still sits at more than $332 million.
CHELSEA
Odds: 8/1
Why it might happen: Didier Drogba is one of the few strikers in the world perhaps better than Rooney, but he's over 30. So is Nicolas Anelka. Two other key members of the squad, Frank Lampard and John Terry, are 32 and 29 years old, respectively. Chelsea could use youth. Manager Carlo Ancelotti doesn't need convincing, saying this week he'd be "interested" in Rooney.
Why it might not happen: Chelsea owner Roman Abramovich has curtailed his ridiculous spending of four or five years ago. Indeed, in the last year, he's been stingy by his standards. However, now that Rooney is available, Abramovich might reopen the checkbook.
What do you think? Comment below to tell us where you think Wayne Rooney will land.
London-based Ravi Ubha covers soccer and tennis for ESPN.com.