Commentary
Roo-United, but for how long?
Updated:
October 22, 2010, 11:12 AM ET
By
Ravi Ubha
| Special to ESPN.com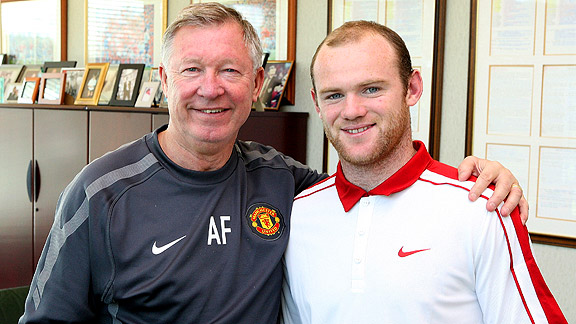 John Peters/Man Utd/Getty ImagesWayne Rooney poses with Alex Ferguson after signing a new five-year contract with the club.
LONDON -- More Manchester United fans than not are probably rejoicing now, given that Wayne Rooney changed his mind and decided to stay at Old Trafford.
One sports anchor at a prominent television station in the U.K. called it a win-win situation for United. Rooney's sure to get a hefty raise from the $140,000 he rakes in every week, while United boss Alex Ferguson gets to keep one of the most dynamic players in world football.
However, the latest development in this engrossing saga really does stink.
Rooney said in a statement Friday that he has now received assurances from United that the club has ample ambition to satisfy his career goals. Really? Recall earlier this week, when Rooney said the team's lack of desire to sign new players was the reason he wanted to go.
What changed? How was he convinced now? What new line did Fergie give him?
Ferguson has always been bullish with players who have revolted, in one way or another, in the past. Think David Beckham, Ruud van Nistelrooy and Jaap Stam. They were all off-loaded, and rather unceremoniously at that.
By essentially giving in to Rooney -- and I don't see it as vice versa -- this sends a message to Rooney's teammates: If you're not happy and want a raise, make a stink; Fergie will crumble and you'll be handsomely rewarded.
Indeed, there's been some debate as to how Rooney will be received by his teammates. He didn't need to apologize to them, as he did Friday. They should be thanking him, since he demonstrated a clear road map to a bigger payday.
But what United legends Ryan Giggs and Paul Scholes -- consummate, unfussy pros -- are thinking is another story. Ferguson's stance is an insult to the duo.
And really, how long is it before Rooney leaves anyway? When a player has the desire to say goodbye because of doubts about his club, he usually ends up bolting. Do you believe that Rooney is now fully satisfied with United? Will the Red Devils start buying up big-name players to put around the England striker, when in fact they haven't reinvested much of the 80 million pounds they received for selling Cristiano Ronaldo? Last anyone checked, United is still heavily in debt and in no position to go shopping.
Recent history suggests Rooney might still be headed out of Old Trafford before his new five-year contract expires. For what seemed like eons before Patrick Vieira moved from Arsenal, he was linked with greener pastures. He took off for Juventus.
Thierry Henry was linked with a move to Spain for years when he was in his prime at Arsenal. Guess what? He left, too. A current Gunner, classy midfielder Cesc Fabregas, will likely join Barcelona sooner rather than later, despite Arsenal manager Arsene Wenger's claims Thursday that Fabregas is going nowhere.
Ferguson knows it first-hand. Yes, he managed to convince Ronaldo to stick around at Manchester United, but only for one more season after the player decided he wanted out. Then Ronaldo got his dream move to Real Madrid.
Manchester City, Real Madrid, Barcelona or Chelsea will have to wait a bit longer. As everyone knows, contracts of Premier League stars don't mean anything these days.
And Fergie won't be United manager in five years -- word is he'll coach for a season or two more before retiring -- so Rooney, soon to be 25, will have an easier exit strategy when SAF isn't around.
The question Tuesday was why Rooney wanted to leave. Well, the real reason. The question Friday is why he changed his mind.
Rooney and his advisers obviously saw the uproar they created -- Blackpool manager Ian Holloway was particularly peeved -- and must have thought about the potential loss in sponsorship bucks.
Perhaps they also didn't expect Ferguson to go public Tuesday. He never addressed the cases of Beckham, Stam and van Nistelrooy in such an open fashion before their departures. Had Ferguson kept relatively quiet, maybe Rooney would have inked a deal with another club.
We'll never know.
Rooney's ankle injury, a real one that occurred on the training pitch after a Scholes "reducer," is currently keeping him out of the lineup for the next three weeks. But he might be ready for United's clash against City on Nov. 10. How ironic.
If Rooney plays and scores, let's hope he spares us the kissing-of-the-badge theatrics.
London-based Ravi Ubha covers soccer and tennis for ESPN.com.