Commentary
A special player for the Special One
Updated:
October 26, 2010, 7:03 PM ET
By
Graham Hunter
| Special to ESPN.com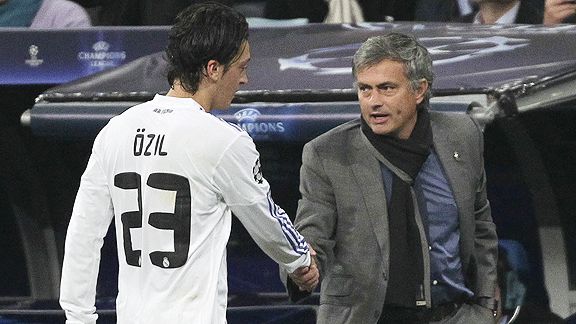 AP Photo/Andres KudackiIn Mesut Ozil, coach Jose Mourinho has a playmaker who can add a new dimension to Real's attack.
BARCELONA -- Jose Mourinho's fiercest critics reckon that the Real Madrid manager only falls in love every time he looks in the shaving mirror. But it's not true.
Sometimes footballers make him fall head over heels, and one of the last times Cupid hit home was when the Special One's heart had just been broken.
Roll back to 2007, when Mourinho and Roman Abramovich spectacularly divorced. Chelsea's Champions League draw with Rosenberg was enough to make Abramovich sack the man who, just a few weeks previously, had completed a record 64 home games undefeated.
Sitting at home nursing an expensive payoff from Chelsea's Roman emperor, Mourinho naturally tuned in to watch "his" team play Schalke 04 -- even though Avram Grant was now in charge. Mourinho was instantly brought into full attention by the play of a strangely named 18-year-old German, Mesut Ozil.
Substituted just after the hour, Ozil couldn't have been aware that he had already changed his life.
But the Special One knows a special talent, and he reached for a pen to scribble some notes, the gist of which read: Buy this guy soon.
At the time, the petit playmaker didn't look like a world-class talent the way, say, Lionel Messi, Cristiano Ronaldo and Wayne Rooney did when they were younger. But the best coaches get joy from discovering kids with raw talent and molding them into top-class players.
Ozil, of course, went on to inspire Werder Bremen to victory over Mourinho's Inter Milan, and to push Germany to the gates of the World Cup final. A creative, quick-footed and agile No. 10 had emerged on the international scene.
So when Mourinho took over at Madrid, he couldn't believe that Ozil was available on the transfer market for $19 million this summer. It mostly had to do with the fact that the player had twelve months left on his contract with Werder Bremen, after which he could sign for the club of his choice on a free transfer.
It was astonishingly bad housekeeping by Werder Bremen. It had planned to sell the player to Bayern Munich for around $30 million, but Ozil refused to go. He warned Werder that he would sit tight and leave for free at the end of his contract unless the right deal with the right club was hashed out. Game, set and match to Ozil and Real Madrid.
Mourinho would have authorized his club to pay at least another $5 million to $6 million to land Ozil. But in the end, he was ecstatic that everything worked out so smoothly.
When Ozil arrived at the Bernabeu, he didn't speak Spanish, looked paler than Andres Iniesta, was tired from the World Cup and lacked the upper-body strength that little guys such as Messi and Sergio Aguero have developed in order to maximize their abilities. In short, you could be forgiven for thinking that Ozil would struggle, at least in his first few months in Spain.
But despite all these things working against him, the German has mesmerized fans, fellow players and the media since the day he arrived.
This season, he has played in every Real Madrid match, scoring three times and notching six assists. He also handled with aplomb the hostility of the Turkish media and fans when Germany faced Turkey in Euro 2012 qualifying earlier this month. Ozil is third-generation German, but some Turks think of him as having betrayed them because of his Turkish ancestry. Although the match was in Berlin, the city's large Turkish community meant that the crowd was heavily in favor of the visitors. Ozil's response? He scored in the 79th minute to help lead Germany to a 3-0 victory.
"Germany is my country and I couldn't imagine playing for any other national team," Ozil told reporters.
Germany coach Joachim Löw said in the postmatch press conference: "I know, from experience, how much Madrid fans are going to enjoy Ozil when he hits top form. He'll be a leader for Mourinho and a rival for Messi."
In order to achieve that, along with Ozil's stated goal to AS newspaper of "winning all three major trophies because we are a hungry squad and Mourinho is the best coach," he has some work to do. His average game time is 68 minutes in La Liga and 69 minutes in the Champions League. If he had more stamina and physical power, Mourinho would use him more. Gym work lies in Ozil's future. He also needs to hit the books and learn Spanish, so he can better communicate with his teammates.
After Ozil strengthens his mind and body, Mourinho will have a world-beater on his hands and a natural replacement for the vision and technique of Jose Maria "Guti" Gutierrez.
A special player for the Special One.
Say what about Ronaldo?
A few weeks ago, I described my fury at those rent-a-quote bigmouths who were attacking Ronaldo. I said that they were wrong. But, alas, we live in an age where noise rather than quality seems to dominate football debates. Those knee-jerk opinions damage the sport we love.
Since I vented my frustrations, Ronaldo has scored eight more goals and has four assists. His critics are now calling him "divine" and "unstoppable." Be careful who you read.
Barcelona-Sevilla
This week on ESPN3, you can see Spanish champion Barcelona host a threatening rival in Sevilla. Pep Guardiola and his fitness specialists are putting a lot of emphasis into their players' physical preparation so their stamina and explosive speed will be at the peak for the next five weeks. It's a tough stretch during which Barca will have to play Sevilla, Villarreal, Getafe in Madrid, away to Panathinaikos and, of course, host Real Madrid. But first up, Sevilla, which beat Barcelona 2-1 in the Copa del Rey last season.
Graham Hunter is a Barcelona-based freelance writer for ESPN.com who specializes in La Liga and the Spanish national team.
ESPN.com freelance columnist
Graham Hunter is a Barcelona-based freelance writer for ESPN.com who specializes in La Liga and the Spanish national team.