Commentary
Feeling bullish about New York
Updated:
October 27, 2010, 9:31 AM ET
By
Jeff Carlisle
| ESPN.com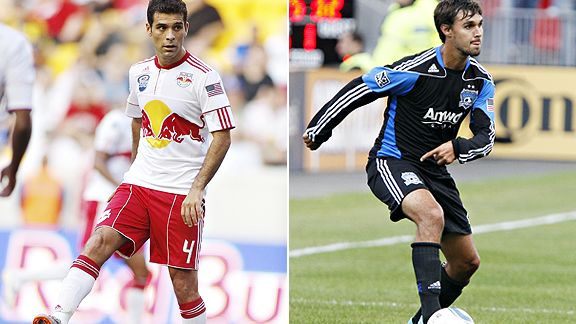 Getty ImagesWill New York's deep talent pool, highlighted by Rafael Marquez, be too much for Golden Boot winner Chris Wondolowski and San Jose?
New York Red Bulls vs. San Jose Earthquakes
Saturday: New York at San Jose, 10 p.m. ET, Telefutura, Regional TV
Nov. 4: San Jose at New York, 8 p.m. ET, ESPN2, ESPN3
One year ago, both the New York Red Bulls and the San Jose Earthquakes were complete wrecks, propping up their respective conference tables. But both teams have enjoyed significant turnarounds, with New York celebrating the sharper U-turn last weekend by finishing the regular season atop the Eastern Conference.
That is where the similarities end. While the Red Bulls have fashioned a side glittering with international stars such as Thierry Henry and Rafa Marquez, San Jose manager Frank Yallop has constructed a decidedly blue-collar outfit that has proved itself adept at winning tight matches. That said, the Quakes will enter the series as heavy underdogs to a team favored to reach the MLS Cup final.
Key matchup: New York midfielder Rafa Marquez vs. San Jose midfielder Khari Stephenson or Scott Sealy
No doubt there are flashier players on display, but this battle in the center of midfield could very well decide the series. Marquez has served as a deep-lying playmaker since arriving in August and often is counted on to help trigger the New York attack. San Jose tends to use a 4-1-3-2 formation with either Stephenson or Sealy operating centrally in front of Sam Cronin. That should allow San Jose to pressure Marquez, and help disrupt the supply line to danger men such as winger Dane Richards and forward Juan Pablo Angel.
Stephenson was one of San Jose's attacking catalysts after arriving in midseason, but the Jamaican has been struggling with his form in the past month. Not surprisingly, the Quakes' attack has suffered. That has left Yallop to try usual forward Sealy in an attacking midfield role, and he might continue that gamble in the first leg.
Players to watch: For New York: midfielder Dane Richards, midfielder Joel Lindpere and forward Juan Pablo Angel. For San Jose: midfielder Bobby Convey, midfielder Chris Wondolowski and forward Geovanni.
Ever since the midseason arrivals of Henry and Marquez, Richards has been reborn, regularly tormenting opponents on the right wing with his pace and trickery. Lindpere, whether stationed centrally or on the left, does plenty of heavy lifting and provides an effective two-way presence. Henry has been struggling with a knee injury, and manager Hans Backe told reporters Tuesday that things "didn't look good" for the Frenchman to play in the first leg. That probably will result in a greater dependence on Angel, who, given his likely exit from New York at season's end, should be plenty motivated to make a statement.
Wondolowski is easily the most surprising Golden Boot winner in league history, a feat made even more impressive by the fact that he has spent considerable time in midfield. Convey has enjoyed a fine bounce-back season, notching 10 assists on the left wing while also looking to create from more central positions. Geovanni's numbers haven't dazzled since arriving in midseason, but his classy passing provides a threat that must be respected.
X factors: New York goalkeeper Bouna Coundoul and San Jose forward Ryan Johnson
Coundoul has done plenty to clean up his game this season, but he still commits enough howlers to inspire something less than full confidence. Given the razor-thin margin that often decides two-legged series, the Senegalese goalkeeper will need to keep such mistakes to a minimum or at least hope his teammates are around to bail him out.
Johnson has only one goal this season, but his eight assists show he has morphed into an able setup man, often drifting out to the left wing to deliver pinpoint crosses for the likes of Wondolowski to finish.
Outlook: Of all the possible opponents New York could have faced, San Jose looks to be the most favorable. The Red Bulls have a clear talent edge at almost every position, especially in attack. And as great a story as Wondolowski is, his 18 goals have obscured the fact that the 34 goals San Jose scored as team are the worst of any playoff side.
Can the Quakes prevail? They could, but their game plan of being tight in defense and opportunistic in attack will need to be played to perfection. This is not a team equipped to come from behind, as its record of 1-10-1 when opponents score first demonstrates. The Quakes also must make the most of the home leg, where they have not been impressive over the past month.
A more likely scenario is that New York carries the day, even if Henry's minutes are limited. If the Red Bulls can control the center of midfield, look for Richards to have a huge impact and tilt the series firmly in New York's favor.
Jeff Carlisle covers MLS and the U.S. national team for ESPNsoccernet. He is also the author of "Soccer's Most Wanted II: The Top 10 Book of More Glorious Goals, Superb Saves and Fantastic Free-Kicks." He can be reached at eljefe1@yahoo.com.
U.S. soccer correspondent
Jeff Carlisle covers MLS and the U.S. national team for ESPN FC.