Commentary
Can Seattle stop the Galaxy's quest?
Updated:
October 27, 2010, 12:08 PM ET
By
Jeff Carlisle
| ESPN.com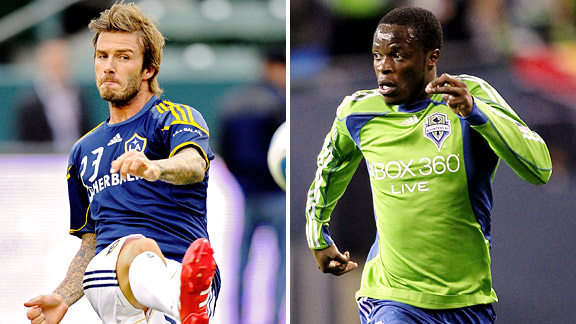 AP Photo, Getty ImagesDavid Beckham's return from injury has given the Galaxy a boost, but Steve Zakuani's Sounders have been red hot recently.
L.A. Galaxy vs. Seattle Sounders
Oct. 31: L.A. at Seattle, 8 p.m. ET, ESPN2, ESPN3
Nov. 7: Seattle at L.A., 9 p.m. ET, ESPN, ESPN3
The Los Angeles Galaxy owned the first part of the MLS regular season, while Seattle made sure the latter half was bathed in Rave Green. For that reason, this No. 1 versus No. 4 matchup is about as compelling as it gets.
L.A. finished the season with a 5-2-0 run to secure the Supporters Shield for the third time in team history, and there is a tendency to think that all is well in Galaxy-land. But the team's recent record is a tad misleading. Only one of those matches was played away from the Home Depot Center, and L.A. still managed to drop home games to playoff qualifiers New York and Colorado. The Galaxy are clearly talented, but not quite operating at their peak either.
Seattle has been scorching hot in recent months, notwithstanding the 2-1 loss to Houston in its season finale. Steve Zakuani has emerged as a Best XI candidate, while target forward Blaise Nkufo has provided another option in attack. There's also the motivation of manager Sigi Schmid, who will be looking to put one over on the club that fired him in 2004 when the team was in first place.
Key matchup: L.A. forward Edson Buddle versus Seattle center backs Jeff Parke and Patrick Ianni
Beaten at the wire for the Golden Boot by San Jose forward Chris Wondolowski, Buddle remains a key component of L.A.'s offense. Not only is he counted on to provide goals, but his holdup play and overall physical presence are invaluable for a team that doesn't have much depth up top.
Both Parke and Ianni have done well to shore up the Sounders' back line, one that was weakened by the season-ending knee injury suffered by Jhon Kennedy Hurtado. But as good as the duo has been overall, it has looked a bit shaky in recent weeks, and Ianni's history is characterized by long stretches of solid play that are undone by lapses in concentration. Both players will need to be at their best to stop Buddle, as well as Landon Donovan when he ventures into the box.
Players to watch: For L.A.: midfielder Landon Donovan, midfielder David Beckham, defender Omar Gonzalez and defender Sean Franklin. For Seattle: midfielder Steve Zakuani, forward Freddy Montero, midfielder Osvaldo Alonso and midfielder Sanna Nyassi.
Donovan remains the primary attacking conduit for the Galaxy, as shown by his 15 assists this season. And his career playoff totals of 17 goals and eight assists in 22 postseason matches reveal his ability to rise to the occasion. Beckham's return from an Achilles tendon injury has given the team a boost, and his set piece delivery remains a threat. Gonzalez has developed into one of the premier defenders in MLS, but will need to be mindful of Montero's speed.
Another intriguing matchup will pit Zakuani against Franklin. Franklin is one of the few MLS right backs with the pace to keep up with the Seattle winger, and he'll be hoping that will enable him to blunt Zakuani's considerable influence.
Montero has cooled off in recent weeks, but is clever enough to unsettle L.A.'s back line. Alonso is counted on to do the grunt work in midfield and protect the back four, while the emergence of Nyassi has proved to be a nice complement to Zakuani on the opposite wing.
X factors: L.A. midfielder Juninho and Seattle midfielder Nathan Sturgis
The Brazilian has proved to be an effective two-way player for L.A. this season, providing both solid defense and a wiliness in attack. Seattle will need to be aware of his late runs into the box, one of which resulted in a goal against FC Dallas last weekend that clinched the Supporters Shield.
Sturgis remains one of the better-kept secrets in MLS, courtesy of several years lost to injury. But the five-year veteran has not only provided some valuable link play between defense and attack, but also takes most of the team's set pieces.
Outlook: Much will be made of L.A.'s two thumping wins over Seattle earlier this season, but both of those victories mean little given that they occurred in the first half of the campaign.
What do we expect when the two teams face off on Sunday night? The attempt of each team to impose its will on the other will be a fascinating exercise. L.A.'s defense hasn't always looked secure in dealing with speedy attackers, and in Zakuani, Nyassi and Montero, Seattle has as menacing a trio as there is in the league. Will outside backs Franklin and Todd Dunivant venture forward in an effort to make Zakuani and Nyassi defend, or will they stay home?
The same question could be asked of Seattle counterparts Leo Gonzalez and James Riley, who will be primarily responsible for containing Beckham and Donovan, although given that duo's penchant for cutting infield, more help will be required to contain L.A.
So who will prevail? Seattle should come out on top in a series that will likely go down to the wire.
Jeff Carlisle covers MLS and the U.S. national team for ESPNsoccernet. He is also the author of "Soccer's Most Wanted II: The Top 10 Book of More Glorious Goals, Superb Saves and Fantastic Free-Kicks." He can be reached at eljefe1@yahoo.com.
Soccer
Jeff Carlisle covers MLS and the U.S. national team for ESPN FC.