Commentary
Cheers and booze
Updated:
November 2, 2010, 10:52 AM ET
By
David Hirshey
| Special to ESPN.com
Let's face it, one of the hallmarks of English soccer culture is the excessive drinking that surrounds it. From the legions of lager-loving louts who travel by train up and down the country on game day to the after-hours bar brawls that are sport for players on their days off, it's as much as part of the EPL as diving, take-no-prisoners tackling and WAGs.
And it's nothing new.
The sainted Bobby Moore, captain of England's 1966 World Cup champions, did TV spots extolling the virtues of pubs in the black-and-white days of TV. Spaced about a decade apart, George Best and Paul Gascoigne squandered the bulk of their talent in the bottle. And at a 2008 Christmas party, Steven Gerrard couldn't resist putting his talismanic fist into a poor DJ's mouth after his request for a Phil Collins medley was understandably rebuffed.
These days, the time-tested tradition is being proudly upheld by Newcastle's bully-boy striker,21-year-old Andy Carroll, and the British contingent on the Manchester City payroll, which includes England's No. 1 keeper, Joe Hart, as well as two of his national teammates, Adam Johnson and Gareth Barry.
The Man City Four (Republic of Ireland keeper Shay Given rounds out the foursome) took a quiet "golf" trip to Scotland last week that culminated with their swapping shots with college students long into the night and manager Roberto Mancini losing his famed suave, Italian cool.
[+] Enlarge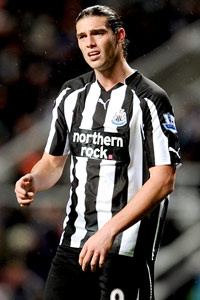 Michael Regan/Getty ImagesAndy Carroll's new bedtime, lights out at 11 p.m., is set by his new roommate, Newcastle captain Kevin Nolan.
Meanwhile, the ponytailed Carroll, who has a rap sheet as long as his hair, added another black mark recently when he was arrested for allegedly assaulting an ex-girlfriend. This followed another reported battery of a woman in 2008 and a bodily harm charge in 2009 for throwing a glass -- "His hand was wet" was his lawyer's defense -- at a fellow reveler in a Newcastle nightclub. And who can forget the countless training-ground brawls, most notably this past summer's bust-up with teammate Steven Taylor that resulted in the defender having his broken jaw wired and Carroll reportedly having hand surgery?
Taking all this into account, a Newcastle judge came up with an ingenious way to curb Carroll's booze-fueled enthusiasm, and it didn't involve anger-management classes. He ordered Carroll to move in with his captain, Kevin Nolan, until his most recent case is heard in court in January.
As far as living arrangements go, the Great Carroll-Nolan Roommate Experiment ranks right up there with Adam Sandler and Kevin James being pronounced Chuck and Larry. Only much funnier. Oh, it hasn't been complete domestic bliss -- Carroll's brand-new, chrome-plated $250,000 Range Rover was recently torched in Nolan's driveway, and obscene graffiti was scrawled on Nolan's garage -- but what co-habitation doesn't suffer the occasional speed bump? Overall, though, it looks like a stroke of genius by the judge, as it put the problem in the one place it could be fixed: the captain's front door.
Ever since the judge's edict came down last month, Nolan and Carroll have both helped resuscitate Newcastle's EPL fortunes. The 5-1 dismembering of Sunderland in this past weekend's Tyne-Wear derby -- the Magpies' biggest win over their rivals since the Premier League began -- was just the latest example of how the newfound serenity and interpersonal feng shui at Chez Nolan has translated into a fierce intensity on the field. Nolan, from his perch in the heart of midfield, scored a sublime hat trick that had it all: acrobatics (his overhead flick while seated on the St. James' Park grass), power (a confident side-footer at the back post) and predatory instincts worthy of Toon legend Alan Shearer (a ferocious header redirecting Shola Ameobi's nodded on corner).
It was everything a captain could do, and although Carroll didn't score, his aerial presence and rampaging style up top kept the Black Cats' defense on its heels throughout. This was the duo's second straight impressive performance in league play with Carroll having scored the winner, and he set up Nolan's equalizer in last week's 2-1 victory over West Ham.
Surely, this transformation can't simply be down to the strict 10:30 p.m. curfew Nolan has implemented for his hell-raising teammate, or the bedtime stories that Carroll is required to read to Nolan's young children. (He's yet to fulfill that requirement, Nolan has said.) But it does attest to the quiet faith that Nolan and Newcastle manager Chris Hughton have in the 6-foot-5 striker whose 17 Championship goals in 39 games last season helped propel the Magpies back into the Premier League after a season of pain and drama in 2008-09.
Contrast that with Mancini's teetotaling strategy of outing and shaming the Man City Four for their laddish ways -- "It's time to grow up," he exhorted Hart and Co. After witnessing the punch-drunk effort put forth by Manchester City's overpaid, title-chasing mercenaries earlier Saturday, the manager might have wished that he'd ordered the entire starting XI to room with captain Carlos Tevez until they rediscovered their winning ways.
David Hirshey

For more from David Hirshey, check out his columns on all things soccer.
• The All-EPL Team, 2011-12
• Saying goodbye to Chinaglia
• Time to dethrone King Kenny Dalglish?
• In praise of Fulham
• The comeback artists
• Call it a comeback
• Death by Manchester
• The battle for third
• Spurs' title credentials
• EPL's best starting XI
• City handed first EPL loss
• Chelsea pushed to brink
• Fragile egos crossing
• City and United
• Is Newcastle for real?
• The bad-behavior derby
Unfortunately, Carlito was back home, half a world away, recovering from a minor injury and contemplating his soccer future. If it's indeed true that the incandescent Argentine is "not enjoying the life of a footballer," Mancini has bigger problems on his hands than an egocentric, disjointed side that's a long way from upsetting the traditional EPL power structure.
None of the drinking ringleaders -- Hart, Johnson and Barry -- exactly shined against a feisty Wolverhampton side that notched its first EPL win since opening day. But what did Mancini expect? You'd think that he would be conversant with the English drinking culture after his stint at Leicester City in 2001 and that he'd know that dressing down his team in public isn't the way to inspire the players.
Instead, the distraction caused by the Scotland bender and Carlito's existential crisis becomes yet another transparent excuse for an obvious problem: the manager's negative tactics. Although there's plenty of time to fix the style of play, No Martini Mancini's first order of business should be to repair the dressing room harmony.
Perhaps he could invite his players to his house for a sleepover. It seems to cure most problems around the league these days.
David Hirshey has been covering soccer for more than 30 years and has written about the sport for The New York Times, Time, ESPN The Magazine and Deadspin. He is the co-author of "The ESPN World Cup Companion" and played himself (almost convincingly) in the acclaimed soccer documentary "Once in a Lifetime."