Commentary
Playing politics
Updated:
November 4, 2010, 9:57 AM ET
By
Ravi Ubha
| Special to ESPN.com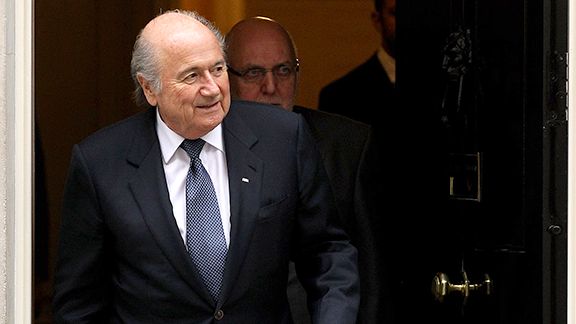 Oli Scarff/Getty ImagesFIFA president Sepp Blatter has admitted that it was a mistake to hold two bidding procedures -- for the 2018 and 2022 World Cup -- at the same time.
LONDON -- When a World Cup is up for grabs, the beautiful game turns ugly.
But when the not-so-clever brass at FIFA, led by president Sepp Blatter, decided to hold two bidding procedures at the same time -- for the 2018 and 2022 tournaments -- it only doubled FIFA's trouble. Can we really be surprised by all of the insults, recriminations and alleged shady dealings that have become front-page news over the past few months?
Even an uncharacteristic admission of error by Blatter, who said last week that the concurrent bids weren't a good idea, didn't delay the scheduled Dec. 2 vote in Zurich to see which countries will host the tournaments. Given all the controversy, somewhere more chaotic seems fitting to make the announcements.
"We all underestimated the passion for the game around the world," Mohamed bin Hammam, president of Asia's soccer federation, said on his website. "We miscalculated how much football has influence over the feelings of people."
Yet the 2018 and 2022 hosts will still be unveiled, leaving seven bidders to ponder what might have been.
Lord Triesman got the ball rolling in May. According to the Mail on Sunday, he told a former assistant that Spain, which is teaming up with Portugal, would pull out of the 2018 race if rival bidder Russia helped them pay off referees at the World Cup in South Africa. Not the behavior you'd expect from an England bid chairman. Triesman duly resigned. Rumblings of collusion between nations persist.
In the single most damning incident, two members of FIFA's 24-strong executive committee, which decides where the World Cup will be held, are being investigated in a votes-for-cash scandal. The usually conservative Sunday Times engineered a sting that broke the story, more than deflecting the heat from Triesman's faux pas.
"When it comes to FIFA business, I'm a little bit of a conspiracy theorist," ESPN analyst Shaka Hislop, a former keeper with West Ham and Newcastle, said in a phone interview. "I've never believed FIFA is as clean as they would like us to believe. These things have been going on pretty much every single bidding time, but it's been more prominent because we've had double the dealings we had in the past."
Double the dealings and no foregone conclusions, unlike the bidding for 2010 and 2014. Blatter realized his vision of giving a World Cup to Africa -- albeit four years later than he wanted -- with South Africa the only viable option. If Dec. 2 figures to be the most nail-biting day in the history of Cup announcements, the fight for 2014 was anything but. Brazil was the only candidate in the end, winning by default. No one, of course, was complaining.
England, described as the home of football, and the U.S. are the front-runners to host the 2018 and 2022 showpieces, respectively. England's competition is all from Europe, with Russia mounting the biggest challenge. Belgium and Netherlands have joined forces as potential dual-hosts, though at this point they look like a long shot. The U.S., meanwhile, is going up against Qatar, Australia, Japan and South Korea.
The U.S. withdrew from 2018 contention the same day England bailed from 2022, which raised the eyebrows of Iberian bid chief Miguel Angel Lopez. But throwing stones from a glass house is always tricky, as Lopez is under fire, too. FIFA is investigating allegations that Qatar agreed to trade votes with Spain and Portugal.
Away from the claims of collaboration, Russia's head honcho, Alexei Sorokin, who was admirably quiet when the Triesman saga unfolded, last month slammed London for its crime rate and youth drinking culture. A Russian politician has since apologized.
"I get a little bit disappointed with all of the ducking and diving," Tony Cottee, a former English international striker and now broadcaster, said in a phone interview. "It's just very messy. You just worry that things aren't going to turn out the way you expect them to because sometimes I think people have ulterior motives. I don't think it's turned out right for FIFA. It will cause a few surprises when the actual destinations are announced."
More twists could follow before December. The BBC's "Panorama," a news show similar to "60 Minutes" or "Dateline NBC," plans to air a report on the bid process, several English newspapers reported. Anything negative, which seems inevitable, and England's chances may dip. After all, attacking FIFA in an already vulnerable spot won't go down well with the executive committee.
But the plot thickens. On Wednesday, Danny Jordaan, heading South Africa's bid for 2006, revealed that he tried to persuade England to bail in the bidding of that tournament. In return, he said, Nelson Mandela would endorse a future England bid.
How will it all end? It's anyone's guess.
"With Sepp saying he still has some business to finish, you wonder what next he'd like to accomplish," Hislop said. "I wonder if he wants to deliver football to one of the far reaching corners of the world. We haven't seen an Eastern European country host it. I think Russia may be on his mind. For 2022, the U.S. is the favorite, but I wonder if he isn't thinking about Australia, which hasn't hosted it."
The days of giving tournaments to the most solid bid, if they ever existed, seem long gone. Bin Hammam, for instance, told reporters in July that if his Qatar was out of the running, he'd vote for another Asian country instead of the U.S., which by most accounts has put together a very strong bid given the growth of the game and, in particular, MLS in the country.
Thanks to the furor stemming from the Sunday Times story, Bin Hammam's revelation appears tame.
"Collusion will always have a chance to happen as far as two bids will be decided together, but we all pray that no corrupted collusion will find its way to the bids," bin Hammam said on his website.
Looks like it may be too late.
London-based Ravi Ubha covers soccer and tennis for ESPN.com.