Commentary
Bale spurs Tottenham
Updated:
November 5, 2010, 3:44 PM ET
By
David Hirshey
| Special to ESPN.com
As an Arsenal fan, I often try to fathom what it must be like to support the third-best team in London, forced to look up the table every week at the Gunners and Chelsea. "Poor Spurs fans," I muse with fiendish delight, "no wonder they suffer from a massive inferiority complex."
But this season has introduced a new emotional spin cycle into their lives, something akin to a bipolar soccer disorder -- maniacal Bale-esque highs swiftly followed by bouts of Crouchian depression. From game to game, Spurs fans don't know what they're going to see: the team that hasn't won away in 67 games to Manchester United, Chelsea, Arsenal and Liverpool, or the one that left the Champions of Europe chasing shadows?
Take the past couple of weeks, for instance. A thrilling late, late show by Gareth Bale, this month's World's Greatest Player Of All Time, salvaged Tottenham's dignity in a 4-3 loss to defending Champions League conquerors Inter Milan in the San Siro, only for Spurs to revert to their slapstick selves (albeit with some help from referee Mark Clattenburg) in a 2-0 capitulation to United at Old Trafford four days later. (Some newcomers just can't handle the Champions League high.) And then, just when everyone (OK, Arsenal fans) was thinking "same old Spurs," they produced the most devastating 90 minutes by an English side in Europe this season, decimating Inter 3-1 at White Hart Lane to go to the top of their group.
So the question must be asked: Will the real Tottenham team please stand up? Or fall down, as the case may be.
[+] Enlarge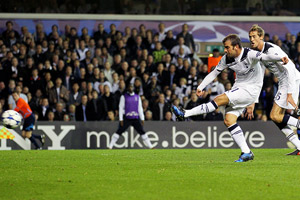 Clive Rose/Getty ImagesRafael van der Vaart has scored six goals in five games at White Hart Lane.
Even manager Harry Redknapp -- who is always happy to dispense his Cockney aphorisms ("Samassi Abou don't speak the English too good") for the benefit of a lapdog media -- is at a loss to explain Spurs' schizoid play. In its last six Prem matches, Tottenham has three wins, two loses and a draw. But Old 'Arry would much prefer to talk about Bale -- "There can't be a better left-sided player anywhere" -- and who can blame him? The 21-year-old Welshman has had a mind-blowing month with back-to-back Champions League masterpieces against the top team in Europe.
On Tuesday, Bale's display of speed, skill and fearlessness reduced the formidable Maicon, widely regarded as one of the world's top defenders, to a virtual statue, triggering mocking chants of "Taxi for Maicon" from the delirious crowd at White Hart Lane. By running full-tilt at the Inter right back and then simply pushing the ball ten yards ahead of him, he dared the Brazilian to catch him. But all Maicon caught was flak from his manager Rafa Benitez, who's still wiping egg off his face after proclaiming before the game that Bale wasn't "unstoppable." Try telling that to Maicon, whose self-confidence was last seen floating somewhere in the English Channel.
It didn't take long for the British tabloids to spread fear and loathing throughout North London by claiming that every major club in Europe was ready to back up the Brinks truck to hijack the baby-faced Mum's boy from Cardiff. Imagine how relieved Redknapp was to hear Bale pledge his undying fealty to Spurs after the Inter victory, but -- perhaps mindful of Wayne Rooney's famous "Once a Blue, Always a Blue" pledge to Everton -- Spurs boss is taking no chances. According to a report in the Daily Mail, Tottenham is planning to offer Bale a hefty increase on his almost-paltry $48,000 weekly salary and extend his contract, which currently runs until 2014.
It's hard to believe that this is the same player who could barely get a game under Redknapp's predecessors Martin Jol and Juande Ramos, and who played 25 times for the club without experiencing a single win. The turning point came last season, when Redknapp, realizing that Bale's natural inclination to rampage forward from his fullback position was leaving Tottenham exposed at the back, shifted him into a winger's role free of defensive responsibilities. Now he can focus on what he clearly does best: galloping up the left flank and destroying opponents with pace and curling crosses so sweet that even the clownish figures of Peter Crouch and Roman Pavlyuchenko can't fail to convert. "Everyone is so scared of Bale," says Rafael Van der Vaart, who, since coming to Tottenham in a bargain-basement transfer from Real Madrid, has terrified a fair share of EPL defenders himself.
David Hirshey

For more from David Hirshey, check out his columns on all things soccer.
• The All-EPL Team, 2011-12
• Saying goodbye to Chinaglia
• Time to dethrone King Kenny Dalglish?
• In praise of Fulham
• The comeback artists
• Call it a comeback
• Death by Manchester
• The battle for third
• Spurs' title credentials
• EPL's best starting XI
• City handed first EPL loss
• Chelsea pushed to brink
• Fragile egos crossing
• City and United
• Is Newcastle for real?
• The bad-behavior derby
With Bale busting down the flank, Van der Vaart and Luka Modric weave their magic in the middle of the park, galvanizing a Tottenham attack that is long on intensity and skill. The combative Dutchman has scored six goals in five games at White Hart Lane so far this season, while the pocket-sized Croatian cuts defenses to pieces with his silky flicks and through-balls.
But let's not get carried away. Despite the euphoria at White Hart Lane this week, Tottenham is a long way from the glory days of the 1960s, when Jimmy Greaves, Danny Blanchflower and Dave Mackay made them one of the most fearsome sides on the continent. Spurs fans should enjoy their memorable win over the Champions League holders, but given Tottenham's consistently inconsistent track record, would anyone really be surprised to see Spurs stumble away to Bolton on Saturday? After all, they may in the last sixteen of Europe, but they are still only the third-best team in London.
David Hirshey has been covering soccer for more than 30 years and has written about the sport for The New York Times, Time, ESPN The Magazine and Deadspin. He is the co-author of "The ESPN World Cup Companion" and played himself (almost convincingly) in the acclaimed soccer documentary "Once in a Lifetime."