Commentary
For Galaxy, it's all about commitment
Updated:
November 8, 2010, 3:45 PM ET
By
Jeff Carlisle
| ESPN.com
CARSON, Calif. -- David Beckham had every right to pat himself on the back following the Los Angeles Galaxy's 2-1 playoff victory over Seattle on Sunday. Two of his trademark set piece deliveries set up first half goals by Edson Buddle and Omar Gonzalez, allowing the Galaxy to earn a largely comfortable 3-1 aggregate victory. The hero's cape was there to be worn.
But Beckham resisted such urges. He has been in enough big games to know that such attacking efforts are for nothing unless they're accompanied by stellar work on the defensive end. A late Seattle surge notwithstanding, that was what L.A. delivered over both legs.
"That's what's won us this series, the defense and way the back four have played," said Beckham. "We've got young players in the back and players who have not played [those] positions before. They've been exceptional in these two games."
Of course, the Galaxy's defensive effort went deeper than that. Much like they did in the first leg in Seattle, both Beckham and Landon Donovan could be seen tracking back deep in their own half. While this came at a cost -- Donovan was barely heard from on the offensive end for much of the series -- it did succeed in stifling the flank play of Seattle wingers Steve Zakuani and Sanna Nyassi.
"I watched a lot of their games at the end of the year, and [wide play] was certainly their strength," said Donovan about Seattle. "We knew if we took that part of their game away, we would beat them."
The combined efforts of Donovan and Eddie Lewis reduced Nyassi to a quivering mess for the second game running, and he was mercifully substituted at halftime. Zakuani only found success late in the match by drifting into central positions, a tribute to the attention given him by Beckham and Sean Franklin.
"I [tracked back] when I was 18, 19 years old at Manchester United," said Beckham. "There's no reason why I shouldn't be doing that at 35 years old here. Obviously, Landon and I have worked hard in these two games and we've seen the success that we had. We know that if we defend well, we've got the power to break teams down."
[+] Enlarge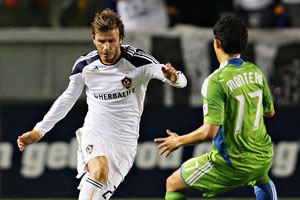 Victor Decolongon/Getty ImagesDavid Beckham has helped raise the league's credibility, according to Garber.
That was evident on both goals, with Buddle outmuscling Sounders defender Tyrone Marshall for the Galaxy's first tally in the 19th minute, while Gonzalez was embarrassingly open to nod home the second eight minutes later.
Zakuani did finally break through for a goal in the 86th minute, capping off a period of sustained pressure and ending Seattle's playoff goal-scoring drought at 385 minutes. Granted, L.A. was interested only in seeing the game out, and the substitution of Dema Kovalenko in the 71st minute -- ostensibly to avoid being suspended for the Western Conference final against Dallas -- robbed the Galaxy of some bite in midfield. But Seattle at last found some attacking rhythm by changing to a 3-5-2 formation midway through the half, and then adding additional power up front in the form of Nate Jaqua in the 77th minute.
While the flurry gave Seattle a glimmer of hope, it also left Seattle head coach Sigi Schmid open to some second-guessing. Given that the Sounders were already down 3-0 on aggregate at the half, why not throw more numbers forward, or bring players like Jaqua on earlier? Schmid insisted he had no second thoughts.
"When you look at the chances we had in the second half, there were four goals in there for us … there were enough chances to bang away goals," said Schmid. "To get three goals was not impossible."
But it was also unlikely given the play of the L.A. defense as well as goalkeeper Donovan Ricketts. That left Schmid to bemoan all manner of items, including the Galaxy's gamesmanship, his side's poor play, and the inexperience of a few players.
"A couple of guys on our team, the game was too big for them, it was too big an occasion," said Schmid. "They just turned over the ball, turned over the ball in bad positions."
Experience is one area where L.A. is fully loaded, and with its defense operating closer to its early season peak, the team has to like its chances as it prepares to host Dallas. What may boost L.A.'s chances of reaching its second consecutive MLS Cup final is the increased level of bite and defensive commitment that was on display against the Sounders. That's not to say that such traits were absent a year ago, but an increase of a few percentage points in this area can often push a team over the top.
"Having Dema [Kovalenko] in there now has helped," said Donovan about the team's play defensively. "[Galaxy midfielder] Juninho is a tough guy in there. And all through our midfield, when David is aggressive like that, it makes us a very hard team to beat."
And may well result in a few more pats on the back.
Jeff Carlisle covers MLS and the U.S. national team for ESPNsoccernet. He is also the author of "Soccer's Most Wanted II: The Top 10 Book of More Glorious Goals, Superb Saves and Fantastic Free-Kicks." He can be reached at eljefe1@yahoo.com.
Soccer
Jeff Carlisle covers MLS and the U.S. national team for ESPN FC.