Commentary
El Nino strikes again--and again
Updated:
November 8, 2010, 3:19 PM ET
By
David Hirshey
| Special to ESPN.com
As Prem weekends go, last weekend was a throwback to the old natural order of things: Arsenal dithered, United struck late, Liverpool romped, Chelsea looked vulnerable away from Stamford Bridge and Spurs tossed away points to a lesser side.
Okay, that last example isn't really news. Tottenham always does that, no matter how many times Spurs Guy Bill Simmons tweets his undying love (here and here for starters) for Gareth Bale (who knew that the Welshman was actually from Boston?).
By the way, how long before Simmons jumps onto the Liverpool Express now that Red Sox owner John Henry has purchased the team? After all, the Reds share a great deal in common with his Sox -- a proud, underachieving domestic history; a dominant, more moneyed arch rival; slick red uniforms; and insane fans. Basically, they're a decent team from a city that isn't anywhere near as important as it likes to believe -- perfect for Simmons.
In fact, anyone who's been paying attention to Liverpool in general, and Fernando Torres in particular, would have noticed that in the month since the Reds were rescued from their financial sinkhole by Henry and his New England consortium, the team and its star striker have morphed from dreadful to dire to ordinary to decent. Before his brace on Sunday, Torres had shown flashes of his pre-World Cup toreador self, but the end result was missing. And the first indication of a center-forward's return to form is whether he finishes his chances. El Nino certainly did that Sunday. Oh, did he ever.
[+] Enlarge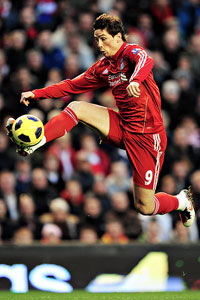 Shaun Botterill/Getty ImagesSunday's two-goal performance by Fernando Torres was his first brace in the Prem since March.
You might even say that he found his inner Edison Pena against Chelsea by climbing out of the hole he's been in since March, the last month that Torres scored two goals in a Premier League game for Liverpool. It's not that, even in the worst of times, anyone ever questioned his prodigious talent -- his strength, technique and guile put him in the firmament of the world's great finishers -- but apart from Wayne Rooney, no EPL show pony has had a more precipitous dip in form since the World Cup. And Torres can't even blame it on contract shenanigans or tabloid headlines. Instead, he's been hobbled by the kind of injuries that grounded Owen Hargreaves' comeback flight against Wolves before it even left the runway.
And that's a major problem for a team that in recent years has been more reliant on Torres than United is on Rooney. Despite Wazza being MIA for most of the season because of extensive ankle and ego ailments, United are only two points behind first place Chelsea. Meanwhile, Liverpool, with a goal-allergic Torres, staggered off to its worst start in 57 years, festering in the relegation zone before winning three straight league games to climb back into the top half of the table and level on points with the yo-yoing Spurs.
Ah, yes, Spurs, who followed their statement-making, Bale-canonizing Champions League mastery of Inter with an inexplicable 4-2 loss to Bolton that not even Roman Pavlyuchenko's wonder volley could disguise as anything but an embarrassment.
My joy in Tottenham's misfortune lasted less than 24 hours. For no sooner had I e-mailed my mock condolences to Simmons than Arsenal belched out an even bigger stinker at the Emirates. While Lukasz Fabianski once again mutated into Flappyhandski and Cesc Fabregas bashed away at the woodwork, the Gunners fell 1-0 to the recently promoted Newcastle side that featured a rearguard with the mullet-challenged Argentine, Jonas Gutierrez, a man who had the honor of being perhaps the worst defender in the entire 2010 World Cup.
At least there was the consolation of watching Chelsea being torn apart by Torres in a span of 33 electric minutes. Reds fans had been waiting all season to see the Spaniard act like the lethal marksman that scored 72 goals in his first 116 games with the club. Yet they have been as frustrated with his lackluster performances, as the striker has been disgruntled with the lack of service that many feared would cause him to follow Xabi Alonso and Javier Mascherano back to Spain. He even ditched his signature happy, blond locks for a blacker, darker mane that seemed to match the storm clouds swirling over Anfield.
But on Sunday, Alex and John Terry had no chance of containing a man who realized that his reputation was on the line. His first goal conjured up memories of Dennis Bergkamp's famous strike against Argentina in the 1998 World Cup, and it was cued by a Dutchman to boot. The indefatigable, fit again Dirk Kuyt curled an Alonso-esque pass over the head of a ball-watching Terry, giving Torres enough time to cushion the ball with his instep and guide it past the sprawling Petr Cech. But it was Torres' second strike that had the Kop in full-throated delirium and reminded anyone watching why Rafa Benitez dropped over $30 million for his services. Released by Raul Meireles' exquisite pass after the midfielder picked Ashley Cole's pocket, Torres took the ball wide on the left of the box, with Branislav Ivanovic blocking his path. No matter because he found a sliver of space to curve an unstoppable shot past the gawking statues of Terry and Alex and inside the near post. Cech didn't move a muscle.
David Hirshey

For more from David Hirshey, check out his columns on all things soccer.
• The All-EPL Team, 2011-12
• Saying goodbye to Chinaglia
• Time to dethrone King Kenny Dalglish?
• In praise of Fulham
• The comeback artists
• Call it a comeback
• Death by Manchester
• The battle for third
• Spurs' title credentials
• EPL's best starting XI
• City handed first EPL loss
• Chelsea pushed to brink
• Fragile egos crossing
• City and United
• Is Newcastle for real?
• The bad-behavior derby
With Fernando en fuego, other maligned Anfield figures found another gear. Steven Gerrard's Bale-esque hat trick against Napoli on Thursday was followed by yet more lead-by-example majesty in the midfield against the clueless, confused Blues. Jamie Carragher's traditional red face, usually the result of embarrassment at his cringe-worthy defending, reflected his heroic fatigue from keeping Didier Drogba, Nicolas Anelka and Florent Malouda at bay. And Lucas Leiva, easily the most loathed Red since Josef Stalin, provided the kind of midfield stability that his beloved predecessors (Alonso and Mascherano) were idolized for.
Yet, only the most deluded Scouser would think that this was the "day it all started to go right for Liverpool." Even with Torres' renaissance and Gerrard's dominant play, the Reds are two or three quality players away from becoming a Champions League-caliber team, and there's no guarantee that Henry will give manager Roy Hodgson the millions to go out and buy those puzzle pieces. There's also no assurance that Uncle Roy is the man to lead Liverpool back into the Top Four, with many fans still not convinced he has the temperament and tactics for the job.
But all those messy questions can wait. For now, Liverpool fans are happy that their heroes seem to be heading toward respectability rather than relegation. In other words, after 10 games normal service has been resumed in the EPL.
David Hirshey has been covering soccer for more than 30 years and has written about the sport for The New York Times, Time, ESPN The Magazine and Deadspin. He is the co-author of "The ESPN World Cup Companion" and played himself (almost convincingly) in the acclaimed soccer documentary "Once in a Lifetime."