Commentary
Giuseppe Rossi is in good company
Updated:
November 9, 2010, 6:10 PM ET
By
Graham Hunter
| Special to ESPN.com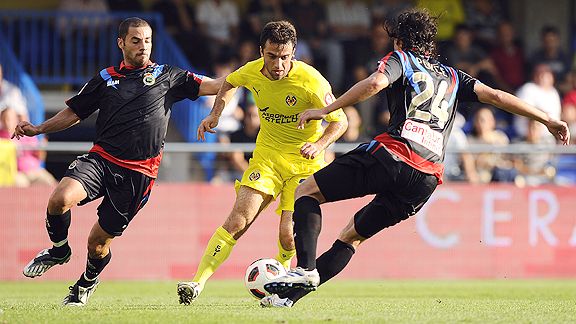 Jose Jordan/AFP/Getty ImagesGiuseppe Rossi has had his shares of success and setbacks in the past year.
BARCELONA, Spain -- At first glance, Giuseppe Rossi's statistics appear to tell you all you need to know. This month, the 23-year-old reached 100 La Liga appearances for Villarreal. In his time with the club, he has scored 40 league goals -- and added another 13 goals in other competitions for the Yellow Submarine, putting him seven strikes from overtaking Diego Forlan as the club's all-time leading scorer. In La Liga this season, Rossi has found the net seven times -- just off Lionel Messi's tally of eight and Cristiano Ronaldo's 11.
But there's much more to Rossi's story than stats, as impressive as they may be. Indeed, the last eight months have been cataclysmic for the player whose Twitter page proclaims "Player for Villarreal F.C.....Been around the world...Hometown is always NJ...."
Rossi's father, Fernando, a talented teacher and a brilliant soccer coach, died in February. He was 60. But Villarreal, showing a humanity rare in the modern game, sent Rossi home for the last few weeks of Fernando's life. Because he missed a significant amount of football, Rossi suffered the consequence when Marcello Lippi dropped him from Italy's World Cup squad.
Then, in the summer, a flurry of rumors and stories linking Rossi with Serie A clubs melted away like snow in the sun. But not before he took a massive step forward in his life, even though on the face of it, the ill-informed might consider it a move lacking ambition.
If you are a new to Spanish soccer, you might not know that the town of Villarreal is barely a blip on the radar compared with Madrid, Barcelona, Sevilla, Bilbao, San Sebastian, Valencia and the other city squads in La Liga. New Jersey's Asbury Park is a sprawling, teeming metropolis next to Villarreal. Get the picture? So, when some Italian clubs came calling, you would have thought any young man would have picked up his boots and headed for a bigger city.
And no doubt there have been times, with the siren song of Milan, Inter and Juve echoing in Rossi's ear, when Villarrreal must have seemed to the American like the street leading into the neighborhood that is just past the end of the earth. Particularly when Villarreal was a relegation candidate for a spell last season before recovering to finish in the top 10.
But this summer, Rossi made a gesture of good faith.
The Yellow Submarine, so nicknamed for their brilliant, fluorescent shirts, shorts and socks, had promoted youth coach Juan Carlos Garrido to head honcho. With the World Cup a recent and painful scar and sufficient buzz from the Italian transfer market, Garrido wanted a meeting with his American striker.
"Do you want to go, because I will understand if you do, but I'll also be very let down because we need you and we believe in you here," Garrido was reported as saying to Rossi.
Rossi's reply? As long as the club didn't want to sell him, he was "gonna show faith" in Garrido. Rossi bought into the idea that Villarreal might soon challenge for the La Liga title and for knockout trophies.
There's been no looking back. Villarreal has made a strong start to the season, sitting at No. 3 on the La Liga table just two points behind Barcelona and three behind leader Real Madrid. Rossi dedicates his goals to his father, whose record for Clifton High School read 353 wins, 95 defeats, 51 draws. Rossi had the Alex Ferguson of high school soccer for a parent.
He also had the real Alex Ferguson as his first major coach at the senior level. It was in that short but influential spell at Manchester United from 2004 to 2006 that Rossi befriended Gerard Pique, also a thrusting young buck in the reserves. Too bad, though, that Pique's red card at Getafe a couple of days ago means he won't be able to defend for Barcelona when Rossi leads Villarreal's attack at the Camp Nou this weekend.
The fruits of Rossi's decision to stop pining for Italian football, which drew him and his father to quit the family home and move to Parma when he was 13, are apparent. At Villarreal, Rossi is focused, settled and maturing.
His partnership with Brazilian striker Nilmar now looks firm. Both were previously capable of playing as if there were an "I" in team. But teammate Borja Valero told me that now "their movement is so complementary, so good that each of them is capable of making a half-decent pass from us in midfield look brilliant".
We are watching a potentially top-class goal scorer in the making.
Yet Rossi is still young enough to joyfully declare to the world this week that "OMG my mom made me cupcakes!!!! I feel like a lill boy&MMMMMM!!!" and to get involved in a nasty spat with some Twitter moron who replied that Rossi would have "answered many prayers if you had!" when the striker posted, "I wanted to kill myself" after missing a chance against Athletic Bilbao on Sunday.
Perhaps the better mark of the man is that, after using an unfortunate adjective to describe the tweeter and receiving reprimands from a few of his 51,000 followers, Rossi had the good grace to apologize. "You're one of the few 'celebrities' that isn't afraid to admit you made a mistake," wrote one of his followers.
Indeed, Rossi is articulate, dignified, honest, but hardly garrulous. And this weekend at the Camp Nou, he can advance his claims to footballing maturity -- as well as try to overtake Messi as the league's second-best goal scorer -- as the Yellow Submarine enjoy a chance to go ahead of Barca. But whatever the outcome, Fernando Rossi would be proud of little Beppe. The youngster is fast becoming a man.
Graham Hunter is a Barcelona-based freelance writer for ESPN.com who specializes in La Liga and the Spanish national team. You can reach him on Twitter at twitter.com/BumperGraham.
Spain writer
Graham Hunter is a Barcelona-based freelance writer for ESPN.com who specializes in La Liga and the Spanish national team.