Commentary
How will the West be won?
Updated:
November 11, 2010, 1:17 PM ET
By
Jeff Carlisle
| ESPN.com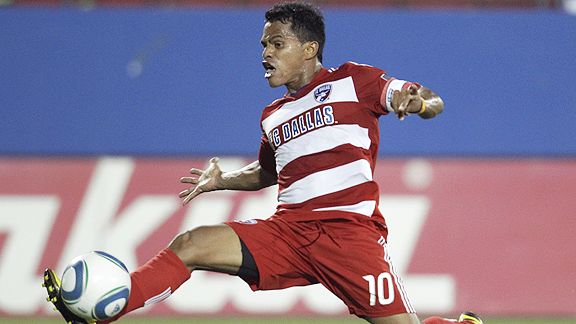 AP Photo/Tony GutierrezLandon Donovan has called FC Dallas' David Ferreira "the best playmaker in the league." Ferreira will need to be when he takes on Donovan and David Beckham on Sunday.
L.A. Galaxy vs. FC Dallas
Home Depot Center Sun., 9 p.m. ET, ESPN2, ESPN3
Two teams with widely differing histories will square off in the Western Conference final on Sunday. The Los Angeles Galaxy have played in more MLS Cup finals than any other club, winning twice in six attempts, although the bitter taste of last year's penalty shootout loss to Real Salt Lake lingers. Dallas has never reached the league's championship game, and the last time the club reached the conference final was in 1999, when it lost to -- you guessed it -- the Galaxy.
But both teams are more concerned about the present than the past. Clearly, the Galaxy have recaptured their best form from earlier in the season. They dispatched the Seattle Sounders in the first round with relative ease, courtesy of a stellar defensive effort as well as the brilliance of Edson Buddle and David Beckham.
That defensive prowess will be put to the test against a dynamic Dallas attack that had just enough to subdue RSL. Given the star power of L.A. attackers Beckham and Landon Donovan, as well as Dallas MVP candidate David Ferreira, it's a game fit for a cup final.
Key matchup: Dallas midfielder David Ferreira vs. L.A. midfielders Juninho and Dema Kovalenko
No less an authority than Donovan called Ferreira "the best playmaker in the league" and this was borne out in Dallas' first-round conquest of Real Salt Lake. Ferreira didn't score any goals, but he did have a hand in all three of his team's tallies, two of which came when he was at least double-teamed. It will no doubt take another superb performance from the Colombian for FCD to advance to the MLS Cup final.
Ferreira has been given a free role by Dallas head coach Schellas Hyndman, and can be counted on to pop up just about anywhere. For that reason, L.A. will have to employ a defense-by-committee approach to stop him, but the primary responsibility will fall to Juninho and Kovalenko in the center of midfield.
Kovalenko's kick-anything-that-moves approach is well documented, but Juninho can deliver heavy challenges as well. At minimum, they'll need to make sure that they don't allow Ferreira to get into top gear with the ball at his feet, even if that means delivering some "professional" fouls to get the job done.
Players to watch: For L.A.: midfielder Landon Donovan, midfielder David Beckham and forward Edson Buddle. For Dallas: midfielder Daniel Hernandez, midfielder Dax McCarty and defender George John.
[+] Enlarge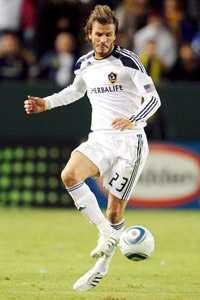 Victor Decolongon/Getty Images"[Beckham] is a difference-maker," said FC Dallas head coach Schellas Hyndman.
Donovan didn't have much of an impact offensively in the Seattle series, mostly because the captain was asked to provide plenty of help defensively. In this match, expect Donovan to get forward more to exploit Dallas' suspect defense, especially on its right side. Beckham, fresh off his two-assist performance in the second leg against Seattle, looks nothing like a player just eight months removed from Achilles tendon surgery. And while his set piece deliveries are as accurate as ever, Dallas will also need to be mindful of the Englishman from the run of play.
"[Beckham] is a difference-maker," said Hyndman. "He's very good on those quick releases that start the counterattack that not only go 60 yards, but have accuracy. That's going to cause a problem for any team that plays L.A."
Buddle has been on fire for much of the season, and the playoffs have proved no different. His 30-yard bomb in the first leg against Seattle set the Galaxy on their way, and his header in the second leg showed off his physicality in the box.
Hernandez is the glue that keeps Dallas together. He often can be seen dropping deep to initiate the attack, and his tackling not only adds a needed element of steel in midfield, but also provides protection for the back line. McCarty can be counted on to get forward more, and his well-taken goal against RSL in the second leg demonstrated his ability to surprise opponents with runs from deep positions. A gimpy hamstring has plagued John for much of the last half of the season, but his play in the center of defense will be needed to combat the strength of Buddle.
X factors: L.A. defender A.J. DeLaGarza and Dallas goalkeeper Kevin Hartman
DeLaGarza is among the less heralded L.A. players, but his pace has proved to be the perfect complement to fellow center back Omar Gonzalez, and his speed will be needed to counter Dallas forward Jeff Cunningham.
Without question, Hartman pulled off some stunning saves in the series against RSL. But he also gave up some juicy rebounds that went unpunished. It appears that the accumulated rust from the knee injury he sustained in l'affaire Henry has not been completely shaken off.
"In the last half of the season, I think he was the best goalie in the league," said Donovan of Hartman. "He's certainly not 100 percent, as you can see in the games. Our job is to test him, but he's playing very well."
How Will The East Be Won?
Who'll win the MLS Eastern Conference final between the San Jose Earthquakes and Colorado Rapids? Leander Schaerlaeckens previews the match.
Outlook: "Defense wins championships" may be a cliché, but it also happens to be true, and when combined with the home-field advantage L.A. will enjoy, the Galaxy are the clear favorite. That's not to say Dallas doesn't have a chance, but injuries have forced Hyndman to chop and change the composition of his back line more than he would like in the past two months, and Dallas has lacked the defensive cohesion it had earlier in the season. Even against RSL there were some suspect moments, and had Hartman not come up with some otherworldly saves in the second leg, Dallas would be watching this game on television.
But "[Dallas is] very good in every position on the field," said L.A. manager Bruce Arena. "They have good speed. They are very good going forward on the break … and Hartman is on fire right now."
That ability to counterattack at speed is Dallas' greatest asset, with players like Brek Shea and Atiba Harris plenty capable of supporting Ferreira. The question is: Will the Galaxy let them? L.A. contained Seattle's pace in the previous round, although this time the circumstances will be different. From the moment Buddle scored in the first leg, L.A. was able to dictate the series' tactics by defending in numbers and utilizing its prowess on set pieces. Where L.A. decides to pressure the ball varies, however, and with no first-leg advantage existing for the Galaxy in this game, Hyndman indicated he has an idea of how L.A. will approach Sunday's match.
"I expect L.A. to come out with all players pressuring high and forcing mistakes," said Hyndman. "And then I expect tremendous diagonal balls from Beckham over and over and over again. Every time he got the ball [against Seattle] he'd touch it once and knock a diagonal ball."
It was precisely those types of passes that Dallas struggled with against RSL, and whoever plays right back, be it Jackson or rookie Zach Loyd, will need to be aware of Beckham's whereabouts. As for Hyndman's expectation of high pressure, that would appear to be the perfect platform for Dallas to release its counterattacking hounds. A more likely scenario is for the Galaxy to pick and choose their spots on where to press, and ride their defense -- as well as the attacking play of Donovan, Beckham and Buddle -- to their second consecutive MLS Cup final.
Jeff Carlisle covers MLS and the U.S. national team for ESPNsoccernet. He is also the author of "Soccer's Most Wanted II: The Top 10 Book of More Glorious Goals, Superb Saves and Fantastic Free-Kicks." He can be reached at eljefe1@yahoo.com.
Soccer
Jeff Carlisle covers MLS and the U.S. national team for ESPN FC.