Commentary
Meet the Rapids' odd couple
Most championship-caliber teams have that player -- the character who's the heart and soul of the team, the guy who helps motivate those around him. Well, the Colorado Rapids have two.
At the core of the team, which is the heavy favorite to win the Eastern Conference final on Saturday, is an unlikely friendship between a high-strung right back from Japan and a laid-back striker from Jamaica. Together, Kosuke Kimura and Omar Cummings, the odd couple of MLS, have fostered a camaraderie among their teammates and helped lead the Rapids to the playoffs for the first time in four years.
[+] Enlarge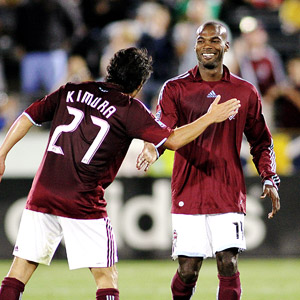 Marc Piscotty/Getty ImagesBFFs: Omar Cummings and Kosuke Kimura.
Kimura made his way to the Rapids the hard way. After seeing his chances of pro soccer dry up in Japan, he decided to attempt to follow a teammate into American college soccer, even though he'd never left Japan before and spoke no English. But after sending off his highlight tape to college coaches all over the U.S., Kimura got word from Western Illinois that he was welcome to try out and compete for a scholarship. The American embassy wouldn't give him a visa in time, so Kimura sent two faxes a day, using a Japanese-English dictionary, until the embassy relented and fast-tracked his paperwork.
In Illinois, Kimura spent 10 hours a day learning English so he could take the SAT. He aced the math section and never bothered doing the rest but qualified for a scholarship. He was a captain from his sophomore year onward. The Rapids drafted him 35th overall in the third round after his senior year in 2007.
That same year, with the 31st overall pick, the Rapids snapped up Cummings, a Jamaican striker from the University of Cincinnati who had grown up in poverty, playing soccer barefoot on dirt fields.
By the time Kimura and Cummings had survived preseason and made the team, they'd become good friends, sharing movies and meals -- and eventually becoming roommates, too, during their rookie season.
"I remember when Kosuke first came in," said Cummings, 28. "A lot of the guys were talking, and he walked in smiling, saying 'Hi' to everyone, just being Kosuke. He had so much energy and was so excited to see everyone. It was like having a dog at home waiting for you. We both loved movies, so we started hanging out."
"We became friends right away," said Kimura, 26. "He's a great guy. Off the field, he's relaxed, and I'm learning from him still because I'm from Japan and it's high-energy, and I was nervous all the time about being late. But he would say, 'Hey, Kosuke, calm down, it's OK.' He's good to be around; he doesn't care about the tiny things. We're like brothers now."
Colorado's odd couple are described as a human "sitcom" by Rapids staff. "They're a good fit for each other because outside of soccer Kosuke's fairly high-strung, and Omar is more laid-back," said assistant coach Steve Guppy. "Omar helps to keep Kosuke sane, and Kosuke keeps Omar motivated … These two have their own thing going."
Since moving in together, Cummings has even taken on the burden of helping to care for Kimura's rabbit, Fabio. "The rabbit is a big deal," Cummings said. "When I first moved in, I didn't know he had it, he kept it in his room. One day it chewed up my slippers, so I put him in [Kimura's] room and he ate all of Kosuke's wires and nothing worked anymore. That's what you get, that's karma."
The two also share a penchant for labor, a tireless pursuit of self-improvement.
"Our rookie year we always went out [to practice] early, trying to do some stuff before guys came out," Cummings said. "Stay a little bit late, working on stuff."
"It's good because he pushed me, and I pushed him," Kimura said.
As a result of their dedication, the two made giant leaps in the past few years. Both saw their minutes and production skyrocket: Cummings as the tenacious striker whose 14 goals were among the league leaders this year, and Kimura as a pesky wingback whose runs up the field were productive against the Columbus Crew in Colorado's first game of the playoffs.
Their devotion to their craft helped set off a chain reaction among the rest of the team, breeding a new mentality that helped the Rapids grow both as a unit and individually and aligned them with head coach Gary Smith's method.
"From the moment Gary Smith took over the club, what we tried to do is create a work ethic among the players where not only do they try hard in training but also after training every day," Guppy said. "You always hope that some of the players buy in to your ideas. Kosuke and Omar have made our jobs easier by embracing this and working harder, which sucks a lot of the other players in. Especially the younger players -- if they see Omar Cummings can come out early and work on his side of the game, they can do it as well."
By following their lead, Cummings and Kimura's teammates improved not only individually, but the sum of the parts became greater, too. In 2008, when Smith was given the interim reins of the club, the Rapids took 38 points, after getting 35 the year prior. In 2009, with Smith entrenched as the boss, they amassed 40 points. This year, the Rapids ended the regular season with 46 points and reached the playoffs for the first time in four years.
That, in turn, has fostered a chemistry that would be the envy of any coach. "I do honestly think that the players have a fabulous rapport and honesty between themselves," Smith said.
That's yielded, among other things, a habit between several teammates of going fishing together. Ever the pack leader, Kimura persuaded teammates to pool money and buy a fishing boat. They had no other place to store it but in the Dick's Sporting Goods Park parking lot, infuriating stadium security, which kept pestering the players about moving it.
Tired of hauling the boat from one side of the lot to the other every so often, the players eventually found a hiding place for it on the stadium grounds, where it remains out of the reach of security personnel.
You would think that a team with the panache to hide a fishing boat from view around a soccer stadium shouldn't have any problem winning a few more soccer games and taking an MLS title, either.
Leander Schaerlaeckens is a soccer writer for ESPN.com. He can be reached at leander.espn@gmail.com.

Contributing writer, ESPN.com
Leander Schaerlaeckens is a contributing writer for ESPN.com. He has previously written for The Guardian, The Washington Times and UPI.