Commentary
Norwegian-American chooses sides
Updated:
November 17, 2010, 10:47 AM ET
By
Brent Latham
| Special to ESPN.com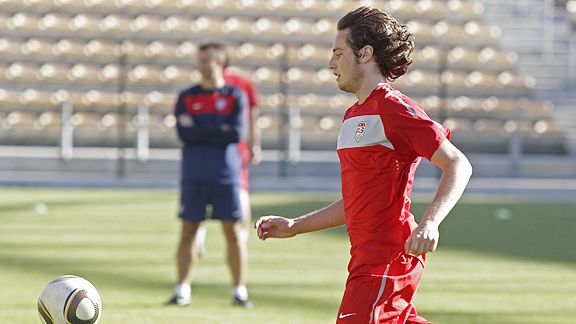 AP Photo/Schalk van ZuydamMikkel Diskerud practiced at Athlone Stadium on the outskirts of Cape Town ahead of the U.S.' match against South Africa.
Mikkel Diskerud is not Brazilian, but in Norwegian soccer circles they know him by just one name.
The American midfielder shows up in his club team's statistical charts as "Mix" -- a nickname his mother gave him when he proved a remarkably active toddler, reminding her of some sort of hyperactive DJ.
More recently, Mix has put that energy to use in making a different sort of name for himself in Norway's top flight. As a result of his success with club team Stabaek, the 20-year-old now has a chance to impress with the national team, having received a call-up from Bob Bradley for Wednesday's friendly in South Africa.
"I don't know if I was surprised, but I was extremely happy," Diskerud said over the phone. "I've been eating my fruits and vegetables, and been kicking the ball since I was 4 years old. I have, in a strange way, always believed this day would come."
But the whole thing came pretty close to never happening. The dual-national Norwegian flirted with playing for Norway before settling on the U.S.
"I said 'first come, first served,'" he said. "Was it a struggle? Sure it was. I am a mix of two parents, two nations, two cultures. But I couldn't represent both on the field any longer."
At first, he tried to do just that, trying out both teams at the youth level. In demand on both sides of the Atlantic, Diskerud first suited up for the U.S. under-20 team two years ago in a tournament in Portugal. When he didn't hear back from the American federation in the wake of that performance, the midfielder accepted a call from a Norwegian youth national team.
When that team, with Diskerud on the field, squared off against an American side, some feathers were ruffled at the U.S. Soccer Federation, and it looked as though his U.S. career would be over before it really began. But as the midfielder continued to show promise in Norway, U.S. under-20 national team coach Thomas Rongen decided to make one last approach before last year's youth World Cup in Egypt. Diskerud was flown in for a friendly, scored the winning goal and made the team.
The only thing left to do for the Oslo-born-and-raised player was to get used to a few aspects of the American game that were new to him.
"For a long time, and still," he said, "it was hard for me to come to grips with the fact that if I choose the U.S., I would have to play soccer instead of football. I still think that is a little ridiculous."
Whatever he chooses to call the game, Diskerud has carved a place for himself with Stabaek, which he joined as a 14-year-old in 2005. After cracking the first team in 2008, Diskerud saw extensive action last season (like MLS, the Norwegian league runs from spring to fall) and even played in the Champions League qualifying stages.
This year, things have continued to improve for the young American. In an otherwise disappointing campaign for a club used to finishing near the top of the table in recent years, Diskerud became a fixture in the starting lineup and scored six goals from his midfield spot.
"He's a very positive player who likes to take control of the game," said Houston Dynamo midfielder Danny Cruz, Diskerud's teammate at the under-20 World Cup. "He played in the middle of the park for us -- he plays there for his club as well. He's a hard worker with good vision and distributes the ball well. I'm real anxious to see how he does in the U.S. setup with the full team."
Despite living and playing thousands of miles away, Diskerud keeps in touch with his former U.S. teammates via Facebook and travels to Arizona every winter. Perhaps another sign of his American ties, he partially attributes his quick development as an attacking midfielder to experience in a more traditionally American sport.
"I mixed up my PE with basketball for a long time, until Stabaek forced me to quit," he said. "Playing point guard gave me an advantage to read plays early on the soccer field as a center midfielder. It helped me a lot."
Diskerud can also play on the wings, and with a crowded pool in the center of midfield for the national team, he'll be anxious to show his flexibility in training this week. Although he aims to make an immediate impression on Bradley, the midfielder says his next major career goal is to play for the U.S. in the Olympic Games two years from now.
If he continues on his current trajectory, you might expect not only to see him in England in 2012 but also for Mikkel Diskerud to become a well-known name among American soccer fans. Of course, by then, they might know him as just Mix.
"I'm excited for him," Cruz said. "It's quite an opportunity to have, especially at that age. There's three of us from that team that have been called up now, and I think that's a testament to the hard work and hopefully to where the American youth is going."
Brent Latham covers soccer for ESPN.com. He previously covered sports throughout Africa for Voice of America radio and now works as a soccer commentator for a national television station in Guatemala. He can be reached at brentlatham@ymail.com.
ESPN Insider
Brent Latham is a soccer commentator who covers the youth national teams for ESPN.com. Based in Guatemala, he has attended youth World Cups from Peru to Egypt, and places in between.