Commentary
MLS Cup promises plenty of offense
Updated:
November 18, 2010, 1:48 PM ET
By
Jeff Carlisle
| ESPN.com
The 2010 MLS playoff landscape is littered with the carcasses of higher-seeded teams. Lower-ranked sides have triumphed in four of the six playoff matchups. And for the first time in league history, both MLS Cup finalists were seeded in the lower half of their respective conference brackets.
Without glamour teams such as New York and L.A., there's a temptation to think this will be a lackluster MLS Cup final. Odds are, however, that this will be a cracking game. Both FC Dallas and the Colorado Rapids have gotten to this point on merit, and each side will have enough attacking talent on display to light up the league's marquee game.
That's no guarantee that the match will produce an avalanche of goals. Historically, an early goal has proved to be the key ingredient to make a game memorable, regardless of who has been on the field. But with both teams in search of their first-ever MLS crown, the opportunity is there for some gifted offensive players to become legends.
Key matchup: Dallas midfielder David Ferreira versus Colorado midfielders Pablo Mastroeni and Jeff Larentowicz.
As has been the case throughout the playoffs, Ferreira's impact on Sunday will go a long way towards deciding the winner. The Colombian has been targeted by opponents throughout the postseason, but still managed to lay waste to the two best defenses in the league. Only one of Dallas' six playoff goals hasn't involved Ferreira in some way, as opposition defenses have found it impossible to account for his whereabouts.
"It's not extremely unlike the style of play Columbus played with a high attacker and Schelloto underneath and below him two central midfielders," said Larentowicz. "The key to controlling that is our ability to communicate between the midfielders and the defenders and making sure a player like Ferreira is always accounted for because as soon as you lose him and as soon as you stop communicating, that's when he's at his strongest and creates scoring opportunities for Dallas."
The duo has also done plenty to spark the Colorado attack, with Larentowicz in particular playing some sharp passes in the attacking third.
"They're good two-way players," said Smith of his midfield tandem. "They defend ever so well when need be. But I think they've shown probably more so this year than at any other point that they're also capable at the other end of the field."
Players to watch: For Dallas: goalkeeper Kevin Hartman, midfielder Daniel Hernandez and defender Ugo Ihemelu. For Colorado: forwards Conor Casey and Omar Cummings, and defender Marvell Wynne.
[+] Enlarge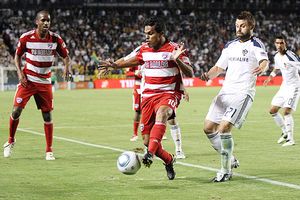 Victor Decolongon/Getty ImagesDavid Ferreira's impact on Sunday will go a long way toward deciding the winner.
Hartman has joined Ferreira in the Otherworldly Department this postseason, pulling off spectacular saves on a regular basis. Hernandez's physical presence is key for Dallas in midfield, and he is the primary link between defense and attack. So don't be surprised to see Colorado's forwards dropping back to mark Hernandez in a bid to disrupt FCD's rhythm. Ihemelu has formed a solid partnership with George John in the center of defense, but he'll need to be mindful of Cummings' penchant for making slashing runs out to the right wing.
Casey and Cummings comprise the most menacing forward tandem in the league, with Casey's brawn the perfect complement to the Jamaican's blazing speed. Both are sharp finishers, but are also keen to involve themselves in the buildup, with Casey at times dropping into midfield and distributing the ball out wide. Wynne had spent his entire career as a right back before this season, but he has found a home in the center of defense alongside Drew Moor. Wynne's recovery speed will be critical in coping with Dallas' lethal counterattack.
X factors: Dallas defender Jair Benitez, Colorado midfielder Brian Mullan and the weather
Dallas loves to get its fullbacks involved in the offense, and Benitez has the quickness to get forward. But on Sunday the left back's true worth will be found on the defensive end, and in particular his ability to help contain Cummings when the striker drifts out wide. Benitez will need to be mindful of his positioning and make sure he doesn't leave too much space behind him for Cummings to exploit.
In a game involving two sides short on championship experience, Mullan's title-winning pedigree from his days with Houston should come in handy. The midfielder is not only capable of serving some dangerous balls into the box, but his nonstop work on defense will be needed to limit the influence of flank players like Brek Shea and Marvin Chavez.
"Brian's natural instincts are very good when we don't have the ball, and far be it from me to take away the positive edge to his game and be creative," said Smith.
Then there's the small matter of the weather. The forecast calls for temperatures in the low 40s, with a possibility of rain. Given that Colorado is better acclimated to raw and windy conditions, the slightest of advantages will lie with the Rapids.
Outlook: The teams tied twice in their regular-season encounters, befitting two sides that are evenly matched. As such, Ferreira's success in escaping the attention of Colorado's midfielders and defenders is by no means the only critical component of this game. The ability of Ihemelu and John to contain Casey and Cummings is another important element. The forward incursions of Mastroeni and Larentowicz against Hernandez and Dax McCarty will bear watching too.
"Casey and Cummings, that's the strength of their team, but I don't want to just focus on them because that's a disservice to their team," said McCarty. "They're strong through the middle of the field, with Larentowicz and Mastroeni and Marvell Wynne and Drew Moor. Those are some tough players."
But one area where Dallas has an advantage is out on the flanks, especially when the rocket boosters on FCD's counterattack are engaged.
"We keep preaching to our players, 'Think forward, look forward, pass forward, and run forward,'" said Dallas head coach Schellas Hyndman after Sunday's 3-0 win over the Los Angeles Galaxy. "We want to instill that mentality that when we get the ball people are running forward."
That mindset is especially applicable to wide players Shea and Chavez, who will go up against Colorado outside backs Kosuke Kimura and Anthony Wallace. Kimura has had success in the playoffs by getting forward and serving balls into the box, and he was able to keep San Jose winger Bobby Convey relatively quiet in the semifinal win over the Earthquakes. But the strength and mobility of Shea present a different challenge, and there would appear to be a risk that Kimura will get overpowered.
The opposite wing is an even bigger concern for FC Dallas, where Chavez will likely take on his former teammate Wallace. Chavez lacks Shea's size, but is often one of the greyhounds providing options on the break.
"I call [Chavez] 'The Mosquito' because he's small and irritable," said Hyndman. "He just irritates defenders. He's here, he's there, and he just keeps making those runs."
Wallace is plenty athletic in his own right, but he can sometimes go on walkabout with his positioning. The good news is that he can count on the help of Mullan -- assuming winger Jamie Smith doesn't recover from a calf problem he sustained last week -- but providing that assistance in transition could prove difficult.
A track meet suits Dallas better, so look for Colorado to try to control the tempo through Mastroeni and Larentowicz. But FCD's greater array of attacking options should win the day, and at the risk of jinxing yet another favorite, Hyndman and his men should carry the MLS Cup back to Dallas.
Jeff Carlisle covers MLS and the U.S. national team for ESPN.com. He is also the author of "Soccer's Most Wanted II: The Top 10 Book of More Glorious Goals, Superb Saves and Fantastic Free-Kicks." He can be reached at eljefe1@yahoo.com.
Soccer
Jeff Carlisle covers MLS and the U.S. national team for ESPN FC.