Commentary
The game's best rivalry
Updated:
November 28, 2010, 6:58 PM ET
By
Graham Hunter
| Special to ESPN.com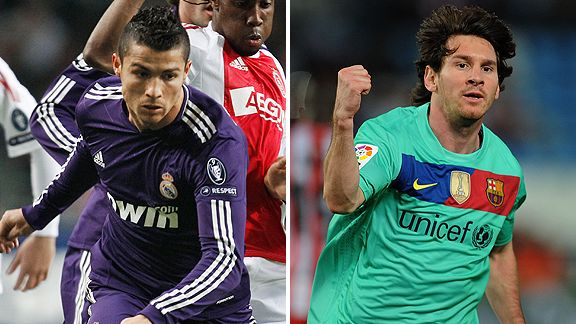 Getty ImagesFor many, El Clasico will be a referendum on which player is better, Cristiano Ronaldo or Lionel Messi.
BARCELONA -- When Barcelona hosts Real Madrid at the Camp Nou on Monday there will be 98,000 frenzied fans in the massive stadium and millions more watching around the globe. But basically, you can divide those who watch the game into two camps:
The football fanatics, who are fascinated by the head-on clash of two legendary clubs with contrasting styles of play, and the football rubberneckers, who will stop what they're doing to see whether Lionel Messi or Cristiano Ronaldo emerges victorious from the wreckage.
Even though football is a team sport, many fans and pundits will use this match -- Spain's Clasico -- as a straightforward referendum to determine who is the superior player. It's easy to understand why: Messi and Ronaldo, each of whom scored a hat trick last weekend, are racking up goals as if it were as simple and necessary as breathing.
In Messi versus Ronaldo, we have an epic clash on our hands. Any era, any sport -- Ali-Frazier, McEnroe-Borg, Nicklaus-Palmer, Bobby Moore-Pele -- Messi-Ronaldo fits snugly into the pantheon of rivalries.
But unless you think that there is an absolute and flawless measure for determining good, better and best between footballers (and, FYI, there is not), the only way to rank Messi and Ronaldo is by going with your gut. Which one among these two world-class footballers would you choose to spend $100 million on if you ran a club?
If possible, you'd have both on your team. That very nearly happened. In 2003, Ronaldo's agent, Jorge Mendes, got in touch with FC Barcelona to alert the club to two exceptional wingers in his stable. But the Catalans eventually chose Ricardo Quaresma over CR7.
Oops.
So who will it be, then? Football is an affair of the heart. So for most neutrals, Messi is love at first sight, the type of humble player who wins us over with his preternatural abilities, his infectious smile as he looks skyward after scoring a goal, and his complete lack of pomp and circumstance. Ronaldo is like a film noir femme fatale -- dark, flirtatious, dangerous but always drawing your gaze.
[+] Enlarge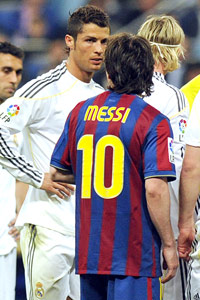 Pedro Armestre/AFP/Getty ImagesCristiano Ronaldo and Lionel Messi could be seeing a lot of each other. They also face each other in an international friendly on Wednesday
Ronaldo would put that notion down to envy. "There is jealousy about me," he told reporters, "because I'm the most expensive footballer in the world, because I've won all these awards or because I earn more money than this guy or the other. I won't let that envy affect me -- it's life. I guess that jealousy like this exists in all walks of life."
Ask either player about the other, as I have done, and they will talk about "respect" but show no animation, no appreciation for each other.
It comes down to this: Messi really doesn't care about the rivalry, while Ronaldo, by his admission, desperately wants to become acknowledged as the greatest player of all time.
"I'm the bigger player," Ronaldo said on Spanish television. Then with his trademark dimpled grin and mischief in his eyes, he added, "at least I'm taller and broader.
"Messi is in a phenomenal moment right now -- loads of goals and exhibition football," Ronaldo added. "The whole world seems to want to talk about Messi and me, but Barca and Madrid are not one-man teams. We are very different types of footballers, but I'm quite sure that during my years at the Bernabeu I'm going to be one of the best players in the world."
Ronaldo's former fitness coach at both Real Madrid and United, and a friend to this day, Walter Di Salvo, told me that Ronaldo has one clear obsession. "Cristiano's overriding goal is to work and succeed until he becomes recognized as the best player of all time -- anyone who knows him is completely clear about that.
"He's very self-critical," Di Salvo said. "His standards are very high and he is capable of healthy self-criticism. He doesn't live in a bubble of his own ego."
Yet the adoration of Messi stings Ronaldo. Messi stands in Ronaldo's way.
Five times over the past two years they have gone head-to-head on a pitch. Even if you favor Ronaldo, you can't ignore the results. Against United and Madrid, Messi has won three, drawn and lost once. Ronaldo hasn't scored against Messi's Barcelona -- even missing a penalty -- while Messi has two goals in those mano-a-mano clashes.
On Monday, Barca will be going up against a rock-solid Real defense. Although Messi's competitive record against Jose Mourinho-led sides Chelsea and Inter is a respectable 2-2-2, much has been made of the fact that the Argentinean has never scored against the Special One's teams. Of course, much was made of the fact that Messi hadn't scored in umpteen games against English opposition before the 2009 Champions League final. His response? A soaring, game-clinching header in Rome past Edwin van der Sar. That was followed by an unbelievable four-goal display at the Camp Nou against Arsenal last season.
Watch out, Mourinho.
That doesn't mean that Ronaldo's biblical flood of goals in the past two seasons -- his 50 for Madrid coming in 53 matches, faster than anyone else in the club's history -- counts for less, or that he didn't merit winning every individual prize which was available to him in 2008 when he was with United.
[+] Enlarge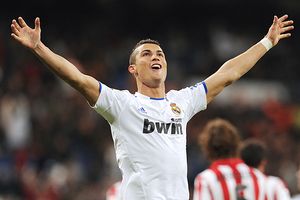 Javier Soriano/AFP/Getty ImagesRonaldo's mission: to be better than Messi.
But Messi's pre-eminence is clear: In the past two seasons, he has scored 69 times in 71 matches, won Olympic gold, lifted eight major club trophies and made himself, at age 23, the fourth-highest league scorer in Barca's 111-year history. And let's remember that Messi already has seven goals against his club's archrival.
Beyond the stats, Messi embodies football in its purest form. His play is imaginative, instinctive and infinitely complicated. There are Da Vinci calculations ramming through his brain at 100 mph when he blasts through the middle on his way to scoring a goal. Ronaldo gathers pace to breakneck speed; Messi erupts into geometrical brilliance.
Of course, both players are a privilege to watch. Ronaldo, his teammates will tell you, is bright, uplifting company, much more mature than the petulant figure he often cuts on the pitch. He's not a bad fella, in other words.
But the goodfella, the made man, is Messi.
And the degree to which this brilliant South American can prove himself as the world's best footballer on Monday night will help determine not only who wins the first Clasico of the season but also Barca's title hopes.
Graham Hunter is a Barcelona-based freelance writer for ESPN.com who specializes in La Liga and the Spanish national team. You can reach him on Twitter at twitter.com/BumperGraham.
Spain writer
Graham Hunter is a Barcelona-based freelance writer for ESPN.com who specializes in La Liga and the Spanish national team.