Commentary
You cannot be Serie
How Milan has turned its fortunes around
Updated:
November 24, 2010, 6:58 PM ET
By
Michael Cox
| Special to ESPN.com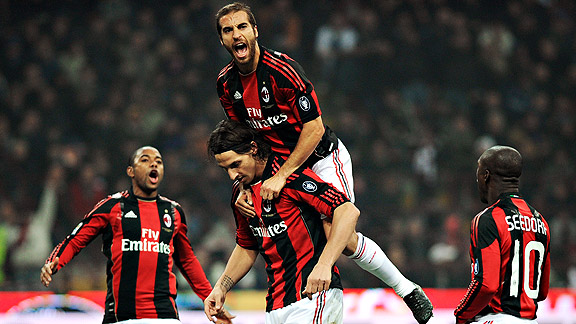 Olivier Morin/AFP/Getty ImagesAC Milan got off to a rough start, but the club is now on a roll as it sits top of the Serie A table.
After winning just one of its first four games of the season, Max Allegri's Milan side has won eight of the subsequent nine games and now finds itself top of Serie A by three points. What has changed? Here are five reasons Milan has turned its season around.
1. Change in formation
Allegri started off playing a 4-3-3 system, very similar to the shape used by Leonardo last season when Milan finished a distant third in Serie A and was knocked out of the Champions League with an embarrassing 7-2 aggregate defeat to Manchester United. Milan seemed to find it difficult to move the ball between midfield and attack, with its wide players remaining high up the pitch against the opposition's fullbacks and no player to link the two zones. The switch to a 4-3-1-2 system means Clarence Seedorf acts as the bridge in that position, linking play and helping Milan build up attacks more gradually. The use of four players in the center of midfield allows Milan to dominate possession quite often. And the formation is simply a more "natural" way for Milan to play. Under Carlo Ancelotti, when the club won a Scudetto and two European Cups, AC Milan used a 4-3-1-2 or 4-3-2-1 system, packing the center of the pitch and rarely playing the ball wide. Four midfielders -- Seedorf, Andrea Pirlo, Rino Gattuso and Massimo Ambrosini -- are still around from that time, and it seems that they prefer playing in a narrow formation.
2. The use of three functional central midfielders
Since the 2-1 defeat to Juventus, Allegri has done away with playing Pirlo as a deep-lying regista (playmaker) and has instead selected three energetic, hardworking central midfielders from the group of Gattuso, Ambrosini, Mathieu Flamini and Kevin-Prince Boateng. This makes Milan much more solid in front of its defense, and using three tacklers compensates for the fact that the forwards don't help out much defensively. Milan is a relatively old side -- five years ago, Gattuso and Ambrosini could probably get through the defensive work as a two, but now they seem to need a third battler to help out. A word of caution, though: The absence of Pirlo does mean a lack of creativity from that position. In the 1-0 win over Fiorentina this past weekend, Milan probably didn't need three holding players and struggled to manufacture chances. In some games, Pirlo will be needed to provide that creative spark.
3. Playing only two of Pato, Ronaldinho, Robinho and Zlatan Ibrahimovic
These four star names made Milan an attractive prospect for exciting attacking football, but after Allegri spent the first few weeks of the season trying to accommodate three of them on the same team, he eventually realized that their lack of defensive work -- coupled with Gattuso and Ambrosini not being able to cover as much ground -- was hindering the side. There was also a lack of interplay and understanding when three attackers were used, as none of the four is a particularly unselfish player. After trying to use Robinho in the trequartista (attacking midfielder) role against Juventus, Allegri has since used Seedorf there, leaving Robinho to play off Ibrahimovic. Milan looks more balanced and move the ball much better in the final third. "It will be difficult to see Ronaldinho, Ibrahimovic and Robinho on the pitch simultaneously," Allegri told reporters last week.
[+] Enlarge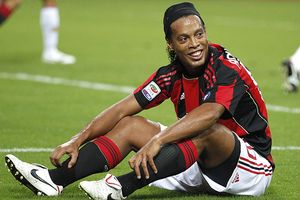 AP Photo/Luca Bruno Ronaldinho has been the odd man out at AC Milan.
4. Dropping Ronaldinho
Ronaldinho has not started a Serie A game since Oct. 16, a 3-1 win over Chievo. He has started twice in the Champions League against Real Madrid in that time, but the game between the two at the San Siro summed up the Brazilian's woes at the moment. He spent the game wandering round the pitch putting little effort in, then was replaced by Pippo Inzaghi, who provided both much-needed energy and two goals within 20 minutes of coming on. Ronaldinho still has superb touch on the ball and can provide moments of magic, but he's not consistent enough to feature as Milan's first-choice central playmaker, and not hardworking enough to persuade Allegri to switch back to 4-3-3 and accommodate him on the wing. Combine this with his reputation for partying -- he was photographed in a Milan nightclub in the early hours of the morning shortly before the game with Fiorentina, prompting Allegri to declare to the media, "They are not hours that are compatible with the life of an athlete." It looks as though this will be the former world player of the year's final season at Milan.
5. Ibrahimovic on fire
After an ultimately disappointing time with Barcelona, Ibrahimovic is back on familiar territory and is once again playing brilliant football. It's eight goals and four assists so far this season for the Swede, including the only goal in Milan's last two games against Inter and Fiorentina. Those two matches have shown how difficult it is to defend against Ibrahimovic, because he's such a good all-around striker. Inter tried to use a high defensive line and was caught out by his pace in behind the defense for the goal, while Fiorentina defended very deep, and was undone by a brilliant piece of trickery in a crowded penalty box. Ibrahimovic is currently on an astonishing run of seven league titles in the past seven seasons with four different clubs -- Ajax, Juventus, Inter and Barcelona. Can he make it eight in eight with a fifth club?
Michael Cox is a freelance writer for ESPN.com. He also runs zonalmarking.net.