Commentary
Guardiola's labor of love
Updated:
November 30, 2010, 3:50 PM ET
By
Graham Hunter
| Special to ESPN.com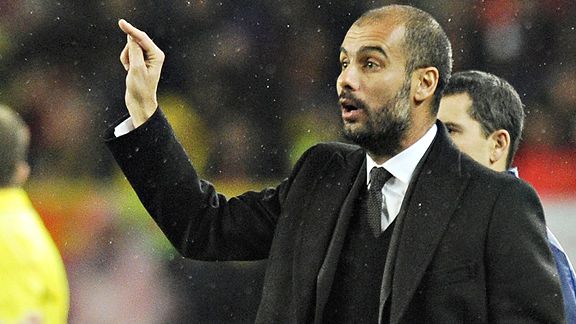 Javier Soriano/Getty ImagesBarcelona's manager Pep Guardiola was the orchestrator of a masterpiece on Monday night. How much farther can he take his team before he looks for a new challenge?
BARCELONA -- The image which Pep Guardiola presented when he came to face the press in the Camp Nou media room after Monday night's vicious destruction of Real Madrid was absolutely astonishing. Several of the Catalan journalists he knows and likes best were moist of eye and still hyperactive with the kind of adrenalin that grips the body when something unexpectedly joyous happens.
The Madrid-based journalists were shocked beyond belief.
What we had all gathered for were Guardiola's words -- a way to make sense of the soccer miracle we'd just been privileged to witness. But Guardiola could barely speak. Not because of emotion or muddled thoughts after wild celebrations in the dressing room. No, Guardiola's voice was ragged like Tom Waits with a bout of bronchitis.
Each sound Guardiola tried to make betrayed a vocal chord which had been stretched, battered and torn to near oblivion, so that when he spoke all that came out were a series of creaks and groans which made his words almost unintelligible.
What this usually elegant and controlled young man began to confirm was that, while he was proud to his core that Barcelona had performed irresistibly well in front of "the eyes of the world," for him it had been a tortuous night.
When you watch Guardiola on the touchline, he will normally need only a few words here and there while his epoch-defining footballers produce their own solutions to the puzzles posed by opposition defenses. Most often he'll sit patiently beside trusted assistant Tito Vilanova, dissecting what they are watching. That was not the case on Monday night.
Guardiola ranted and raved for nearly every one of the 95 minutes. He roared minor adjustments at his players, almost shredding his larynx in order to be heard above the primordial roar caused by 98,000 Catalans rejoicing as their team routed hated rival Madrid.
In the first half, Guardiola played the kind of "find-the-lady" trick which has kept street hustlers in the money for centuries using three facedown cards and a group of gullible passersby. Cristiano Ronaldo came to grab the ball off Guardiola. "Here it is! You want it? Oops, there it goes," the Barca manager seemed to be saying as he kept the ball from Ronaldo, who responded by shoving Guardiola in the chest. The game's first big fracas ensued.
Despite its being obvious within the first 17 minutes that Barca would win the game with ease, Guardiola stressed and suffered through the entire night as if his side had only 10 men clinging to a 1-0 lead.
The reasons for Guardiola's concern were many.
Last season's defeat to Jose Mourinho's Inter Milan in the Champions League semifinal, for example, was so, so painful. And adding fuel to the fire at Camp Nou is the fact that the Madrid media have been trumpeting the notion that Real is already superior to Barca. So superior, in fact, that clinching La Liga is a foregone conclusion and that Mourinho might as well focus on winning the Champions League.
The resentment caused by the Madrid media was unleashed on Monday night.
This is also Guardiola's club -- he'll defend it with passion. The school he grew up at is the distance of a well-struck free kick away. He was a ball boy at Camp Nou on great European nights, and his midfield mastery steered Barca to a slew of trophies in the 1990s.
Guardiola craves greatness for Barca. All of which makes it reasonable to question how long he'll continue putting himself through his intensive labor of love. The triple combination of a brilliant squad of players, Guardiola's innate football talent and his extraordinary obsession with detail has made this man's work irresistible since he took over in summer 2008. Other clubs would covet having him lead their teams.
If Rafa Benitez fails this season, Inter Milan has already decided to ask someone like Diego Simeone to hold down the fort in the short term. And then Inter will throw everything at recruiting Guardiola in the summer.
Chelsea has also been rumored to be interested in the services of Guardiola. The moves by club owner Roman Abramovich to isolate Carlo Ancelotti, remove director of football Frank Arnesen and demand better from a squad that won the league and FA Cup last season only underline that the Russian billionaire remains in search of a manager who could have his team playing like Barca. Who better, of course, than Guardiola?
If Sir Alex Ferguson ever decides that a younger man must build a new dynasty at Old Trafford, well, Guardiola could be enticed with a move to Manchester.
Fact is, if Guardiola left Barcelona today, he could have a job anywhere else by 9 a.m. tomorrow.
So when Guardiola talked post-Clasico about whether his players could "hold on to the hunger," he was talking about himself, too.
Right now, the Barca manager wants to win. He wants Pedro to keep developing, Sergio Busquets to smooth down a few rough edges and for lesser names like Thiago and Jeffren to make the final leap to becoming first-team players. He wants to beat Mourinho again. And he wants to win the Champions League at the same stadium, Wembley, where 18 years ago he lifted the Cup as a player.
Guardiola wants it all.
But there will come a time when he will also want what Mourinho has had -- the experience of a new atmosphere, unknown tests, conquering England or Italy, and bringing glory to success-starved fans. Right now, neither I, nor indeed Guardiola, I suspect, know whether next June, when his Barcelona contract expires, will be the right time for a change.
Very early in Guardiola's Camp Nou reign, his assistant, Vilanova, told reporters: "Barcelona and the sporting, social climate around the club is an experience which can burn you out. I don't really expect this project to last more than two or three years for us."
It was an observation, not a promise. But three years are up at the end of this season.
And you can argue, without a chance of making a fool of yourself, that the brilliant 5-0 mauling of Real Madrid was yet another great advert for the man, his methods and his potential.
Graham Hunter is a Barcelona-based freelance writer for ESPN.com who specializes in La Liga and the Spanish national team. You can reach him on Twitter at twitter.com/BumperGraham.
Spain writer
Graham Hunter is a Barcelona-based freelance writer for ESPN.com who specializes in La Liga and the Spanish national team.