Commentary
Five reasons to love the WC bidding
Updated:
December 1, 2010, 12:45 PM ET
By
Ravi Ubha
| Special to ESPN.com
Poor FIFA, getting a ton of bad press these days. Heck, it only wants to give the 2018 and 2022 World Cup to the best, most reliable bidders.
Sepp Blatter and his humble boys probably need a pick-me-up a day shy of the vote in Zurich, so it's time to oblige.
Here are five reasons the bidding process turned out to be great.
1. Transparency
Who cares if the public isn't allowed to witness how the 22 executive members vote? Do we really want to see the winks and handwritten notes exchanged at the meeting? It all adds to the intrigue and suspense.
Anyway, Mohamed Bin Hammam, president of the Asian Football Confederation and a 14-year member of the executive committee, has no problem being forthright. He told everyone whom he was voting for in November.
"Asia supports the Iberian bid," the Qatari was quoted as saying by Marca. "There's an excellent relationship between Asian football and Spanish football. Qatar is going to support Spain and Portugal, and they will support us."
[+] Enlarge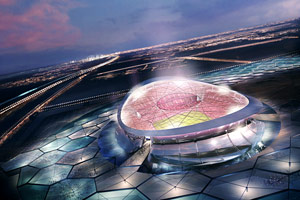 Qatar 2022 Illustration/Getty ImagesYou're looking at the U.S.'s strongest competition -- Qatar's grandiose plans for state-of-the-art stadiums.
Transparency and comedy -- Bin Hammam was later adamant that Marca fabricated the interview. He also claimed he'd never heard of Marca, Spain's biggest-selling paper. A funny guy, that Bin Hammam.
2. Generosity
Most of us love Robin Hood. He took from the greedy and gave to the needy.
Here Amos Adamu was, just wanting -- allegedly -- $800,000 from what he thought was a bunch of rich folks, so he could build four artificial soccer fields in his native Nigeria. And look what happened to him.
Reynald Temarii, his fellow executive committee member, sought -- allegedly -- cash to fund a sports academy in Tahiti. He didn't want to buy a Ferrari, now did he? But despite being suspended from the executive committee, he's standing firm.
3. Decisions based on merit
Of the candidates for 2018, England appears to be the most solid. The English haven't hosted the World Cup since 1966 and their bid has no holes. Unlike in Spain and Russia, all the stadiums are set. Revenue will go through the roof.
Likewise, for 2022 the U.S. would make truckloads of money for FIFA. Stadiums are in place, and there's not as much need for untested air-conditioned arenas. It's all about the fans for FIFA, and more tickets would be made available for the U.S. bid than Qatar and Australia's.
However, England and the U.S. are not exactly the most exciting choices. Surely FIFA can spice things up.
4. Entertainment
How else to describe American executive committee member Chuck Blazer's meeting with Russian Prime Minister Vladimir Putin in August?
"The conversation began in a normal enough way, each of us thanking the other for making time for the visit," Blazer wrote on chuckblazer.blogspot.com.
"Genial welcomes continued until at one moment, he looked at me with a very serious gaze and said, without cracking a smile, 'You know, you look like Karl Marx!' I guess I could have responded to his observation in any of a dozen unpredictable ways. Instead, I simply winked at him and said, 'I know.' This brought an immediate response with him lifting his right arm up in the air and thrusting it forward to give me my first High-5 from a Prime Minister."
Putin was so enamored of Blazer that he sent him pictures of his holiday, which are posted on the site. What a bond. The English and Iberian contingents must have been particularly touched.
5. Unpredictability
Most of us love a twist at the end of a movie.
After poring over literature, visiting countries and crunching numbers over a two-year period, meeting royalty (Prince William), footballing royalty (David Beckham) or a model (Elle Macpherson) in Switzerland this week might sway voters at the last minute.
Who needs deep analysis and fact and figures?
London-based writer Ravi Ubha covers soccer and tennis for ESPN.com.