Commentary
The (premature) Prem MVP
Updated:
December 6, 2010, 4:15 PM ET
By
David Hirshey
| Special to ESPN.com
Now that Arsenal is uncomfortably in first place, let's pretend that the Prem season ended this weekend and we had to choose the player of the year.
Let's also assume that, unlike as with certain issues last week in Zurich, we'll make this call based only on merit. In other words, which player has had the biggest impact on his team challenging for the title.
Of course, we recognize that it's way premature to be handicapping the MVP race. Think of all the things that could happen between now and May 22. Wayne Rooney could suddenly catch fire and be worth a quarter of his new $200,000 weekly salary. Fernando Torres could shrug off the shackles of Roy Hodgson's oppressively dismal tactics and rediscover the form that made him the most devastating striker since the original Ronaldo. Oh, and the man supposed to be leading Arsenal, Cesc Fabregas, might free himself from hamstring problems and a lingering case of Barca-itis.
Still, the need for common sense isn't always there -- just ask FIFA -- so we thought this was as good a time as any to take stock of the Prem's game-changers. There are four main contenders: Gareth Bale, Carlos Tevez, Dimitar Berbatov and Samir Nasri.
Gareth Bale: Apparently, all it took to turn the formerly goofy-looking, defensively challenged Spurs left back into the second coming of George Best (but without the booze and birds) was for Harry Redknapp to simply tell him "Get forward, lad, and do the business."
Since being converted into an attacking midfielder, Bale has scared the bejesus out of opponents in both the EPL and Champions League. There was the memorable hat trick at the San Siro, the ruthless dismantling of Inter at White Hart Lane, and countless other strikes when Tottenham -- playing without its best striker, Jermain Defoe, for a healthy stretch of the season so far -- needed them most. I would mention his stylish flick to cue Spurs' epic comeback at the Emirates, but my shrink has forbidden me from revisiting that soul-crushing episode.
What is most terrifying about Bale are his searing pace and lethal left foot. They allow him to cross so effortlessly on the run that even useless front men like Peter Crouch or Roman Pavlyuchenko can't help but be in a position to convert. Whether they do or not -- well, that's another story. Add Bale's unabashed affection for his mum and it's no wonder Spurs Guy Bill Simmons has a serious man-crush on him.
[+] Enlarge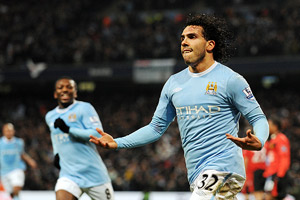 Chris Brunskill/BPI/Icon SMIThis season, Carlos Tevez has 10 goals and four assists in the Prem.
Carlos Tevez: For all the cash splashed by Man City's Golden Sheikh, the almost $40 million paid to pry a player of Tevez's quality from Sir Alex's cold-hearted grip seems like a basement bargain. While Mario Balotelli has struggled to so much as practice without getting in a fight -- as evidenced by his training ground dust-up with another new City employee yet to make an impact, Jerome Boateng -- and Emmanuel Adebayor frantically riffling through his Rolodex for a new team come January, Carlito has kept the club's title aspirations alive with his 10 goals and four assists in the league.
And Tevez has accomplished all this despite hightailing it to Argentina for a long weekend of soul-searching, clashing with his manager Roberto Mancini and rocking the largest snood in captivity. "I wouldn't be caught dead in one," Blackpool manager Ian Holloway told the English press. "I think it makes you look a bit of a ponce, to be honest, though who am I to tell Mr. Tevez what to wear?"
Yet if I were Mancini, I'd spend my entire January transfer budget on buying up all the neck warmers in England as well as relocating his entire family to the Manchester 'burbs from Buenos Aires. Because the chill factor and his homesickness seem to be the only things threatening to derail Carlito's one-man brand of EPL menace.
Dimitar Berbatov: "Smoke 'em if you got 'em" is the hoary maxim for those living in the moment, and considering the cigarette-loving Bulgarian's unflinching skill in picking moments -- two, really -- to remind us of his silky genius, it's entirely appropriate. He smoked Blackburn Rovers for five goals in last week's 7-1 inferno, and reduced Liverpool to a pile of ashes in September with a sublime hat trick. Of his 11 league-leading goals, you're looking at almost all of them in 180 minutes of murderous intent. Not that United fans are complaining.
[+] Enlarge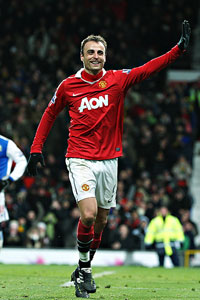 John Peters/Getty ImagesDimitar Berbatov tops the Prem with 11 goals.
With Rooney only recently returning to Planet Earth, and several misfits in Bebe, Federico Macheda, and the man pretending to be Michael Owen all failing to ignite, Berba is the straw stirring Fergie's scotch.
Which brings us to…
Samir Nasri: Go ahead and call me a homer -- I've been called worse -- but even the most hopelessly misguided Spurs fan has to marvel at the Frenchman's blinding display this season. With the possible exception of Bale, no Prem player engenders such delicious anticipation with the ball at his feet. Saturday's brace against Fulham, his seventh and eight league goals of the campaign, were the kind of jaw-dropping museum pieces that caused French journalists to anoint Nasri the New Zidane once upon a time, as he led Les Bleus to the 2004 U-17 European Championships title.
Like Zidane, Nasri was born to Algerian parents and grew up in Marseille, even though he now looks more like the love child of comedian Gilbert Gottfried and "American Idol's" David Archuleta.
Whereas Zidane had the brawn to power through opponents when necessary, Nasri relies more on speed and guile. But don't think he's all Chihuahua, mind you; as Clint Dempsey will attest, Big Sami's 5-foot-10 frame belies his strength on the ball. The American thrives on marauding forward, but against Arsenal on Saturday, he was forced to operate more as a defensive midfielder/fullback after Nasri torched Matthew Briggs so badly that Fulham manager Mark Hughes had Rico Clarked his 19-year-old left-back after just 29 minutes.
By then, it was already too late, as Nasri had combined with a suddenly re-invigorated Andrei Arshavin, fresh from helping Russia steal -- I mean capture -- hosting honors for the 2018 World Cup, to score his first gem of the game. Arshavin's angled pass found the Frenchman on the right of the box, and Nasri danced past Fulham's flailing centerbacks Aaron Hughes and Brede Hangeland before slamming a left-footed drive into the net.
Still, the best was to come. In the 75th minute, with a Cesc-less and often feckless Arsenal on the verge of adding to its recent Emirates misery -- the Gunners had lost their two previous home games to Spurs and Newcastle -- Nasri struck again. This time Robin van Persie, freshly unpacked from bubble wrap after months in storage, was the provider, holding the ball up just long enough for Nasri to surge through the box, collect RVP's inch-perfect pass in stride and slalom past two defenders and keeper Mark Schwarzer. His last touch pulled him wide of the Fulham goal, but just when you thought his momentum would carry him over the touchline, he swiveled gloriously and, off-balance, slotted the ball home from an impossible angle.
David Hirshey

For more from David Hirshey, check out his columns on all things soccer.
• The All-EPL Team, 2011-12
• Saying goodbye to Chinaglia
• Time to dethrone King Kenny Dalglish?
• In praise of Fulham
• The comeback artists
• Call it a comeback
• Death by Manchester
• The battle for third
• Spurs' title credentials
• EPL's best starting XI
• City handed first EPL loss
• Chelsea pushed to brink
• Fragile egos crossing
• City and United
• Is Newcastle for real?
• The bad-behavior derby
It was the exclamation point on another dazzling performance that puts Nasri out in front of the EPL alpha dog pack by a Gallic nose -- or about as far ahead as Arsenal is in the league. Now if only Arsenal could find some way for the season to end early so the Gunners could win the league. I know it's a fantasy, but as we found out in Zurich last week, dreams can come true. For a price, of course.
David Hirshey has been covering soccer for more than 30 years and has written about the sport for The New York Times, Time, ESPN The Magazine and Deadspin. He is the co-author of "The ESPN World Cup Companion" and played himself (almost convincingly) in the acclaimed soccer documentary "Once in a Lifetime."