Commentary
Why Barca is the best of all time
Updated:
December 7, 2010, 11:22 PM ET
By
Graham Hunter
| Special to ESPN.com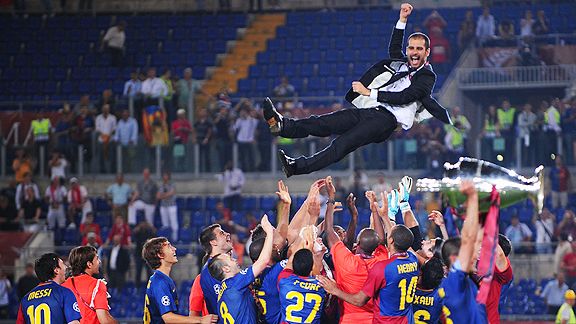 Shaun Botterill/Getty ImagesBarcelona has had much to celebrate both in Spain and Europe during the past two and a half years.
BARCELONA, Spain -- Right, then: The Kevlar bulletproof vest is on, as is the crash helmet, so with a deep breath of apprehension let's go with a statement as bald and forthright as I am. Over the past two and a half years this gleaming, beautiful, shimmering Barcelona side of Pep Guardiola's has been playing the best football ever in the history of the world.
There, I've said it. You can throw things at me now.
If you already agree that this team beats Brazil of 1970, Ajax over the following four years, Hungary in the 1950s, Milan in the late '80s and early '90s, and so on, then we have to accept that we are in the minority.
How do you define "the best"?
Right now, some readers will be spluttering apoplectically and snarling about Bayern Munich in the mid-1970s, Liverpool under Bob Paisley, Hungary destroying England in 1953 and, of course, Real Madrid with either Alfredo Di Stefano, Ferenc Puskas or Francisco Gento laying waste to Europe. Or perhaps Spain's national team winning the past two major international tournaments back-to-back.
But if you are a disbeliever, get your guard up, because I'm coming at you swinging jabs, uppercuts and the odd haymaker.
First of all, let's dispense with all the nonsense about statistics telling the real tale of the tape, or that you can't compare eras. Deciding on the best team ever is not about a side constantly squeezing out cold-eyed, mean-spirited 1-0 away wins at West Ham, Borussia Dortmund, Atletico Madrid, Eindhoven or Marseille, however many trophies that may bring.
Football is like rock 'n' roll: If it's not sensational, audacious, cocky and leaving you breathless, you ain't doing it right.
And just when you think it can't get any better, you find a new way to do it. And whoever is watching (or taking part) lets out a primal scream of enjoyment, surprise and satisfaction.
So, ladies and gentlemen, I give you FC Barcelona from June 2008 until this very day. Sensational, audacious, cocky and leaving us breathless. I have some powerful backing.
Pele -- not notoriously generous when anyone tries to dethrone his stunning team that won the World Cup in Mexico in 1970 -- told Brazilian television last summer: "Barca is playing a football which is equal to ours in that World Cup. It's just that they have 13 or 14 players who can do that, while that Brazil squad could have turned out two separate teams capable of equally good football."
[+] Enlarge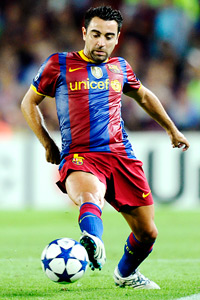 Pierre-Philippe Marcou/AFP/Getty Images"Though others have won more club trophies this year, this is a prize for the best football," Xavi said of being a finalist for the Ballon d'Or.
After Barca destroyed Real Madrid 5-0 last week, Ronald Koeman, leader of the club's previous Dream Team and scorer of the legendary goal that gave Barca its first Champions Cup in 1992, gave his take to Sky: "This team is better than ours -- easily. They are quicker, more skilful and just as ruthless."
Even with good bodyguards like Pele and Koeman, arguing that anything in football is the "best ever" is a tricky proposition. Greatness, after all, needs to be proved again and again, over time.
In 1970, Jairzinho, Tostao, Roberto Rivelino, Gerson, Clodoaldo and Pele entranced us to such a point that it seemed impossible, four years later, that their post-Mexico decline left them with a mob of thugs at Germany's 1974 World Cup. That group was epitomized by Ze Maria choosing to rugby-tackle Johan Cruyff, Marinho Chagas elbowing Johan Neeskens in the face and Luis Pereira being sent off for a brutal foul on Neeskens.
Achieving irresistible style that makes you fall in love with football all over again is a delicate flower that can quickly wither.
But the Mozart, Chopin and Brahms of this Barcelona side -- Lionel Messi, Xavi and Andres Iniesta -- are only 23, 30 and 26 years old, respectively. Along with Gerard Pique, Victor Valdes, Carles Puyol, David Villa, Dani Alves and Pedro, they should play together, hopefully under Guardiola, for years to come. Together, they are a force of nature.
Chelsea, among many teams, found that out during the Champions League semifinal in 2009. The Blues played remarkably well at Camp Nou and Stamford Bridge, but they couldn't break Barca down. Guus Hiddink's team used physical and mental might, but in the end it couldn't stop Guardiola's side from passing, probing and sticking to its principles when Messi fed Iniesta, who put the ball in Petr Cech's top corner.
Conclusion: This Barca is tungsten-tough, mentally and physically.
Around that time, I was invited to participate in a live television debate that was the verbal equivalent of cage fighting. My "opponent" was former Chelsea defender Jason Cundy. He claimed Barca was overrated. Who won the argument is for others to say, but Jason went after themes of diving, weak mentality, over-elaborate passing.
There was vigor and belief behind his words that day. But he phoned me late at night after the 2009 Champions League final, in which Barca defeated Manchester United by simply refusing to let the Red Devils ever get a decent touch of the ball. "I was wrong," he told me with rueful good humor. "Barca were brilliant. It was superb. I've fallen in love with how they play."
After Barca's unbelievable performance last week in crushing Jose Mourinho's Madrid, I've lost count of how many top coaches, current players and former stars have called me to say that they have never, ever seen a better performance.
Conclusion: This Barca has the power to convert even the nonbelievers.
I think everyone would agree that a great team also has a keen sense of revenge as part of its DNA.
And so it was that before Guardiola took over, Real Madrid had badly humiliated Barca. The moment came at Madrid's Bernabeu Stadium in May 2008, when Frank Rijkaard's Barca had to form a guard of honor for Spain's new champions as they trotted out. The Bernabeu brayed with triumph, arrogance and disdain before Los Blancos cut the Catalans to shreds, winning 4-1 when it could have been 14-1.
[+] Enlarge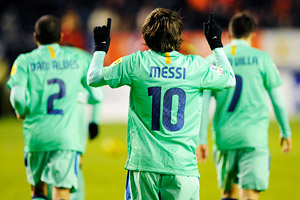 Ander Gillenea/AFP/Getty ImagesLionel Messi is but one of many world-beaters on the current Barcelona squad.
Just under a year later, Barcelona turned out a similar starting XI, but with Guardiola in charge, they put on their knuckle-dusters and punched Madrid into a towel-throwing heap of blood and tears, winning 6-2. It was a goal tally that neither side had previously managed to impose on the other during 106 years of enmity.
The 5-0 destruction now means that Guardiola's Barca have ripped into the Real Madrid of Juande Ramos, Manuel Pellegrini and Mourinho to the tune of 16-2, winning five straight Clasicos, a unique achievement.
Real president Florentino Perez told the press that last week marked "the worst defeat in our history."
Conclusion: This Barca can be mean and intimidating.
But Barcelona can be inspirational, too.
Last year, Messi was awarded the Ballon d'Or (voted on by journalists) and FIFA World Player of the Year (voted on by FIFA's international team coaches and captains) by a landslide, with Xavi behind him. Cristiano Ronaldo, who had a superb season, was in third place. Of the 286 FIFA coaches and captains who voted for the POY, only sixteen didn't nominate a Barcelona player -- Messi, Xavi, Iniesta, Puyol, Thierry Henry, Samuel Eto'o or Zlatan Ibrahimovic -- in their top three.
This year, the two awards are united for the first time, and the FIFA Ballon d'Or will be awarded to one of three Barca players -- Xavi, Messi or Iniesta. Only twice in the 54-year history of the Ballon d'Or have the top three come from the same club; Milan received the honor in 1988 and 1989.
And don't forget -- Alves, Villa and Puyol (all FCB) were also on the original shortlist.
"It is a reward for constantly attacking, constantly playing to win in every match, and though others have won more club trophies this year, this is a prize for the best football," Xavi told me this week.
Perhaps Milan's total domination of Italy and Europe from 1988 to 1996 is the true yardstick against which greatness should be measured. But here's the thing about Milan: The club adhered to the traditional method of buying the biggest stars -- Marco van Basten, Ruud Gullit, Rijkaard, Roberto Donadoni, Dejan Savicevic, Carlo Ancelotti, Zvonimir Boban and Mauro Tassotti -- to achieve results.
Franco Baresi and Paolo Maldini were one-club men, but it is Barcelona that has shown the world you can be great and home-grown. Valdes, Sergio Busquets, Pique, Puyol, Xavi, Iniesta, Pedro, Messi, Bojan Krkic and coach Guardiola were all brought through the La Masia academy, which makes the triumph all the more laudable.
Conclusion: Barcelona has shown vision, creativity and patience to develop the best football ever.
Since Guardiola took over Barcelona, the club has won eight major trophies, and has done it every which way: turning defeat into victory in the Spanish Cup and the World Club Cup; not letting Manchester United have the ball at all in the 2009 Champions League final; tough and mean against Shakhtar Donetsk in the European Super Cup; scoring five in each of the past two Spanish Supercups; and, above all, crushing Real Madrid while winning the past two La Liga titles.
In 2009, Barca completed the first-ever treble won by a Spanish side. It also became the first team ever to win six club trophies in a season and the first European club to win both the domestic and European Super Cups.
But beyond the hardware, you must come back to the fact that Barcelona plays with seductive, inspirational brilliance. It's been Total Football, total dominance. Has a team ever won so much and with such unbelievable skill, passion and creativity? I'm saying no, and if you disagree, let me know. But I won't care, because I'm off to watch Barca give another recital.
Graham Hunter is a Barcelona-based freelance writer for ESPN.com who specializes in La Liga and the Spanish national team. You can reach him on Twitter at twitter.com/@BumperGraham.
Spain writer
Graham Hunter is a Barcelona-based freelance writer for ESPN.com who specializes in La Liga and the Spanish national team.