Commentary
The David Beckham report card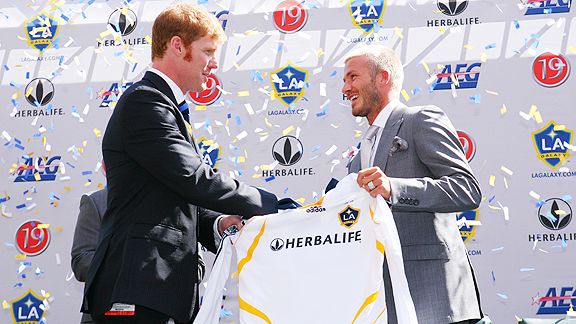 Robert Mora/Getty ImagesIt's been four years since David Beckham arrived in MLS. How much of an impact -- for good or bad -- has he had on the game in the U.S.?
January will mark the fourth anniversary of David Beckham's coming to America. In 2007, the England international player and his new club, the Los Angeles Galaxy, boasted that their ground-breaking union would net him $250 million over five years and take Major League Soccer to the next level.
"David Beckham is a global sports icon who will transcend the sport of soccer in America," MLS commissioner Don Garber said in welcoming Beckham to the league. "His decision to continue his storied career in Major League Soccer is testament to the fact that America is rapidly becoming a true soccer nation, with MLS at the core. The addition of David Beckham represents another significant step forward for the MLS and the sport."
With the luxury of hindsight, we now know that the landmark Beckham signing wasn't what it seemed.
The $250 million that Beckham was said to be earning over five years included, it eventually was revealed, his endorsements -- a handy bit of PR spin to give the move more cache. His actual playing salary is about $32.5 million over the five years, according to the MLS Players Union.
That said, the league hasn't quite gotten to the next level, either. It has progressed just fine, inch by inch, but only a part of that can be reasonably attributed to Beckham's influence.
Here's the report card on the Beckham signing after season four of five. (Beckham's publicist said Beckham was not available to comment for this story.)
Credibility: A
The Beckham signing allowed MLS to close the credibility gap -- a little bit -- with more established soccer leagues. MLS had attracted aging stars before. But most of them were well into their 30s and a shadow of their former selves, players such as Hristo Stoitchkov, Youri Djorkaeff, Carlos Valderrama and Lothar Matthaus. Beckham, on the other hand, was closer to his peak.
Beckham's signing helped pave the way for other respected international players to consider joining the league. Signing with an MLS club is now a legitimate career option, rather than an admission to being washed up. And so Rafa Marquez, Omar Bravo, Thierry Henry and Nery Castillo followed in Beckham's footsteps.
"[Beckham] encouraged me to play here," Henry told Soccernet after signing with the New York Red Bulls this summer. "He never said anything negative to me about the MLS and told me he enjoys everything in the game here. I respect Becks."
[+] Enlarge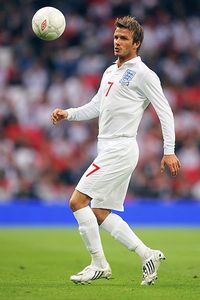 Mark Thompson/Getty ImagesBeckham's desire to play for the England national team has been his No. 1 priority.
"David has brought great recognition to the Galaxy," said Bruce Arena, L.A.'s coach and general manager since August 2008. "It certainly allows you to get an interest of a lot of players."
Wins: C
"I'm coming there not to be a superstar. I'm coming there to be part of the team, to work hard and to hopefully win things." -- David Beckham told ESPN after his arrival.
The Galaxy has gone from missing the playoffs entirely in Beckham's first two years to reaching the MLS Cup in 2009 and the Western Conference final in 2010. The club also picked up the Supporters' Shield this year. But Beckham didn't have a huge amount to do with that progress.
In three and a half seasons, Beckham has been a part-timer at best. Of the 106 regular-season games the Galaxy has played since his arrival, he appeared in 48. Of the 9,540 minutes played, Beckham was on the field for 3,855 of them -- or 40.4 percent.
Beckham's lack of play hasn't entirely been his fault, as he has suffered nagging injuries. But he twice went off to play for AC Milan on loan, with an eye on his England career, which made a mockery of his commitment to MLS.
"Did anybody anticipate that he would only play 40 percent of the [time]? Absolutely not," said Alexi Lalas, who served as the Galaxy's general manager during Beckham's first season in Los Angeles. "But I would argue to the day I die that it was worth it … from an overall perspective. But from a soccer perspective, it's been just too far and few between for the performances the people had hoped for."
And consider this: According to the Elias Sports Bureau, the Galaxy was a better team without Beckham. With Beckham, the Galaxy is 18-18-12, a .500 winning percentage. Without him, the Galaxy is 26-17-16, a .576 winning percentage. Although the Galaxy was good for 1.69 goals per game with Beckham and 1.27 without him, his presence also seemed to coincide with far more goals conceded -- 1.73 per game, as opposed to 1.12 without him.
Arena said those numbers are distorted. "If I looked at the numbers for 2009 and 2010, I think we did very well," he said. "I think in the years before, the team around David was pretty poor and that would reflect in the statistics. That's one of those things where the statistics don't tell the story."
Lalas said "the way [Beckham] plays … you need a consistency from the start in how he plays and how to use him correctly. But when he's gone half the season, it's difficult to adjust. When he was gone, they played in a different way and they played very well. When he has been available on a consistent basis, I think we've seen the best of him. But that's not been the case through the years. At times, he's been world-class. And at times he's been average."
Besides, you could argue that any team with Beckham, Landon Donovan, the re-emerging Edson Buddle and an able supporting cast of veterans and prospects should turn in more silverware than the Galaxy has, especially in those first two years. And the team's improvement, going from missing the playoffs in 2007 and 2008 to having the league's best regular season record in 2010, had much more to do with shoring up the back line than Beckham's growing influence.
Arena defended Beckham's record. "When he's healthy, he's played very well and helped our team," he said. "Although it hasn't gone perfectly with the injuries, and the Galaxy hasn't won a championship with him here, he's had a really positive impact on the league."
Interest: C-
"I'm not saying me coming over to the States is going to make soccer the biggest sport in America. & But I wouldn't be doing this if I didn't think I could make a difference." -- David Beckham to ESPN.
When Beckham finally washed up on American shores, seven months after the move was announced, he was hot news. Since then, not so much. He has gradually faded off the covers of magazines and the prime-time specials have floundered along with his wife's television career.
Beckham's debut was famously a television ratings flop, with fewer than a million homes estimated to have tuned in, outdrawn by pedestrian events in golf, baseball and IndyCar. The league's TV ratings haven't improved in recent years, nor has attendance. Since 2007, the league's average attendance is down 95 fans per game -- from 16,770 to 16,675.
That's not surprising, said former U.S. striker and soccer pundit Eric Wynalda. "This was a shirt deal," he said. "The bottom line is they had to pay a lot of money to get the likes of David Beckham to put on their shirt and they had to figure out a way to recoup their money. I really don't think this was about the on-field performance. Even when Alexi Lalas announced the signing, he stood on the podium and said, 'You can now buy your Beckham shirt.'"
The Galaxy's home attendance grew from 20,813 in 2006, the year before Beckham's signing, to a peak of 26,008 in 2008. But since then, attendance has slid to an average of 20,416 in 2009 and 21,436 in 2010. Attendance at road games went from 19,929 in 2006 to more than 28,000 in 2007 and 2008, but that, too, has since dropped to 18,525.
Although the Galaxy has led the league in away attendance every year Beckham has been with the club, the team was already second in MLS for drawing crowds on the road in 2006 with an average of 19,929 fans -- more than its current average.
"I think the interest and the shock value of David Beckham is gone," said Wynalda, who works as an analyst for Fox Soccer Channel. "I don't think there's a buzz about it anymore. It had its value at the time and brought a lot of attention to the league. But to be perfectly honest, I think it's over."
Revenue: B+
Well, let's qualify that grade with a "probably."
Although the Beckham signing doubtlessly played a part in the Galaxy's reported $20 million shirt-sponsorship deal with Herbalife (which, not incidentally, runs just as long as Beckham's contract) and his presence created an initial jump in attendance during home and away games, MLS and its clubs don't disclose financial accounts. As such, it's difficult to ascertain with certainty what the return on the $32.5 million outlay (the equivalent of 12 teams' salary caps for an entire year) has been for the Galaxy.
However, we can make an educated guess. "From the moment David Beckham signed, the average ticket price for a Galaxy game skyrocketed," said Lalas, who is now a soccer analyst with ESPN. "In sports, it's rare to see that significant of a jump."
That price hike, from $21 for the average ticket in 2006 to $32.50 in 2007, paired with the increased attendance, would have driven up revenue. "It was incredible," Lalas said. "The amount of jerseys that have been sold, the amount of sponsorship that has been sold. … The appearance fees the Galaxy can now command. The Galaxy brand is now international. This all contributes to the increase of the overall value of the team … and much of that can be attributed to the signing of David Beckham.
"It's not a situation where [the Galaxy is] making money hand over fist, but the fact that they're making money is impressive in itself, considering the history of MLS teams," Lalas added. "The business of David Beckham with the Galaxy is an unmitigated success."
But Wynalda said that depends on how you define success. "In the eyes of AEG [which owns the Galaxy], I'm sure they will view this as an enormous success on the shirt side. They sold a lot of jerseys," he said. "But if you line it up and look at the results, they haven't had the greatest results on the field.
"This is not a slam on David Beckham," Wynalda added. "Is it really his fault somebody wanted to pay him a lot of money to come play in California? No one could have lived up to those expectations."
Nevertheless, after his arrival, Beckham told ESPN that he looked forward to "the new challenge of growing the world's most popular game in a country that is as passionate about its sport as my own." Whether that has happened or not is open to debate.
And although the principals involved vigorously defend the Beckham deal, the truth is that, four years after the fact, the results have been a mixed bag. At best.
Leander Schaerlaeckens is a soccer writer for ESPN.com. He can be reached at leander.espn@gmail.com.

Contributing writer, ESPN.com
Leander Schaerlaeckens is a contributing writer for ESPN.com. He has previously written for The Guardian, The Washington Times and UPI.