Commentary
How to fix Chelsea
Updated:
December 10, 2010, 4:36 PM ET
By
David Hirshey
| Special to ESPN.com
It's difficult for me to feel sorry for Chelsea fans. Like their chichi team, the Blues have developed a preening smugness over the past few years borne of standing on the throat of the EPL, coming within one converted penalty kick of winning the Champions League (John Terry's slip on the spot in the 2008 final still makes my heart soar), and having an owner who doesn't need to check the price tag when shopping for the world's best players.
So the fact that the Blues are now, by their lofty standards, in a free fall that has seen them go from runaway juggernaut to just another top team with aging, underperforming superstars and a fragile back line, well, let's put it this way: I'm not about to hurl myself from the 557-foot, missile-detecting, anti-paparazzi shield-equipped Roman Abramovich mega-yacht, aptly named Eclipse.
But I do wonder what, in the name of The Special One, has happened to a team that used to strike fear into the heart of its opponents just by stepping onto the field? Do you think that Spurs are quaking in their cleats at the prospect of facing Chelsea on Sunday at White Hart Lane, a venue where the Blues haven't won in the league since 2005? Or is it more likely that Tottenham is drooling at the thought of abusing a soft-centered team that has just one win in its past six Prem games and has thudded down to third place?
[+] Enlarge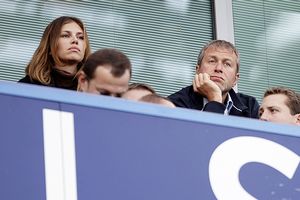 Ian Kington/AFP/Getty ImagesIs Abramovich losing interest? He didn't look exactly thrilled at Stamford Bridge with his girlfriend Darya Zhukova in October.
This is not to say that Chelsea couldn't just as easily hammer Spurs, and then do the same to Arsenal, Manchester United and Bolton in December to reclaim its silk-cushioned perch atop the league. But I doubt that anyone, least of all Abramovich, ever expected the Blues to be in this precarious position. And whereas the Russian oligarch would simply throw money at the problem in the past, it's increasingly unlikely that he'll soon be choppering into West London with bags of cash to heal all of Chelsea's wounds, especially in light of last week's events.
First, his BFF Vladimir Putin announced in his most stentorian KGB voice that he expected Roman to "open his wallet" to help finance the World Cup carnival that Russia will stage in 2018. Then, his girlfriend, Dasha Zhukova, the world's most babelicious art dealer, convinced him to drop $400 million to buy an island near St. Petersburg to house his collection of contemporary art.
I'm just guessing, but I bet that upon hearing the news, most Chelsea fans thought "Bollocks! Couldn't he buy a Carles Puyol instead of another damned Damien Hirst?" Of course, most Chelsea fans don't look like Dasha Zhukova.
So what can Roman do to arrest Chelsea's slide short of buying another island on which to exile Nicolas Anelka? Here's my plan:
1. Trust in Carlo
The worst thing Abramovich can do is to lose faith in manager Carlo Ancelotti and pull a Mike Ashley. Ashley is the bloated, egomaniacal owner of Newcastle who this past week canned Chris Hughton, the man who hauled a second-tier club with a demanding, inebriated fan base back into the Prem. His crime? Losing at West Brom, only a week after dominating Chelsea in a 1-1 draw and barely a month after winning at the Emirates.
As we've seen over the years with Abramovich's ever-revolving door of managers, instant gratification has never been quick enough for him. But in this case, he needs to control his twitchy trigger finger and let the eminently capable Ancelotti figure it out. Abramovich has already destabilized the club enough by abruptly handing Chelsea's popular longtime assistant Ray Wilkins his pink slip in November and replacing him with a guy whose most notable managerial feat involved a U-12 girls team in Arizona.
Ancelotti's tactical acumen may have let him down against the likes of Sunderland and Birmingham City, but he's still the same guy who delivered a league/cup double last season. He can do it again … if given the chance.
2. Shop for bargains after the holidays
While most clubs might panic and try to spend their way out of the gulag, Roman has almost all the firepower he needs under contract at the Bridge. January's transfer window is no place for the desperate, unless you want to end up paying twice the market value for overpriced mercenaries who are no better than those you already have. Does the name Eric Djemba-Djemba mean anything to United fans?
Chelsea's needs are obvious: a couple of experienced defenders, preferably under 30 (the wear and tear of the grueling schedule is starting to take its toll on John Terry and Alex), an impact sub off the bench (Salomon Kalou doesn't cut it), and someone to lead the line until Didier Drogba rediscovers his goal-scoring form or comes up with a different excuse for his slump (he hasn't scored in open play since October) besides malaria.
[+] Enlarge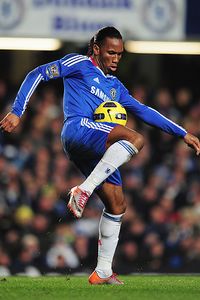 Shaun Botterill/Getty ImagesChelsea needs Didier Drogba to rediscover his goal-scoring form.
It's true that Chelsea's experiment in youth development hasn't paid off the way the club had hoped, but there are encouraging signs -- see teen Joshua McEachran's composed performance against Marseille midweek -- that argue for patience with the young bucks.
Shedding all those veterans such as Michael Ballack, Deco and Joe Cole in the summer has left the squad looking a little flimsy, but that's no reason to reinvent the wheel, especially when you see how that gambit has worked for Liverpool.
3. Buy the boys the Situation's workout video
Chelsea's struggles can be easily linked to its injury woes -- the Big Four of Frank Lampard, Terry, Drogba and Michael Essien have all been sidelined for major stretches. It's hard for any team, no matter the budget, to soldier on at half-strength, but Lampard's imminent return next week (even if it's as a sub) should help bring some serenity to an unsettled midfield that has missed his brain, leadership and goal-scoring (22 in 2009). The Blues need to get in shape quickly or they have no hope of lifting any silverware in May.
4. Accept that you're no longer the Special Ones
What made Chelsea so fearsome over the past five years was the Mourinho-esque swagger with which it played. The Blues expected to win and usually did, even if the word to describe their performances was "professional" rather than eye-catching. They may have lacked panache, but they were never short on confidence. Yet over the course of the past month, Chelsea has looked like a timid, confused version of the team that began the season by pummeling the league's lightweights and fueling insane expectations that it would score seven goals every game. Chelsea also went 916 minutes without conceding a league goal at home, prompting belief that it would turn Stamford Bridge into an impregnable fortress. The numbers are much less gaudy now -- the Blues have scored just three in their past six league matches -- but Ancelotti knows that the Prem is a marathon, not a sprint. As soon as all his key players are fit again, the "fighting spirit" that may have temporarily deserted the Blues will return in typically ruthless fashion.
David Hirshey

For more from David Hirshey, check out his columns on all things soccer.
• The All-EPL Team, 2011-12
• Saying goodbye to Chinaglia
• Time to dethrone King Kenny Dalglish?
• In praise of Fulham
• The comeback artists
• Call it a comeback
• Death by Manchester
• The battle for third
• Spurs' title credentials
• EPL's best starting XI
• City handed first EPL loss
• Chelsea pushed to brink
• Fragile egos crossing
• City and United
• Is Newcastle for real?
• The bad-behavior derby
5. Finally, buy a newspaper
Considering the tsunami of vitriol still pouring forth from Fleet Street a week after the Russkies yanked a World Cup from underneath David Beckham's magnificent nose, Roman should know he's hardly a media darling in the nation's capital, and it might be a while until the fury subsides. Even with all his other toys, Abramovich has more than enough rubles to snap up a newspaper and guarantee smooth tabloid sailing until the title race is over. He's already suing the Daily Mirror for printing scurrilous lies about Ancelotti's job security; the next step should be a full takeover.
Follow my plan, Roman, and your paper will trumpet this headline in May: TOP GUNNERS! Arsenal Beats Chelsea for Title.
What, you didn't think I'd let the Blues win it all, did you?
David Hirshey has been covering soccer for more than 30 years and has written about the sport for The New York Times, Time, ESPN The Magazine and Deadspin. He is the co-author of "The ESPN World Cup Companion" and played himself (almost convincingly) in the acclaimed soccer documentary "Once in a Lifetime."