Commentary
Behind Qatar's football success
Updated:
December 23, 2010, 5:38 PM ET
By
Brent Latham
| Special to ESPN.com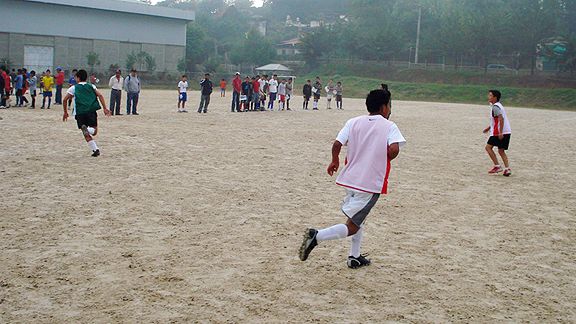 ICU Publicidad/Guatemala CityQatar's Football Dreams program is designed to discover talent in the farthest-flung villages, such as Coban, Guatemala. But it's also helped Qatar build a name for itself around the world.
GUATEMALA CITY -- A mild breeze ruffles the trees surrounding the field at Cementos Progreso Stadium, as some of the country's brightest young soccer stars run through drills under a deep blue sky. It's a perfect day for soccer, the kind that would make anyone want to linger in Central America. But on this afternoon, each of these 50 young men would like nothing better than to earn a one-way ticket to a country halfway around the world.
After a nationwide search, this select group of teenagers has been brought here to try to impress an international team of talent seekers from countries including Spain, Germany and Brazil. Old hands at appraising soccer talent, this football cognoscenti will choose a few Guatemalans to travel to what is rapidly becoming one of the best youth soccer academies in the world.
But the head scout, Josep Colomer, who made his name by bringing Thierry Henry and Lionel Messi to Barcelona, is not headed back to Europe. The man considered possibly the world's best judge of youth soccer talent doesn't work for the Blaugrana anymore. He'll be sending the gems he plucks from obscurity to meet up with others from around the world at Aspire Academy in Qatar.
---
The announcement that the small Middle Eastern nation of Qatar would host the 2022 World Cup stunned more than a few football fans. The Arab country about the size of Connecticut will become by far the smallest ever to host the tournament. Critics have asked loudly how a relatively unknown nation could pull off such a coup. But look closer and you'll realize that it might not be such a shock. You'll see that Qatar, through a program called Football Dreams, has built a strong presence in many developing nations, some of which also have representation on FIFA's executive committee that voted on the hosting rights for the 2018 and 2022 World Cup tournaments.
Indeed, despite relative obscurity in the popular consciousness of the Western world, Qatar has quietly been making a name for itself in international soccer circles. The country's al-Thani ruling family has long showed an interest in international athletics, and in the past few years has invested a portion of its immense wealth in a quest to make Qatar competitive in a range of Olympic sports, including soccer.
As part of that vision, in 2004 the royal family funded the Aspire Academy project to train Qatari athletes with the best technology and resources that money could buy. Shortly after, as an offshoot of the academy's soccer program, the Aspire Football Dreams program was launched to uncover youth soccer talent hidden in the farthest-flung villages and outposts in the world.
"I take more than 160 flights each year," Colomer told local press while in Guatemala, as he assessed the annual fruits of one of 15 Football Dreams programs scattered across Africa, Latin America and Southeast Asia. "I sleep in a different village of the world every night. I leave my house in May and return in December."
The program began in 2005 with a handful of camps in sub-Saharan Africa. Since then, it has expanded to Latin America and Southeast Asia. Each year, Aspire's scouts run the rule over hundreds of thousands of young players, and through a series of increasingly exclusive trials, end up with a scholarship class of international students invited to live, study and play alongside the Qatari students at Aspire in Doha.
At inception, Football Dreams was billed as an innovative way to find undiscovered talent and prepare those prodigies for top-level football, while keeping them out of the hands of unscrupulous agents and human traffickers. Colomer goes one better and describes the project primarily as a humanitarian effort.
"Thanks to the Qatari royal family, we've been able to take on this humanitarian project," he said. "This project is one that I've had inside me since I was at Barcelona. It's an honor to represent [the royal family], but the people won't really take notice until one of the kids who comes through this program joins Barcelona or Manchester United or Real Madrid, because the day will come when one of these kids comes out of nowhere and goes to Aspire to become the next Messi. And all of this is just to give kids an opportunity, regardless of their class or socioeconomic status."
Since its founding, backed by the royal family's bottomless bank accounts and the contacts and clout of more recently added sponsors UNICEF and Nike, Aspire Football Dreams has expanded rapidly if quietly, having now put more than 2 million teenagers through trials in developing countries around the world.
"There's no question that all countries have talent," Colomer said. "What happens is that sometimes the players live in villages that are very far from the capital and no one goes to see them, or their families are poor and don't have the resources to get them into football schools so they can be seen."
Colomer said Aspire succeeds in its mission by seeking out local contacts to help reach untapped sources of youth talent outside the traditional structure of club soccer, targeting young players still unaffiliated with local teams.
Three from Guatemala made the cut this year, for example, and are headed to Qatar for the final tryout phase in January. There, on fields that during their short existence have been graced by Manchester United and the Brazilian national team, they will meet up with representatives from the other 14 country programs.
[+] Enlarge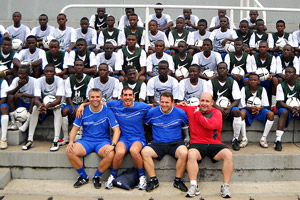 ICU Publicidad/Guatemala CityAt the final round of tryouts for the Football Dreams program in Nigeria, players pose with scouts from Aspire Academy.
A final team is chosen and its members are given full scholarships to Aspire academy -- the equivalent of a high school education -- while they play on the elite Aspire international team, traveling the world for tournaments and earning invaluable exposure for players and the academy alike. Others will be invited to join a branch of the academy run by Colomer in Dakar, Senegal.
For the minute percentage of kids who make the final cut -- 23 will stay in Qatar out of more than 500,000 13-year-olds to 15-year-olds tested this year -- Aspire Football Dreams is designed to be the fast track to superstardom. But that small group is not the only faction that appreciates the Qataris' efforts. Aspire has drawn attention and praise in the closed and somewhat mysterious inner circle of international soccer's elite.
"Aspire has a balanced plan for youth development, which supports education and sport for Qatar-based and scholarship students from the developing world," FIFA president Sepp Blatter said on his first visit to the academy in 2008. "This is making a very important contribution."
A FIFA spokesman declined a request by ESPN.com to elaborate on Blatter's comments, saying FIFA had no direct role in the program. But through its Football Dreams project, Aspire has quickly assumed a relatively significant position in the youth development projects of a small group of FIFA member federations around the world. It's an exclusive and rather eclectic club of countries scattered throughout the developing world, with few clear common ties.
So Football Dreams stands out not just because it throws money around to pluck prospects from the developing world. Six of the 15 programs are in countries represented on FIFA's all-power 24-man executive committee. That, along with a lack of a clear country selection process in terms of where the program puts down roots, gives you some of the first clues as to how the benefits of Football Dreams have been used around the world in a clever -- and legal -- bid to market Qatar and, perhaps, subtly influence the vote for the 2022 World Cup bid.
---
By most accounts, Aspire Football Dreams has been a resounding success in Africa. Working in relatively remote areas, the program has discovered players who have gone on to join the national programs of several African youth sides. During its short existence, Football Dreams has produced members of Ghana's 2009 under-20 World Cup champion team, Nigeria's 2009 under-17 World Cup runners-up, and South Africa's current under-17 team.
To further cooperation with the local soccer infrastructure in the countries in which it works, Aspire makes a point of working directly through national federations to develop scouting infrastructure and player pools at the youth level.
"There's no money for this sort of thing in Guatemala or Africa," said Silvia Carazo, head of a marketing and publicity firm contracted to run the program in Guatemala. "The project is realized through each of the federations nationally, but the money and budgeting of the project come from outside and are put in private hands. But this project only works with the backing of the federation, and the Qataris work closely with them."
---
But Aspire's motivations to find talent in places such as Guatemala and Thailand are less obvious. Oddly for a soccer talent search of limited scope, Aspire's country selection process seems to place little value on a nation's history of producing international soccer players.
Besides producing some average soccer, what Guatemala and Thailand do have in common is representation on the FIFA executive committee.
[+] Enlarge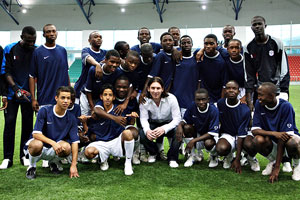 Karim Jaafar/AFP/Getty ImagesLionel Messi spoke to Aspire Africa Football Dreams finalists in Doha in January 2008.
Program locations might not always make sense from a soccer standpoint, but if Aspire's goals include influencing FIFA's highest body, football Dreams has established a beachhead in all the places where it makes the most sense. Among program sites are six developing countries including Guatemala, Paraguay and Thailand with representation on the executive committee. Brazil and Argentina, where scouting networks are perhaps more developed than anywhere else in the world, are the only executive committee seat-holding countries in South Asia, Latin America or Africa without a Football Dreams project. But Paraguay, one of the smallest South American nations in terms of population, is home to a recently opened program; it's also residence to longtime CONMEBOL President Nicolas Leoz, an executive committee member who was widely believed to be instrumental in shepherding the South American block of votes to Qatar 2022.
Although the talent search in countries such as Guatemala has produced few results -- no Guatemalan has yet earned a permanent place at the academy in Doha -- Aspire's close work with host national federations has done more than turn up prospects. Football Dreams is still a valuable publicity and branding exercise, ensuring that key members of international football's managing elite around the world recognize Qatar's contributions to the development of the game in their countries.
"[Qatar] has taken an interest in countries like Guatemala," said Felipe Gomez, Football Dreams project liaison at the Guatemalan Football Federation. "It's good for the kids, it's good for the federation, and it's good for relationships among footballing communities everywhere. There are people at all levels of Guatemalan soccer that have benefited from this project: kids, coaches, local organizers. It leaves a very good impression. [The Qataris] have reached out and we've happily received them to work with us, of course."
In theory, FIFA executive committee members are independent individuals not affiliated with their country's national association. In practice, members such as Guatemalan Rafael Salguero, who, according to sources in Guatemalan soccer, before the World Cup vote told confidants that the U.S. was low on his list for 2022, normally have deeply entrenched ties and a commitment to foster the well-being of the game in their country, especially where youth development is concerned. Assistance that furthers those aims does not go unnoticed.
---
Given that Football Dreams operates in some of the world's poorer countries, it's little surprise that Aspire representatives frequently use the words "development," "opportunity" and "humanitarian" to describe the initiative.
But while there's little doubt that Football Dreams provides benefits for the countries it works in, the program has its critics, too. If Football Dreams is to be judged as a humanitarian project, for example, development practitioners would be very disappointed by its cost effectiveness and transparency. Exact budgets are strictly confidential, but it is clear that there's a lot of money at play for an end result that amounts to a few dozen high-end high school scholarships.
You can get a good sense of how Aspire's program plays out at ground level -- the pluses and minuses -- in Guatemala.
"We bring all 50 finalists to stay in Guatemala City for three days, with everything paid for," Carazo said. "They are all given uniforms, balls, and they get special training. Nike provides all the gear and equipment for the fields; they're a huge sponsor of this project as well. Then the three who are selected, along with all the program staff from the country, go to Qatar for the final trial next year, all expenses paid."
Some of Guatemala's top club teams are not huge fans of the project, either. Officials at two Guatemalan clubs, who preferred not to be identified for this story because of pending dealings with Football Dreams program participants, expressed doubt that the project's primary goal was to give underprivileged kids an opportunity since the clubs' interest in participating and even signing some of the participants was rebuffed.
Gomez, the federation's representative, said local teams were interested in some of the project participants, but they were discouraged from interfering with Football Dreams.
"A few of the local teams tried to come in and contact some of the players," Gomez said. "We made sure that the families and kids did what was in their best interest, and followed through with the opportunity in Qatar."
A representative from one large club in the capital, who requested anonymity, pointed out that the program in Guatemala included several tryouts in the capital, infringing on the clubs' primary recruiting grounds and conflicting with Aspire's stated goal of helping players without access to conventional scouting structures. But this person also said that despite the grievances, the club preferred not to give an official statement about the Aspire program, adding that the club's board of directors had a "clear understanding of the incentives of the program to [the Guatemalan football] federation."
---
Then there's the gray issue of national allegiance for those accepted to the program in Qatar. With riches to spare, Qatar has created a bit of a niche for itself in terms of importing world-class athletes. Generally Qatari citizenship is nearly impossible to acquire -- foreigners must live in Qatar for 25 years, speak Arabic and relinquish other citizenship to be eligible for consideration for a Qatari passport. But the monarchy is free to grant citizenship as it pleases, and in recent years a diverse group of athletes has been nationalized to compete under the Qatari flag, including Kenyan steeplechasers, Chinese chess players and Bulgarian weightlifters.
Although nationalizing soccer players under FIFA rules is far more complicated than changing national allegiance in many other sports, suspicion has followed that Football Dreams could mask a talent search meant to boost the Qatari national soccer team, currently ranked 113th in the world. Simple math reveals that if the classes of 13-year-old to 15-year-old prospects pan out, those players would be in their primes come 2022.
[+] Enlarge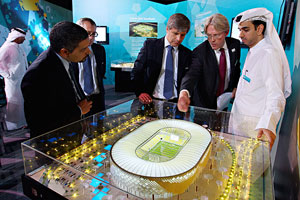 Clive Rose/Getty ImagesChief FIFA inspector Harold Mayne-Nicholls is shown a design for one of the proposed World Cup stadiums by technical director Jasir Al-Jamal at the Aspire sports complex in September in Qatar.
In fact, if the program director's rhetoric is any clue, building the national team pool might well have been an auxiliary goal at the onset of the Football Dreams program, though it's not something those affiliated with the program are willing to talk about now.
"When making agreements, we are not requiring them to play for Qatar," Aspire sports director Andreas Bleicher told reporters two years ago in Africa. "We leave it up to them. A player might be here for five years, and if he wants to play for Qatar, it is upon the player concerned."
Several international Aspire students have since represented their countries of birth, and the recruiting rhetoric has been toned down considerably. The Football Dreams website now includes a phrase explicitly stating that the goal of the program is not to recruit players for Qatar. But at least one international Aspire graduate, Daniel Goma of Guinea, has recently been called into camp with the Qatari side -- according to FIFA rules, no player can play for a national team, even in a friendly, without citizenship -- and his international future would seem to lie with the Annabi.
---
Aspire's efforts might or might not help Qatar on the field in 2022. But initiatives to reach out to the world of international soccer aren't limited to programs to benefit development on the field. Earlier this year, the Guatemalan under-17 team and a number of federation officials made the long trip to the Middle East for some friendly matches at Aspire. Their opponent was the very international team this year's select three prospects hope to join. Other federations from around the world have enjoyed similar trips.
Guatemalan federation officials preferred not to divulge how, or by whom, such a long trip was paid for, but what is clear is that while Qatar's victory in the voting for 2022 World Cup hosting rights came as a shock to many, the result came as little surprise to the soccer intelligentsia in this CONCACAF member country.
"What Qatar wants, Josep [Colomer] always says, is to be seen as a powerful nation in the world," Carazo said. "I think they've begun to achieve that with the World Cup announcement. Before, no one in Guatemala had heard of Qatar; now we know, with Football Dreams, what Qatar is all about."
After Qatar was awarded the 2022 World Cup, the knee-jerk reaction was to suspect the worst. The U.S., among others, had existing stadiums and a much larger economy, would produce more revenue and seemed to have everything in place. U.S. Soccer declined a request to comment on the Football Dreams program, saying it wasn't its place.
While the U.S. put together what FIFA called the most technically sound bid for 2022, Qataris and their proxies were quietly at work in the home countries of many of the FIFA executive committee members. There, they found ways to serve federations in the developing world in practical, even commendable programs that seem to have won many friends and influenced a lot of people at all levels of the soccer world. This might be especially true since Football Dreams' mission nicely dovetails with FIFA's recent emphasis on using the game to assist the developing world and create a positive social impact.
"This was a wonderful opportunity to see Aspire and to discuss the important role of sport in youth development and education," Blatter said on his visit to Aspire in 2008. "The essence of football is education, because it teaches teamwork, discipline and respect for your peers and your competitors. The fact that Aspire has been able to combine both education and sport in one institution is remarkable."
Perhaps just as remarkable is the manner in which the small country of Qatar has created a place for itself on the international soccer map. The Aspire Football Dreams program is perhaps the best and certainly the most elaborate example of that process, in all likelihood contributing to Qatar's ultimately successful quest to host a World Cup.
Around the world, at many different levels, the Football Dreams program has helped provide the blueprint for kids to turn dreams into reality. But it's also helped lay the foundation for Qatar to achieve the biggest dream of all -- hosting a World Cup tournament.
Brent Latham covers soccer for ESPN.com. He previously covered sports throughout Africa for Voice of America radio and now works as a soccer commentator for a national television station in Guatemala. He can be reached at brentlatham@ymail.com.
ESPN Insider
Brent Latham is a soccer commentator who covers the youth national teams for ESPN.com. Based in Guatemala, he has attended youth World Cups from Peru to Egypt, and places in between.