Commentary
Taking Napoli seriously in Serie A
Updated:
December 22, 2010, 3:05 PM ET
By
Michael Cox
| Special to ESPN.com
Taking into account the Calciopoli (match-fixing) scandal of the past decade, which saw Juventus stripped of two Scudetti, we haven't seen a club other than Inter win Serie A since 2004. Such dominance has not necessarily created boring seasons, but it's fair to say that Italian football would benefit from a different champion this season.
In the summer, the usual suspects were expected to compete for the title -- Milan and Juventus had new coaches, while Roma enjoyed a superb second half of last season. But it's safe to say that few had Napoli on the top of their list to mount a serious title challenge. The Blues had a decent 2009-10 season. After an awful start under former Italy coach Roberto Donadoni, they replaced him with Walter Mazzarri, who guided the club to a respectable sixth-place finish.
[+] Enlarge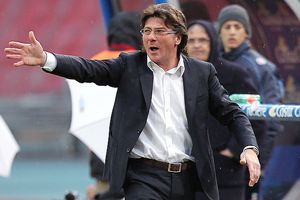 Gabriele Maltinti/Getty ImagesNapoli's coach, Walter Mazzarri, has employed a unique formation that's given his team a decided edge in Serie A.
Now, as we head into the winter break, Napoli is tied for second in Serie A, just three points behind league leader AC Milan.
Of course, Napoli is not a small club. Naples is the third-largest city in Italy and is football-crazy. In fact, the Blues are estimated to be the fourth-most supported club in the country after the traditional northern powerhouses of Juventus, Inter and Milan. This season, Napoli's average attendance is the third-highest in Serie A behind the Milan clubs.
Napoli is also no stranger to success. In the late 1980s and early 1990s, it frequently challenged at the top of the league, winning two league titles and a UEFA Cup primarily thanks to the brilliance of Diego Maradona, who played for the club from 1984 to 1991.
That's 20 years ago, of course, and Napoli's summer-transfer business didn't suggest it was about to take a leap forward this season. The only major change was up front -- the Blues lost Neapolitan Fabio Quagliarella to Juventus and replaced him with Uruguayan forward Edinson Cavani.
But not making any big moves in the transfer window has fostered stability, which has turned out to be one of Napoli's biggest strengths. With the exception of Cavani, the team's regular first XI were playing alongside one another for the majority of last season. The understanding and positional discipline they've developed is clear to see, and it's been vital in allowing Napoli to use a 3-4-2-1 system, an unusual formation among top European clubs. (Barcelona also uses the three-man back line from time to time.)
The three-man defense is interesting in itself, considering it fell out of favor across Europe in the middle of the past decade. The problem was the popularity of one-striker formations, meaning the side with a three-man defense was overstocked at the back, and created a shortfall elsewhere on the pitch.
Mazzarri has been wise -- or fortunate, depending on your point of view -- in deploying his three-man wall at a time when two-striker systems have returned to favor across Italy, particularly with the sudden re-emergence of 4-3-1-2. Against two strikers, the three-man back line works brilliantly; Napoli have two man-markers and a spare player ready to sweep up behind. Ahead of the defense, the Blues combine two solid, reliable central midfielders in Walter Gargano and Michele Pazienza with two energetic wingbacks who get up and down the line tirelessly, Christian Maggio on the right and Andrea Dossena on the left.
[+] Enlarge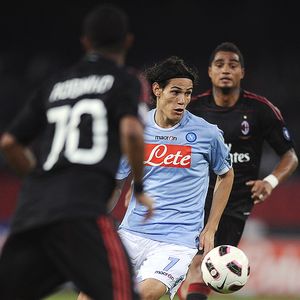 Filippo Monteforte/AFP/Getty ImagesNapoli forward Edinson Cavani, a Uruguay native, has been one of the best signings of the season.
Fluidity is the key for Napoli up front. Cavani and Marek Hamsik play behind the main striker, Ezequiel Lavezzi, in the channels between opposition center backs and fullbacks. This forces the fullbacks to come inside and therefore opens up space on the flanks for Maggio and Dossena to get forward and whip crosses in.
That seems like an attacking style of play, but once Hamsik and Cavani (or Lavezzi) drop back to defend the wide zones when Napoli loses the ball, the wingbacks can retreat into defense, and suddenly Napoli looks like an ultradefensive 5-4-1 shape.
Mazzarri has the right philosophy tactically. He maintains his basic formation from week to week to give his side structure and stability but varies small details to make sure Napoli isn't outnumbered in certain areas. Against Fiorentina on opening day, his team was up against a lone striker in Alberto Gilardino. Mazzarri didn't need three center backs permanently, so he pushed Hugo Campagnaro forward to make up the numbers in midfield. Against Palermo, Napoli was faced with a three-man defense, so Mazzarri instructed his forwards to take turns moving out wide, constantly stretching the opposition defense. Against Genoa, opposition attacking midfielder Houssine Kharja was playing almost as a third striker, so Mazzarri split his central midfielders -- moving Pazienza deeper so Napoli still had a spare man at the back -- and used Gargano further forward.
Mazzarri has put on a master class of X's and O's. But tactics isn't the only thing that's helped Napoli. The players are also mentally tough and physically fit. Three times in the past seven games, they've won 1-0 thanks to a goal in the 90th minute, most recently a superb 27-yard strike against Lecce from Cavani, who is proving to be one of the best signings of the season.
As we head into the second half of the season, Napoli deserves to be taken seriously. Although the side is in second place, most bookmakers still regard it as fifth-favorite to be crowned champion. For the sake of variety -- both tactically and in terms of the recent list of Serie A champions -- let's hope Napoli beats the odds.
Michael Cox is a freelance writer for ESPN.com. He also runs zonalmarking.net.