Commentary
United invincible -- so far
Updated:
January 7, 2011, 11:39 AM ET
By
Michael Cox
| Special to ESPN.com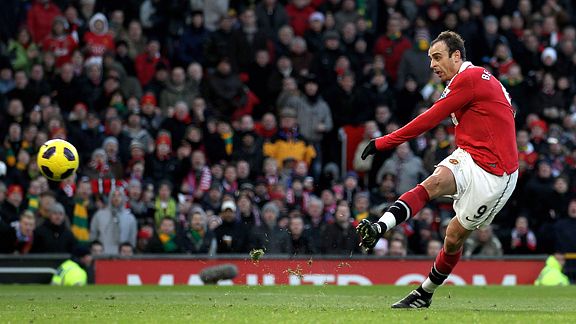 Tom Purslow/Getty ImagesDimitar Berbatov, who leads the EPL with 14 goals, has helped United remain undefeated this season.
Manchester United's Tuesday night victory over Stoke City epitomized its season so far. The Red Devils managed just two shots on target, yet recorded a 2-1 victory. This season has rarely seen them hit top form, but they've still managed to consistently pick up results in the classic winning-without-playing-well formula -- the mark of potential champions. Incredibly, they also remain the only unbeaten team after half of the season, with 12 wins and eight draws.
But before we start making proclamations that United will become the Invincibles, Part 2 -- a thought that no doubt pains Gunners fans -- let's take a closer look at the team's season so far and how its change in attack has contributed to the stellar results.
For United, spectacular performances have been few and far between. Only once all season have the Red Devils scored more than three goals in a game. That's not necessarily a bad thing, and in itself the stat is fairly meaningless. But when you consider that United scored three or more goals on nine occasions in 38 matches last season, once in 20 games (so far) seems very low. Then again, titles aren't won by dishing out thrashings, and if any club knows that, it's United. Its most recent Premier League title, in 2008-09, saw 10 wins by a 1-0 score. Ultimately, three points is all that matters.
The one exception to United's run of understated, consistent results so far this season is the 7-1 defeat of Blackburn Rovers in late November. But that is the key game in understanding this United team, because the result showed that manager Sir Alex Ferguson has shifted the emphasis of his attacking play.
For three campaigns now, United has been based around a single attacking player, but it's been a different one each time. In 2008-09 it was unquestionably Cristiano Ronaldo, with Wayne Rooney often sacrificed in a wide position to allow the Portugal captain to play to his full potential. When Ronaldo departed for Real Madrid, Rooney took center stage to have his best-ever season (26 goals, three behind league leader Didier Drogba), with Dimitar Berbatov playing a deeper, supporting role.
Rooney's diminished threat -- whether because of injury, fallout from his contract negotiations or loss of form -- has meant that Berbatov has almost accidentally superseded him to become the main point of attack. The Blackburn game demonstrated it perfectly. Berbatov grabbed five goals (tying a Premier League record), while Rooney dropped off the front, linking play and helping build attacks. He completed 84 passes and attempted two shots in that match. In the corresponding fixture last season, when Rooney was the main striker, he completed 40 passes but attempted eight shots.
Rooney's reduced status was confirmed in recent games against Birmingham and West Brom, when he was (at times) used on the flank again, with Berbatov staying up front.
On one hand, the idea that Ferguson is basing his side around Berbatov is ridiculous, because in United's biggest game so far this season, at home to Arsenal, the Bulgarian didn't make it off the bench.
[+] Enlarge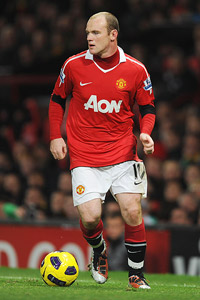 Michael Regan/Getty Images)This season, Wayne Rooney has often been used on the flank in support of Dimitar Berbatov as the main attacker.
On the other hand, when considering the bigger picture, it's not such an absurd situation. Indeed, Chelsea boss Carlo Ancelotti did exactly the same last season: Drogba was the Premier League's top goal scorer, yet for the title decider at Old Trafford, Ancelotti opted to leave him out and played Nicolas Anelka as the main striker. Meanwhile, Arsenal's most prolific striker this season is new arrival Marouane Chamakh, but for the clashes with Chelsea and Manchester City, Wenger preferred Robin van Persie.
In the big games, more guile and selflessness are needed. Rooney, Anelka and van Persie play deeper than Berbatov, Drogba and Chamakh do, and therefore are better at linking play. There's a time and place for classic central strikers, but it might not be in the matches that matter most.
This relates back to the situation United was in before it signed Berbatov. In the 2007-08 season, the team won the European Cup with a fluid, counterattacking trio of Ronaldo, Rooney and Carlos Tevez, but what it lacked (with Louis Saha constantly injured and about to depart) was a player who could occasionally provide more of a permanent presence in the penalty box, a true number nine who would allow a more direct route of attack, particularly when opponents defended deep.
The optimum word there is "occasionally." There was surely never an intention to make that type of player the focal point for the side, but in spending 30 million pounds on a renowned striker, United was almost obliged to start Berbatov regularly, especially when it became clear that Tevez wasn't going to stick around. Alongside Ronaldo and Rooney, however, he never quite looked comfortable with the style of football played, and was labeled a flop by many. In the big European games, Ferguson rarely looks Berbatov's way -- United has played 11 Champions League knockout games in the Bulgarian's time at the club; he started the first three, but has been on the bench for the past eight. For those contests, Ferguson has realized that counterattacking with fast, energetic players is the name of the game.
The same can be said of away matches in general, and this is where United has struggled this season. The Red Devils' away performances between 2006 and 2009 were characterized by lightning-quick breaks, but now United has stumbled upon a side predominantly based around a languid, static striker who doesn't suit that type of football. On the road in league matches, United's record is 2-7-0.
[+] Enlarge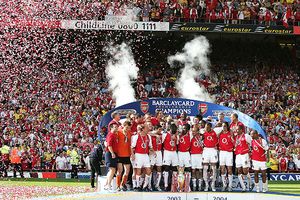 Clive Mason/Getty ImagesArsenal capped an undefeated EPL season in 2003-2004 -- 26 wins, 12 draws, 0 losses -- to become known as the Invincibles.
In the team's matches at Old Trafford, Ferguson's side is on the front foot and controls the game, so this hasn't been a problem. But away from home, where it sets up a bit more defensively, there's not enough cohesion to United's attacking play. The Red Devils seem trapped between a classic counterattacking mindset and a more patient passing game. The result, more often than not, spells draws.
However, like most teams on long unbeaten runs, United's strength is its defense. After a poor start to the season at the back, Rio Ferdinand's return from injury has improved United substantially. Its goals-conceded-per-game ratio has been nearly halved since he and Nemanja Vidic were reunited, and the whole side looks more stable as a result.
Ferguson continues to downplay the prospect of United going unbeaten for the entire season, but it remains a genuine prospect. Worryingly for their title rivals, the Red Devils tend to improve in the second half of the season. They may be top of the league and favorites to win the Prem, but there's still room for improvement.
Michael Cox is a freelance writer for ESPN.com. He also runs zonalmarking.net.
Michael Cox
ESPN.com writer