Commentary
God save King Kenny
Updated:
January 10, 2011, 11:25 PM ET
By
David Hirshey
| Special to ESPN.com
When Kenny Dalglish raced back from a cruise to Bahrain to reclaim his rightful place on Liverpool's Titanic, it marked the first time in almost 20 years that he had led out the Reds in a managerial capacity. After nearly a decade of wandering the ambassadorial and youth academy deserts, he finally answered the 911 calls of "King Kenny! King Kenny!" from the baying Anfield faithful as they watched their beloved club sink into the muck of mid-table anonymity.
The cries were sufficiently loud and insistent to remind John Henry and Tom Werner, Liverpool's new owners, of when an equally proud and tribal fan base in Boston rose up and demanded the head of Red Sox manager Grady Little, and later the dreadlocked scalp of Manny Ramirez. Faced with a similar populist uprising, Henry and Werner performed an act of managerial euthanasia before Roy Hodgson rubbed his face off in increasing frustration at both his players' apathy and the Kops' antipathy.
By bowing to the wishes of their rabid supporters and firing Hodgson -- who won a dismal 13 of 31 games while in charge -- Henry and Werner stole the weekend's thunder from what would have been the biggest story in the soccer universe: Baby No. 4 is on the way for the Beckhams. Oh, and he's not going to Spurs. Or wait, he might still. And who really cares anyway?
A legendary player and manager synonymous with the halcyon days of Liverpool's supremacy -- Dalglish led the Reds to six league titles as a center-forward (the last of those was as a player/manager) and two more as the team's beloved manager from 1979 to 1990 -- King Kenny was the obvious choice to wear the heavy Liverpool crown. Although there's nothing wrong with worshiping your team's past, especially one as gaudy as Liverpool's, there is an element of risk in trying to move forward by looking backwards. Just ask Argentina, which flopped under the slapstick tutelage of Diego Maradona, or Newcastle United, which won just one of its last eight matches under the iconic Alan Shearer, a run that saw the Magpies relegated and Shearer hightailing it back to the cliché-cushioned comfort of his TV pundit's chair.
Moreover, the sport that Dalglish understood so fluently when he won the league at Blackburn in 1995 is not the same game that Liverpool plays with such banality in 2011. So much has changed -- sheikh owners with bottomless resources, players for whom $300,000 a week is deemed insufficient -- that King Kenny could just as well have been away since pterodactyls and Stuart Pearce roamed the Earth.
[+] Enlarge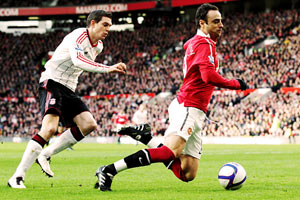 Alex Livesey/Getty ImagesKing Kenny raged about the penalty awarded to the Red Devils after Dimitar Berbatov went down in the box.
Meanwhile, the man best-equipped to give Dalglish a crash course in the modern game, Sir Alex Ferguson, graciously accompanied his fellow Scot as they emerged from the tunnel for their third-round FA Cup match to a rapturous ovation at Old Trafford. Unlike the family pariah, Uncle Roy, who never understood the power of the Kop, King Kenny, even in enemy territory, will never walk alone. The traveling Liverpool supporters, 9,000 strong, were in full-cry, buoyant that their demands had been addressed and praying that the same players Hodgson was unable to motivate, Dalglish would inspire to the heights of the Duran, Duran era. Or maybe just stave off relegation.
If the match had been a play on London's West End, it would have closed before the end of the first act. Daniel Agger, one of several out-of-favor-by-Hodgson players recalled to appease the masses, breathed heavily in the direction of Dimitar Berbatov. Howard "de Jong Who?" Webb pointed to the spot even though Berbs could have smoked a cigarette in the time he took to go down after minimal contact with the Liverpool defender. Up stepped Ryan Giggs to coolly convert the penalty kick and United was ahead 1-0 after less than two minutes.
If Agger's soft foul could be hilariously explained by Ryan Babel's tweeted photo of Webb wearing United colors, Steven Gerrard's reckless two-footed tackle on England teammate, Michael Carrick was just another illustration of both how easily this Reds team loses its composure and how erratically Stevie G has played since his failed stint as his country's World Cup captain. With Gerrard sent off, Dalglish was left to play 10 versus 11 only 32 minutes into his second managerial reign.
David Hirshey

For more from David Hirshey, check out his columns on all things soccer.
• The All-EPL Team, 2011-12
• Saying goodbye to Chinaglia
• Time to dethrone King Kenny Dalglish?
• In praise of Fulham
• The comeback artists
• Call it a comeback
• Death by Manchester
• The battle for third
• Spurs' title credentials
• EPL's best starting XI
• City handed first EPL loss
• Chelsea pushed to brink
• Fragile egos crossing
• City and United
• Is Newcastle for real?
• The bad-behavior derby
Later, King Kenny would rage about the decisions that went against his Reds, but his bluster can do little to hide some painful truths. This is not the Liverpool of his managerial prime. The players at his disposal are not named John Barnes, Peter Beardsley or John Aldridge, who formed the heart of his fabled 1987-1988 team. Instead, he inherits cloggers like Paul Konchesky, Christian Poulsen and Sotirios Kyrgiakos, not to mention Joe Cole, whose acquisition over the summer is the front-runner for the Worst Purchase Made by an EPL Team Award. Fortunately for Liverpool, there is still a spine of quality to build on.
When he's not losing his head, Gerrard remains a dominant force in the midfield, even if his diminishing talents seem better-suited to the flank than the center. Pepe Reina is perhaps the best goalkeeper in the EPL, and in Fernando Torres, King Kenny has one of the most fearsome strikers in the world when he's on his game. This season, however, El Nino has been unable to shake his World Cup funk that saw his country win the championship with Torres marginalized into a cameo role as he tried to regain full fitness. At Liverpool, it didn't help that Hodgson's stodgy tactics isolated the Spaniard up front, meaning the only service he got were mindlessly hoofed long balls into the box that hardly play to his strengths on the ground. If King Kenny, who knows something about a striker's needs -- he scored 118 goals for Liverpool -- can help Torres rediscover his mojo and maybe buy another proven striker to partner him, Merseyside could be rocking again.
But not this season. After all, Dalglish is only a King, not a magician named Merlin.
David Hirshey has been covering soccer for more than 30 years and has written about the sport for The New York Times, Time, ESPN The Magazine and Deadspin. He is the co-author of "The ESPN World Cup Companion" and played himself (almost convincingly) in the acclaimed soccer documentary "Once in a Lifetime."