Commentary
Top 10 best MLS draft picks of all time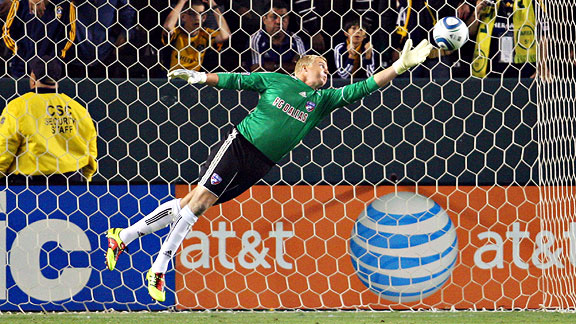 Victor Decolongon/Getty ImagesKevin Hartman tops our list as the best draft pick in MLS history.
The meteoric rise of rookies such as New York Red Bulls defender Tim Ream and Sporting Kansas City striker Teal Bunbury, who were drafted last year and have already made their debuts for the U.S. senior national team, underlines the growing importance of the draft in Major League Soccer. So we decided to rate the best and worst draft picks ever made in MLS as we look ahead to Thursday's 2011 MLS SuperDraft.
How'd we make our picks? We chose to focus on each player's MLS career, with extra credit given for his contributions to the U.S. men's national team.
Below, we present our Top 10 best picks. Click here for our Top 10 worst picks.
10. Tim Ream, defender, 18th overall pick in Round 2 of 4, by the New York Red Bulls, 2010
As the sensation of the 2010 draft class, Ream showed himself to be the most MLS-ready player in his batch. He was a key cog of a previously shaky NYRB defense, starting every game and narrowly missing out on the rookie of the year award. To boot, he made a good impression in his debut for the U.S. national team, against South Africa in November, and he could be a starter in a few years.
9. Jozy Altidore, forward, 17th overall pick in Round 2 of 4, by the New York MetroStars, 2006
Barely 16 years old when he was selected, Altidore would score 15 goals in 37 games over parts of three seasons for New York. At 16 years, 337 days, in 2006, Altidore became the youngest starter ever in a playoff game; he also found the back of the net that night, becoming the youngest scorer in the postseason and shattering DaMarcus Beasley's record by almost three years. Although Altidore probably left for Europe too soon, he has become a U.S. regular and netted the now-Red Bulls and the league a record $10 million transfer fee when he moved to Villarreal.
8. Jonathan Bornstein, defender, 37th overall pick in Round 4 of 4, by Chivas USA, 2006
There were many prospects who had left more of an impression than Bornstein. Nevertheless, Chivas coach Bob Bradley thought the left winger would make a good back. The Bradley protege won the rookie of the year award and rode his relationship with the coach to 36 caps and a World Cup appearance in South Africa. Bornstein played in 123 games over five years for Chivas before moving on to Tigres for 2011.
[+] Enlarge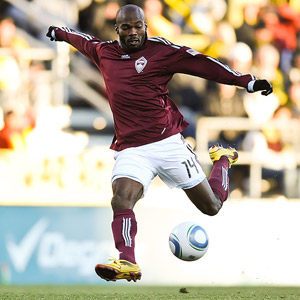 Jamie Sabau/Getty ImagesOmar Cummings' pursuit of a temporary loan move to Aston Villa was scuttled by work permit issues.
7. Omar Cummings, forward, 31st overall pick in Round 3 of 4, by the Colorado Rapids, 2007
A very complete striker who currently is on trial with Aston Villa, Cummings has slowly emerged as one of the league's foremost forwards after going largely unnoticed in high school and college. With 22 goals and 15 assists over the past two seasons, Cumming's contributions were vital in the Rapids' push to the 2010 title.
6. Michael Bradley, midfielder, 36th overall pick in Round 4 of 6, by the New York MetroStars, 2004
At the age of 16, this skinny, immature midfielder who'd been roaming MLS practice fields in the wake of his father, Bob, for years, was thought to have been chosen higher than he should have been. But after not seeing the field at all in an injury-marred rookie year, Bradley started 30 games in his second year. Although his time in MLS was short, he became a reliable starter in the midfield for the U.S., not to mention the youngest player ever sold from MLS, to Heerenveen in the Netherlands.
5. Edson Buddle, forward, 27th overall pick in Round 3 of 6, by the Columbus Crew, 2001
Despite an up-and-down career, Buddle has managed to amass 90 MLS goals -- seventh all time. That means the athletic, 29-year-old striker, who played in the 2010 World Cup for the U.S., would have had a legitimate shot at the all-time league scoring record of 133 goals. But since he's left the Galaxy in favor of a payday with German second-division club FC Ingolstadt, it looks like the record is safe for now.
4. Pablo Mastroeni, midfielder, 13th overall pick in Round 2 of 3, by the Miami Fusion, 1998
That Mastroeni had been underrated in his own draft class became most evident when he became available in another draft. In 2002, the Miami Fusion closed up shop, and their players, along with those of the Tampa Bay Mutiny, were redivided among the remaining teams. The No. 1 pick this time? Pablo Mastroeni, who had gotten a chance to establish himself and eventually emerged as one of the best American midfielders of his generation, snapping up 63 caps.
3. Shalrie Joseph, midfielder, 14th overall pick in Round 2 of 6, by the New England Revolution, 2002
Quite possibly the best defensive midfielder in MLS history, Joseph has been so important to the league and the New England Revolution that the reported $1 million and $2 million offers for him by Celtic were rejected in 2006 and 2007, respectively. Joseph is a four-time MLS best-IX honoree.
[+] Enlarge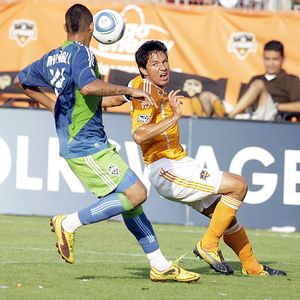 Bob Levey/Getty ImagesBrian Ching has scored 77 goals for the Earthquakes and Dynamo, won a heap of hardware and earned 45 caps (11 goals) for the national team.
2. Brian Ching, forward, 16th overall pick in Round 2 of 6, by the Los Angeles Galaxy, 2001
In a class that also saw Fulham striker Eddie Johnson picked in the second round and Buddle in the third -- while now-minor leaguer Chris Carrieri went first overall -- Ching ultimately would become the best player. After spending a year and change on loan in the A-league in order to let his game mature, the consistently strong target man went on to score 77 goals for the Earthquakes/Dynamo, win a heap of hardware and earn 45 caps (11 goals) for the national team.
1. Kevin Hartman, keeper, 29th overall pick in Round 3 of 3, by the Los Angeles Galaxy, 1997
The league's early years were rife with misjudged picks -- in 1996, Eddie Lewis, who went on to represent the U.S. 82 times, and Ante Razov, the league's third all-time leading scorer, went in the final round of the inaugural MLS college draft -- but the most glaring example might be Hartman, who was taken second to last in his class. He was the goalkeeper of the year by 1999 and went on to set career regular-season records for wins (156), shutouts (93) and saves (1293). He trails only the retired Steve Ralston for all-time appearances, 353 to 378, and minutes, 31,590 to 33,143.
Leander Schaerlaeckens is a soccer writer for ESPN.com. He can be reached at leander.espn@gmail.com.
Contributing writer, ESPN.com
Leander Schaerlaeckens is a contributing writer for ESPN.com. He has previously written for The Guardian, The Washington Times and UPI.