Commentary
Meet "The Vincibles"
Updated:
January 14, 2011, 2:19 PM ET
By
David Hirshey
| Special to ESPN.com
I rarely listen to a guy who loses his footing more than Spider-Man on Broadway, but I snapped to attention the other day when I read that The Dive Artist Known As Nani thinks Manchester United can replicate Arsenal's undefeated season of 2003-04. "We're in a great position," said the Portuguese winger, after United beat Stoke City to make it 20 games unbeaten.
Although I cringe at the notion that any United squad should ever be mentioned in the same breath as my beloved Invincibles, there are, I must admit, similarities between the two teams. For instance, both kick a round ball and have a lot of red in their uniforms.
As Winston Churchill would no doubt have said of this year's undefeated run, "Never has so much been made of so little, by so many." Put another way: United has as much chance of going unbeaten as I do of stripping the ball from Lionel Messi in an open field.
I believe this so firmly that -- Lord have mercy on my Gooner soul -- my money is on Spurs to end United's streak this Sunday at White Hart Lane. That, of course, is where Les Invincibles won the title in 2004, capping their astonishing run of near perfection (won 28, drew 12, lost 0) at the home of their most despised rivals. This time, it's where I expect United to be revealed as pretenders to greatness. Trust me, I know the difference.
I didn't just follow the Gunners that memorable season -- I organized my life around them so that I didn't miss a single moment of any game during the last two grind-the-molars-into-dust months. I even skipped my daughter's birthday -- hey, she has one of those every year -- to catch Arsenal's pulsating 2-1 win over Manchester City (Thierry Henry in the 83rd minute).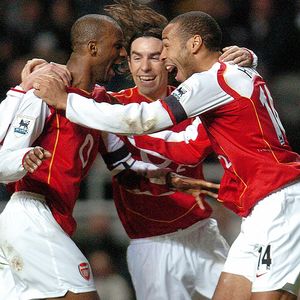 Paul Barker/AFP/Getty ImagesVieira celebrates with Arsenal teammates Thierry Henry and Robert Pires in 2004.
I also made three pilgrimages to Highbury, including one during which I was standing at a hotel bar and saw Henry, Patrick Vieira and Robert Pires having a spot of tea at a corner table. As I hit Mach 2 on the 20-yard stretch between me and the three Arsenal gods, I uttered the word "pardon" so many times that I felt like Bill Clinton during the final week of his presidency. The proof of my brave sprint is immortalized in a photo in which I'm smiling maniacally next to The Three Gunneteers. And here's the thing I remember most vividly: This was the day before they would put their 30-game undefeated streak on the line against United, and they looked like they didn't have a care in the world.
You know that about-to-soil-themselves expression on the faces of the opponents who line up next to Barcelona in the tunnel? It's that kind of will-sapping fear that Arsenal engendered throughout the league during that campaign. This was a team brimming with so much vim and verve that if you drew up a World's Best XI, the Holy Trinity of Henry, Vierra and Pires would be automatic choices -- and the fourth apostle, Dennis Bergkamp, would be named as one of the five substitutes.
Now behold today's United. The only terror they inspire in their foes is reserved for when Alex Ferguson turns such a shade of bright magenta during a spasm of righteous indignation that an opposing player is legitimately concerned Sir Alex doesn't burst a blood vessel in his forehead. Although United might be a testament to unyielding determination, graft and teamwork, you'd be hard-pressed to name a single player who would qualify as the best in the world at his position based upon this year's performance. You could make an argument for the current EPL scoring leader, Dimitar Berbatov, but you wouldn't respect yourself in the morning.
But Arsene Wenger's Invincibles were more than just a pretty collection of talented individuals. They were a team that welded silk to steel, speed to power, and youth to experience. The defense was built on the bedrock of the muscular partnership of Kolo Toure and Sol Campbell as well as the pace of Ashley Cole and Lauren on the wings. The midfield was bossed by Vieira, whose intimidating physical presence allowed Bergkamp, Pires and Freddie Ljungberg the freedom to attack at will. Up front, Henry roamed wherever his instincts took him, alternately creating chances for others with his slick passes or scoring goals at such a mind-boggling clip (30 in 36 games) that it took the breath away.
Together, they laid Napoleonic waste to English soccer history, becoming the first team to go undefeated since Preston accomplished the feat 115 years ago (during Ryan Giggs' preteen years). No other recent juggernaut -- not the storied 1987 Liverpool side of John Barnes, Peter Beardsley and John Aldridge, nor Manchester United's 1999 treble winners of Roy Keane, David Beckham, Paul Scholes, Giggs, et al. -- has managed to survive an entire EPL season without losing a single game.
David Hirshey

For more from David Hirshey, check out his columns on all things soccer.
• The All-EPL Team, 2011-12
• Saying goodbye to Chinaglia
• Time to dethrone King Kenny Dalglish?
• In praise of Fulham
• The comeback artists
• Call it a comeback
• Death by Manchester
• The battle for third
• Spurs' title credentials
• EPL's best starting XI
• City handed first EPL loss
• Chelsea pushed to brink
• Fragile egos crossing
• City and United
• Is Newcastle for real?
• The bad-behavior derby
In fact, just three other teams in the modern European era -- Italy's Perugia (1978-79); Benfica of Portugal (1972-73), featuring the legendary Eusebio; and AC Milan in 1991 (Marco Van Basten, Paolo Maldini and current Chelsea boss Carlo Ancelotti) -- have gone undefeated. All it takes is one bad bounce, one slip, one reckless challenge for the record to be blemished. Talent alone just doesn't cut it. You need a powerful combination of exceptional skill and luck.
Yes, luck.
And that brings us full circle to this iteration of Rabbit's Foot United. There was Fulham's 84th-minute own goal to give United a draw at Craven Cottage, Berbatov's 84th-minute header to beat Liverpool, Chicharito's 85th-minute whoops-a-daisy toe poke to top Stoke, Ji-Sung Park's 93rd-minute rocket to beat Wolves and, of course, the Vidic/Macheda double act in the final 10 at Villa Park to earn a ridiculous draw. All told, three game-saving scores and four late, late, late game winners to keep hope alive in just half a season. Compare these four-leaf clover heroics to the 2003 output of Arsenal, which needed that sort of desperate good fortune just twice during their undefeated run.
Although it would be churlish not to give United its due for scraping points from the barrel of the blessed, any sentient human being -- OK, Arsenal fans -- would readily admit that Sir Alex's lads have rarely evinced any semblance of the authority and cohesion that would be required for them to finish unbeaten. Unless they plan to play Blackburn 18 more times.
For starters, Wayne Rooney has been MIA, scoring a measly two league goals this year, compared to his phenomenal haul of 26 last season. Unless Rooney ignites in the second half of the campaign, United will continue to play Russian roulette with Nani and Berbs as their two go-to guys.
And this weekend I predict that the hammer won't fall on an empty chamber. Spurs are over their fear of the Big Three and has so much pace and so many attacking options (Gareth Bale, Rafael Van der Vaart, Luka Modric) that I'm convinced they will stop United's impressive run.
And much as the 1972 Dolphins pop the champagne every year when the last undefeated NFL team loses its first game, I'm guessing Wenger's Invincibles will enjoy raising a glass on Sunday to Sir Alex's Vincibles.
David Hirshey has been covering soccer for more than 30 years and has written about the sport for The New York Times, Time, ESPN The Magazine and Deadspin. He is the co-author of "The ESPN World Cup Companion" and played himself (almost convincingly) in the acclaimed soccer documentary "Once in a Lifetime."