Commentary
The Tying Game
Updated:
January 17, 2011, 12:10 PM ET
By
David Hirshey
| Special to ESPN.com
Martin Luther King Jr. isn't the only one who had a dream.
This weekend, I fantasized that Spurs -- a team whose fans are quick to boast the real World's Best Player in Gareth Bale -- would score a bucketload of goals (or at least one) against Manchester United, especially when they had a two-man advantage at one point.
That'll teach me to depend on Tottenham for anything but a few laughs -- like when the camera panned to the stands at White Hart Lane and caught David Beckham snogging with England manager Fabio Capello. Being an expert lip-reader, I believe Becks was saying, "What if I named my next child Fabio? Would that be enough to get me back on the team?"
Although I suppose I should have known better than to back any Spurs outfit over United (it has been 10 years and 23 matches since Tottenham beat United in the league), I thought for sure that the return of King Kenny to Anfield for the first time in 20 years would provide enough of an emotional boost for Liverpool to overcome Everton, its despised Merseyside rival. But I got swept up in the romance of that storyline and forgot that whether it's Kenny Dalglish or Roy Hodgson or Rafa Benitez in charge, it's still the same hot mess on the field. At this point, John Henry could bring in Terry Francona to manage the Reds and I doubt the result would be any different than Sunday's 2-2 derby deadlock.
OK, let's break down the two big ties of the weekend:
Tottenham 0, Manchester United 0
Apparently, United has a new motto: "Win some, draw almost as many." This was the ninth tie in 21 games for Sir Alex Ferguson's "Drawables" and the third scoreless stalemate for a team that prides itself on its swashbuckling, free-flowing soccer. Not that they will care when they're hoisting their 19th league championship trophy, which right now they have to be considered favorites to do. United may be tied with Man City for first, but it has two games in hand that no doubt will translate to ... two more points.
United certainly showed a champion's backbone on Sunday, when a poor refereeing decision saw the petulant but excellent Rafael da Silva sent off on a second yellow card in the 73rd minute. The young Brazilian wingback, an evolving package of ruggedness and flair, had done what few others had managed -- he made Bale appear human. Although he showed flashes of his terrifying speed, the World's Best One-Footed Player -- Lionel Messi must consider himself fortunate to have won the Ballon D'Or over the left-footed Welsh wizard -- suffered through a frustrating afternoon, thanks to Silva's ability to match him stride-for-stride and prevent him from delivering his normally killer crosses. But when Rafael was told to leave the party early, I was filled with hope that my brave prognostication of Spurs smudging United's unbeaten record would come true.
There was still plenty of time for the electrifying Luka Modric to weave his magic and find a chink in United's Vidician Wall. Once again, Nemanja Vidic was so intimidating in the center of United's defense that every time he would break up a Spurs attack with a bone-rattling tackle or a powerful header, or by simply grabbing a handful of Rafael Van der Vaart's shirt, United's fans would chorus:
Nemanja, whoa
Nemanja, whoa
He comes from Serbia
He'll f------ murder ya
Where would United be without the commanding partnership of Vidic and Rio Ferdinand? Certainly not undefeated. But with its side down to 10 men, even Vidic and Ferdinand needed help, and Wayne Rooney was more than happy to provide it. Still struggling to find his once-fearsome form in the attacking third of the field -- he had three strong strikes on target but is still seeking his second goal in open play this season -- Rooney typified United's resolve and resilience as he raced back to defend on his own end line. How nice that Sir Alex now has a promising new right back in Rooney, although he undoubtedly would prefer Wazza to spearhead his attack, which was strangely subdued with Dimitar Berbatov and Nani contributing little and being replaced in the second half.
Fortunately for United, Spurs had no cutting edge up front, either, and Van der Vaart (save for one ferocious drive near the end that almost found the upper-left corner) was a nonfactor. Still, the blood drained from Sir Alex's puce-colored face in the 89th minute when Vidic hobbled off, reducing United to nine men. But the bellicose Serb returned within a minute to head away any illusions Tottenham might have entertained of beating the Reds for the first time since 2001.
In the end, I was wrong. I thought that Tottenham would derail United's unbeaten run at 20 games. But I take delight and comfort in the knowledge that Spurs had a chance to declare themselves serious title contenders with a win -- and blew it. The genius that is Harry Redknapp has now won four in 41 against Sir Alex.
[+] Enlarge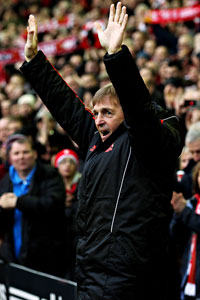 Alex Livesey/Getty ImagesLiverpool fans may have a soft spot for Kenny Dalglish, but moxie doesn't score goals.
Liverpool 2, Everton 2
Imagine for a moment the kind of reception Hodgson would have gotten if in his first three games in charge Liverpool had crashed out in the third round of the FA Cup, lost to Blackpool and blown a second-half lead at home against intra-city rival Everton? Would the Kop have applauded and serenaded the Master of the Face Rub at the end of this Derby stalemate against a team that was missing four starters?
By dint of his long and celebrated career at the club, King Kenny is currently immune to Liverpudlian venom but equally infected by the lackluster results that led to Uncle Roy's demise.
Dalglish certainly has the cult of personality that the Anfield faithful seem to crave, but charisma and adrenaline cannot defend or score goals. Liverpool fans can talk all they want about how the spirit, commitment and style of play has been elevated since King Kenny's homecoming, but what the Reds really need is for John Henry and New England Sports Ventures to fork over $50 million and say, "Now go buy some decent defenders, midfielders and forwards so we never have to watch Christian Poulsen and Sotirios Kyrgiakos play for us again."
But is that likely to happen, given the NESV's reputation for fiscal responsibility and Dalglish's insert-cleat-directly-into-mouth comment before the game that "I've managed players that are worse than this."
Ironically, Dalglish's counterpart on the Everton sideline, David Moyes, has made a career out of doing more with less. The Toffees' four top attackers and strongest defender were all out -- Steven Pienaar is off to Chelsea or Spurs, Yakubu was loaned to Leicester City, Tim Cahill is at the Asian Games with his Aussie teammates and Phil Jagielka is hurt. And although Liverpool was missing its midfield engine in Steven Gerrard, this was clearly a match available for the taking for the home team.
That feeling only deepened when Fernando Torres tested Tim Howard within 10 seconds and then did a passable impersonation of Messi, jinking his way past three Everton defenders and crashing a shot that only a post kept out. Howard came up big again in the 29th minute with a strong double save on Dirk Kuyt, before Raul Meireles beat the American keeper with an unstoppable blast and set the Kop rocking.
Moyes, a man cast in the fiery mold of his fellow Scot Ferguson, is known for his verbal tirades. And whatever he threw, kicked or said caused his players to grab the game by its scrawny neck before King Kenny could even settle comfortably on his bench. Within a minute of the restart, French defender Sylvin Distin equalized with a superb downward header. Six minutes later, Everton took the lead, with Leon Osman splitting two defenders with a cleverly weighted pass that Jerome Beckford swept into the net.
The Toffees were now ascendant, and their fans were so emboldened that they took to mocking the Alice band-sporting Torres. "He's half a girl, he's half a boy, Torres, Torres," they sang as the Spaniard became increasingly anonymous after a torrid first half.
Fortunately for Liverpool, Howard apparently was influenced by the NFL playoffs as he hurtled into Maxi Rodriquez in the area and gifted the hosts with the tying goal from the spot. Once again, the Kop erupted into paroxysms of joy.
Think of how it will sound when King Kenny finally wins a game.
David Hirshey has been covering soccer for more than 30 years and has written about the sport for The New York Times, Time, ESPN The Magazine and Deadspin. He is the co-author of "The ESPN World Cup Companion" and played himself (almost convincingly) in the acclaimed soccer documentary "Once in a Lifetime."