Commentary
Has Wayne Rooney lost his way?
Updated:
January 21, 2011, 2:35 PM ET
By
David Hirshey
| Special to ESPN.com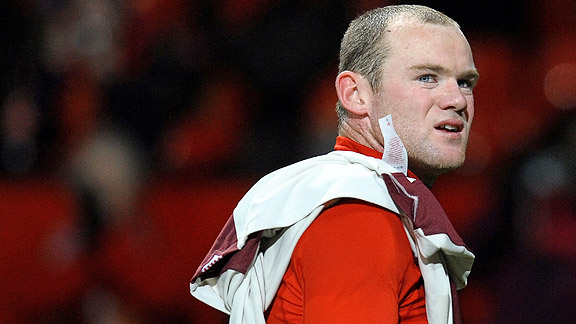 Andrew Yates/AFP/Getty ImagesThe United star is not the fearsome striker he used to be. So let's stop pretending otherwise.
If things don't work out for J. Lo or Steven Tyler on "American Idol," might I suggest that Man City's 20-year-old prodigy Mario Balotelli has already proved himself a worthy judge of talent. Earlier this week, the brash, self-mythologizing striker went all Cromartie on his crosstown counterpart, Wayne Rooney. "He is a very good player but not the best [striker] in Manchester," said Balotelli.
Say what you want about Super Mario -- that he's a preening egomaniac, an overgrown toddler; in other words, a baby Ronaldo -- but he pointed out something that most soccer fans think but, until now, hadn't the audacity to state in polite company: Rooney is no longer Rooney.
And it's time to stop pretending otherwise.
Before United fans start brandishing their pitchforks and torches, they need to ask themselves this question: Is Rooney still the first name on Sir Alex's team sheet or is he more like fourth behind Nemanja Vidic, Rio Ferdinand and Dimitar Berbatov? This is not to suggest that he isn't still a pivotal figure in United's drive toward a 19th championship -- after all, his feverish work ethic and eye for the defense-shredding pass are still formidable assets. I'm just saying that he is no longer money or even food stamps in front of the goal.
Whether he's still hobbled by various foot and ankle injuries, or is simply mentally drained from the psychic assault of his marital problems and his game of contractual chicken with Sir Alex, Rooney is a shadow of the player who scored 26 league goals last season. His is not just a dip in form, it's a Tiger-worthy collapse.
Unlike other positions, strikers are justifiably evaluated by the number of goals they score. Since March 2010, Rooney has tallied a whopping five goals in the EPL, two of which were from the penalty spot. By contrast, in that same time frame, City's Carlos Tevez has 22. Meanwhile, the Bulgarian nicotine patch, Dimitar Berbatov, has 17 for United and Balotelli, who has suited up for City only nine times since he was bought from Inter for $37 million dollars, has knocked in five of his own. In fact, Balotelli's hat trick against Aston Villa was exactly three times Rooney's total output from open play this entire Premiership season.
Remember those blazing, brutal strikes that made defenders look hapless and goalkeepers seem like fire hydrants? Probably not, as you'd have to jump into your DeLorean and head back 10 months to see multiple Rooney goals of that quality. What has happened to the dead-eye shooting boots that made Wazza one of the sport's most feared and clinical finishers and England's great hope for World Cup glory? Did he leave them in that hotel room along with his $300 cigarettes?
And while it's no disgrace for Rooney to trail the resurgent Berbatov in the United scoring column, Sir Alex and his minions must be alarmed to see him lag behind Nani, Park Ji-Sung, Javier Hernandez and Vidic. That's right, Rooney has scored fewer league goals than the big brutish Serbian center-back.
[+] Enlarge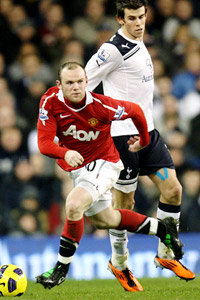 John Peters/Getty ImagesWayne Rooney has just two league goals this season, but he's done better in the assists department, with seven.
So does that make Berbs the best striker in Manchester? Not if you were to ask Balotelli, who will happily tell anyone that TBSIM stares back at him in the mirror. But hubris and delusion aside, there can be little argument that the player who most deserves that distinction is Balotelli's teammate Tevez. And Carlito, unlike Rooney, has treated his own contractual melodrama like just another defender and left it in his slipstream.
On the face of it, comparing Tevez to Rooney this season is like comparing Megan Fox with Michael J. Fox, but in this case they have more in common than their Cro-Magnon looks. Both Tevez and Rooney are peas in the same soccer pod that is lately all the tactical rage in England. I'm speaking, of course, of "the false nine."
The "true nine" is a traditional center-forward like Fernando Torres who lurks in the box, waiting with lupine grace to pounce on the ball and smash it into the net. Conversely, the false nine involves the kind of work rate and unwavering effort that's hard to find and almost unheard of in superstar players. But Tevez and Rooney are in constant motion all over the field, arms and legs pumping with maniacal intensity.
When United's Rafael da Silva was gracelessly removed from the Spurs match last weekend, it was Rooney who seamlessly moved into his right back slot. If you watch Tevez, you'll see a man who shifts from running straight at defenders to tracking 80 yards back to make a tackle in his own penalty area. These are players imbued with such ferocious commitment that they're as likely to be delivering a 30-yard raking cross into the box as they are being in the middle ready to convert them. And while Rooney's strike-rate has yet to return from its Dubai holiday, his seven assists this season have him tied for fifth best in the EPL.
David Hirshey

For more from David Hirshey, check out his columns on all things soccer.
• The All-EPL Team, 2011-12
• Saying goodbye to Chinaglia
• Time to dethrone King Kenny Dalglish?
• In praise of Fulham
• The comeback artists
• Call it a comeback
• Death by Manchester
• The battle for third
• Spurs' title credentials
• EPL's best starting XI
• City handed first EPL loss
• Chelsea pushed to brink
• Fragile egos crossing
• City and United
• Is Newcastle for real?
• The bad-behavior derby
But it is Tevez who now wears the Rooney mantle as the Prem's biggest nightmare to play against. Witness, on Jan. 15, his Maradona-like slalom past three Wolves defenders in the penalty area, a jaw-dropping seven-second piece of genius that prompted the usually taciturn Wolves manager Mick McCarthy to burble to reporters: "I'm not going to blame the defenders, the little fella turns at you, he's got great feet, and it was a brilliant goal."
Which brings us back to the endlessly entertaining Balotelli, whose manager Roberto Mancini now says his young striker was only kidding with his Rooney diss. Joking or not, Balotelli has shown wisdom beyond his years and the onus is now on Master Wayne to prove him wrong by ripping that ugly, snarling goal-drought of a monkey from his back and stomping it to death. Then and only then will he reclaim his reputation as the best striker in Manchester.
David Hirshey has been covering soccer for more than 30 years and has written about the sport for The New York Times, Time, ESPN The Magazine and Deadspin. He is the co-author of "The ESPN World Cup Companion" and played himself (almost convincingly) in the acclaimed soccer documentary "Once in a Lifetime."