Commentary
That's no lady, that's the ref
Updated:
January 24, 2011, 2:08 PM ET
By
David Hirshey
| Special to ESPN.com
It was a weekend of relative normalcy in the EPL -- if you consider the following events normal: A female assistant referee at Molineux had to endure sexist taunts from fans (and commentators) and make some tough calls; a West Ham player leapt into the stands to celebrate his 86th minute go-ahead goal, only to be sent off and watch his team get tied at the death; and Roberto Mancini did a passable imitation of Rex Ryan, cursing masterfully in Italian.
And yet, when all was said and done, some burning questions about the title race remained:
Do women know the offside rule?
Yes -- it's sexist announcers who need a refresher course.
In case you missed it, Sky Sports pundits Richard Keys and Andy Gray were caught on microphone before Liverpool's game at Wolves disparaging the female assistant referee, Sian Massey. (See our report here.)
"Somebody better get down there and explain offside to her," Keys said.
Gray responded: "Can you believe that? A female linesman. Women don't know the offside rule."
That kind of creepy talk is right out of the Sepp Blatter playbook -- the FIFA capo once suggested that women's soccer would be more popular if players wore tighter shorts. In Massey's case, she was involved in a tight call in the buildup to Liverpool's first goal and made the correct decision to keep her offside flag down.
For their boorish comments, Keys and Gray have rightly received a broadcasting red card and will not call tonight's Bolton-Chelsea match for Sky.
Zebras come in all stripes, fellas. And one day, a woman will stand in the middle of the field. I'm guessing Keys and Gray won't be in the booth for that one, either.
Would Dimitar Berbatov be scoring all those goals without Wayne Rooney on the field?
Some United fans felt I was too hard on Rooney in my last column, when I suggested that he may have lost his goal-scoring mojo. To those people, I offer Exhibit A: his free header against Birmingham from this close in the 48th minute that he'd bury, with his eyes closed, 99 times out of 100 when he was on form. It might have been a demoralizing miss for a player mired in an epic scoring drought, but perhaps it's true what Sir Alex Ferguson has been saying about his prodigal son -- namely, that Rooney has developed a new-found maturity (except, of course, for calling the referee a f------ wanker last week) as manifested in his current playmaking role.
Rooney now has nine assists, triple the number he managed last season, and his comfort at playing provider means the team doesn't currently need his goals to stay atop the table. With a selfless Wazza leading the line, Sir Alex is perfectly happy to let him orchestrate the attack and wave the baton in front of Berbatov's symphony of hat tricks. More importantly, Rooney seems to have made temporary peace with his impotence around goal, content instead to tee up teammates with cleverly weighted through balls and crosses instead of doing a Steven Gerrard and launching Hail Marys in a desperate attempt to break his duck.
Exhibit B: United's second goal against Birmingham, which, a year ago, Wazza would have tried to claim for himself. Tearing down the middle with two defenders backpedaling, the old Rooney would have brought down the hammer and fired on goal. Instead, he sucked the center-backs toward him and quickly laid the ball off to Berbatov to shimmy inside Roger Johnson and do the rest.
Exhibit C: the third goal, which showed that while Old Trafford's favorite Bulgarian might be guilty of bipolar play -- a hat trick one week, an indifferent performance the next -- when he's in white-hot form he can even slip on the wet grass and still complete a precise pass to Rooney while on his backside. Theirs is developing into the kind of telepathic connection reminiscent of another memorable United duo, Dwight Yorke and Andy Cole, which reached its apotheosis in 1999. Any United fans remember how that season turned out?
[+] Enlarge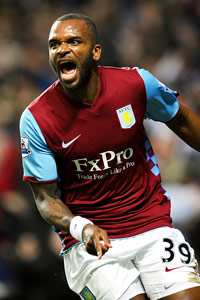 Clive Mason/Getty ImagesOn Saturday, Darren Bent continued his remarkable streak of scoring when he debuts for a new team.
Is he Bent or just broken?
Do you know that feeling when you buy a stock and it goes up 10 percent during the first six hours of trading? Me neither. But unlike us, Randy Lerner, Aston Villa's American owner, was loving his investment 18 minutes into Darren Bent's latest debut (he's had three in five seasons). So why does the feeling persist that he may not be worth anywhere close to the $36 million that Villa paid to lure him over from Sunderland?
It just doesn't make sense. His 83 goals over five and a half EPL seasons put him in the august company of Rooney and Didier Drogba for the most in the league during that span, and in his last season for Sunderland he was smoking defenders like a cheap cigar, scoring 24 in 38 games. Yet his gaudy numbers haven't yielded the kind of respect from fans, the media or coaches you'd expect.
Perhaps it's because in the modern game Bent is something of a relic, sticking to his position high up the field and offering little beyond the killer finish. His has a one-dimensional skill set, and when it's strangely subdued, as it has been this season -- his tap in against City was just his fifth goal since September -- sometimes you have to check your team sheet to make sure he's still on the field. Hands up if you can remember any other notable contribution in the City game after he coolly converted Joe Hart's parry of Ashley Young's shot.
Of course, if he rescues 16th place Villa from the relegation mire, his bloated price tag will look like a bargain, which is why Lerner must have been elated to see Bent continue his remarkable streak of scoring in his club debut. Saturday's goal made Villa the third team in a row to enjoy immediate dividends from signing Bent.
Lerner's reputation for fiscal prudence -- he sold off two of his marquee players, Gareth Barry and James Milner, to balance the books -- has now gone the way of Lehman Brothers. But it still beats the financial and spiritual ignominy of falling out of the Premier League as the cost of the drop could easily soar past $60 million.
Plus, if City would willingly spend $44 million on James Milner, the versatile, do-anything midfielder who's done nothing for the Eastlands side this season, how bad does Bent's price look now?
Can't Gerard Houllier and Steve Bruce just settle their differences in the Octagon?
Was I the only one hoping that when two volatile Welsh managers with a history, Tony Pulis and Mark Hughes, approached each other before the start of Saturday's Stoke City-Fulham clash that one of them would throw a haymaker? Especially given Pulis' refusal to shake Hughes' hand at the end of their last fractious encounter, combined with his accusation that Hughes was behaving like a whiny child.
Sadly, cooler heads prevailed, and they performed a perfunctory handshake before and after Fulham's 2-0 defeat of Stoke at Craven Cottage, which now leaves but one remaining managerial feud: Aston Villa's Gerard "The French Pastry" Houllier versus Sunderland's Steve "Boom Boom" Bruce. And given their recent exchange of pleasantries over the alleged "tapping up" of Bent, this one looks like it has legs.
David Hirshey

For more from David Hirshey, check out his columns on all things soccer.
• The All-EPL Team, 2011-12
• Saying goodbye to Chinaglia
• Time to dethrone King Kenny Dalglish?
• In praise of Fulham
• The comeback artists
• Call it a comeback
• Death by Manchester
• The battle for third
• Spurs' title credentials
• EPL's best starting XI
• City handed first EPL loss
• Chelsea pushed to brink
• Fragile egos crossing
• City and United
• Is Newcastle for real?
• The bad-behavior derby
For his part in the disloyalty contretemps, Bruce possesses a laughably sketchy memory. Having admitted that Bent's departure -- aided, in part, by Houllier's special je ne sais pourquoi -- "left a sour taste" on Tyneside and that he wished the striker could have "shown us a bit of respect," it seems like the perfect time to throw Bruce's past under the microscope. Not only has he had more managerial gigs (seven) than Bent has had clubs (five), but if you remove a six-year run at Birmingham Bruce's average tenure in charge is a little over eight months, including an eight-game run at Wigan in 2001. Bruce's verbal assault on his former player is as flimsy as Lee Cattermole's self-restraint, even if his point about Villa's unseemly wooing has some merit.
Moaning of his "disappointment" that Houllier didn't have the "decency to pick up the phone," Bruce isn't the first, and certainly won't be the last, manager to be hoodwinked during a transfer window only to wake up feeling like a courtesan -- the customer is gone, but there's a bunch of money on the table. Houllier countered that he's merely "an easy target" for Bruce, given that this was Bent's second transfer request in 2010/2011. It certainly does appear that the rapid 36-hour turnaround has as much to do with his not wanting to play for Bruce as it does anything else.
But as the recent Carlos Tevez and Rooney sagas have shown, strikers march to their own egomaniacal beats, and Bruce's hilarious hypocritical journey made it even easier for Bent to change drumkits.
David Hirshey has been covering soccer for more than 30 years and has written about the sport for The New York Times, Time, ESPN The Magazine and Deadspin. He is the co-author of "The ESPN World Cup Companion" and played himself (almost convincingly) in the acclaimed soccer documentary "Once in a Lifetime."