Commentary
Forwards show bright U.S. future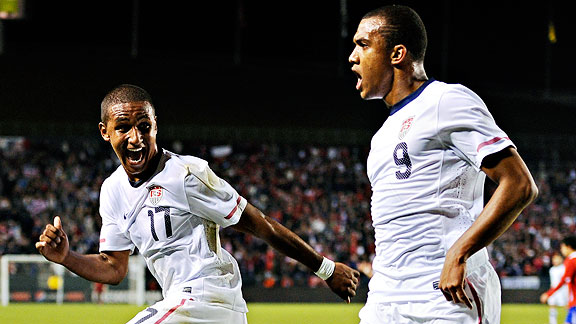 AP Photo/Mark J. TerrillJuan Agudelo and Teal Bunbury grabbed the spotlight in the U.S.' match against Chile.
Saturday night's fetid 1-1 draw between the U.S.'s out-of-season home-based players (minus Landon Donovan) and Chile wasn't terribly informative. What we did learn, though, was reassuring.
As is well-established, of the 15 men who started a game for the U.S. during this past summer's World Cup, only six now are younger than 27. That means only this half-dozen can reasonably be expected to be better in Brazil in 2014 than they were in South Africa. And two of them, forward Robbie Findley and defender Jonathan Bornstein, were stopgap solutions.
We already knew that the future of the U.S. national team program is perilous, with a solid generation winding down and the next one only slowly beginning to take shape. So what exactly did we glean from a bad, if spirited, game against a poor opponent this past weekend?
We learned that while the back line will remain a big question mark heading into the next World Cup cycle, the front line -- a major headache in 2010 -- could well be in good hands. Relatively speaking, that is.
First, let's look at Saturday's back line: From right to left, you had Sean Franklin, 25; Omar Gonzalez, 22; Tim Ream, 23; and Zach Loyd, 23. The men on the flanks are nonsolutions going forward. Franklin found himself in places other than where he was needed so many times that he shouldn't get another look. Loyd isn't a bad player, but he seemed to be playing according to entirely different tactics than the rest of the team.
As for Ream and Gonzalez, the men thought to be the backbone of the squad of the future, the former acquitted himself well and the latter not so much. Ream (who, it should be said, is still untested against a proper international forward) was strong defensively and showed off more of that silken distribution that has people excited about him. Gonzalez, the physical specimen you need to play alongside the less imposing Ream, is mostly solid in the air but still not consistent with his feet, which he'll have to address with great urgency.
Now to the good news: the men up front. Or, to be more exact, the men up front as of the 60th minute.
There is no more inexact science than predicting the future performance of forwards, as anyone who hyped, say, Eddie Johnson can attest. That said, you can't help but be cautiously optimistic about what the U.S. put on show after Sporting Kansas City striker Teal Bunbury, 20, and New York Red Bulls frontman Juan Agudelo, 18, came on for the mispositioned Chris Wondolowski and hapless Brek Shea. A game that had been slowly gliding into Chile's favor, and not just on the scoreboard, turned. The two dropped off, darted, juked and combined their young hearts out, involving teammates who had been isolated and generating a dynamism the side hadn't seen since, well, the last time the two had appeared for the U.S. together against South Africa in November.
In the 75th minute, Agudelo wormed his way into the box and earned a penalty, which Bunbury converted and celebrated with a silly little dance. Later, Agudelo's sharp shot on goal could have been his second game winner in two games. But while the aforementioned feats were encouraging, it was Agudelo's and Bunbury's off-the-ball play and synergy with their teammates that could give rise to a bright future for the U.S.
And this is rather good news, given that highly rated wingers Shea, 20, and Alejandro Bedoya, 23, still haven't done anything to prove they belong. Shea covers a lot of ground and tracks back well, but his understanding of the game is so poor that he appears to lack even the faintest idea of how to use his considerable physical gifts. Bedoya, too, has enough skill for the job -- although his left leg might as well be a wooden peg -- but in seven caps, he has yet to turn in more than a nice run here and there. He's either been incompatible for coach Bob Bradley's system or lacked the temerity to demand the ball.
But we shouldn't let our stomachs churn over these players. They're young; there's time. The performances of Agudelo and Bunbury alone are sufficient to conclude that the next generation is at least on the right track.
Leander Schaerlaeckens is a soccer writer for ESPN.com. He can be reached at leander.espn@gmail.com.
Contributing writer, ESPN.com
Leander Schaerlaeckens is a contributing writer for ESPN.com. He has previously written for The Guardian, The Washington Times and UPI.