Commentary
Ranking the best clubs in the world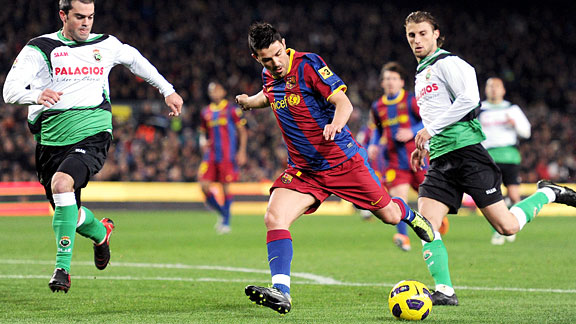 Jasper Juinen/Getty ImagesNo. 1 with a bullet: Barcelona has not lost a league game since Sept. 11 and has a 54-6 goal difference in its current 15-game Primera Division winning streak.
We live in a globalized world. That translates to our beloved game. On any given day, we can watch soccer matches from just about any league in the world.
So ESPN.com has decided the time has come for the game's borderless, intercontinental nature to be reflected in the way we judge the best clubs of the day. Rather than make you pore over the standings in more than a dozen leagues, we've combined the world's foremost clubs into one handy weekly World Power Rankings:
1. Barcelona
18 wins, 1 loss, 1 draw (league); 4-0-2 (Champions League)
Its glorified reserve team lost to second division Real Betis Sevilla 3-1 in the Copa del Rey on Wednesday (Barca still went through to the semis on a 6-3 aggregate), snapping the Blaugranas' 28-game winning streak. But the regulars surprised nobody by sliding past Racing Santander 3-0 at half-speed on Sunday. First-place Barca has not lost a league game since Sept. 11 and has a 54-6 goal difference in its current 15-game Primera Division winning streak.
2. Manchester United
12-0-9 (league); 4-0-2 (Champions League)
In first place and the only remaining undefeated team in the Premier League -- and the only team with fewer than five losses, for that matter -- the Red Devils thumped Birmingham City 5-0 on Saturday after scratching out two draws and two narrow wins in their previous four games. More reason for optimism at Old Trafford: Wayne Rooney started showing some semblance of form at long last.
3. Real Madrid
16-1-3 (league); 5-0-1 (Champions League)
The wheels are slowly coming off at Real Madrid. Coach Jose Mourinho seems to think his lack of cover for injured striker Gonzalo Higuain is the problem, even if his backup, Karim Benzema, scored the winner against Mallorca on Sunday. While Real won 1-0, it was unconvincing. And after dropping two points at Almeria last week, it can ill afford a slump, since it has already conceded a four-point lead to Barcelona. Redeeming factor: Two wins against city rival Atletico to advance to the Copa del Rey semifinals.
4. Borussia Dortmund
15-2-2 (league); 2-1-3 (Europa League)*
Its 1-1 draw with second-to-last Stuttgart on Saturday was uncharacteristic, if perhaps indicative of the Bundesliga's topsy-turvy season. But Dortmund is nevertheless still in a class of its own in Germany, 11 points ahead of second-place Leverkusen.
[+] Enlarge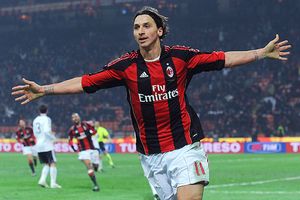 Valerio Pennicino/Getty ImagesZlatan Ibrahimovic helped Milan get its campaign back on track.
5. AC Milan
13-3-5 (league); 2-2-2 (Champions League)
After winning just five points from four games, Milan got its campaign back on track, albeit with a labored 2-0 win over Cesena on Sunday. As usual, it took a sterling performance by Zlatan Ibrahimovic to get it done, especially after the team lost Andrea Pirlo to injury again. But Milan is still at the top of Serie A, with a four-point lead over Napoli.
6. Tottenham Hotspur
10-5-8 (league); 3-1-2 (Champions League)
For the second time in two weeks, Spurs soundly outplayed their opponents with their blur of passes whizzing past an impotent opponent. For the second time in two weeks, Tottenham got just a single point for its trouble. In fact, it took a last-gasp equalizer by Aaron Lennon to accomplish even that in a 1-1 affair against Newcastle on Saturday. Tottenham, in short, deserves better than its fifth-place standing in the EPL.
7. Inter Milan
10-5-5 (league); 3-2-1 (Champions League)
Recent surprise appointment Leonardo finally lost his first game at the helm of Inter when his injury-riddled side was emphatically dismissed 3-1 by Udinese on Sunday. After five straight wins, Inter, without star playmaker Wesley Sneijder, looked much like it had under Rafa Benitez.
8. Shakhtar Donetsk
17-1-1 (league); 5-1-0 (Champions League)
While Shakhtar hasn't played since Dec. 18, courtesy of the three-month Ukrainian winter break, its total dominance of the oft-underestimated Premyer Liga, not to mention a near flawless record in the Champions League, merits a spot among the world's hottest teams.
9. Manchester City
13-5-6 (league); 3-1-2 (Europe League)
The most expensive team ever assembled didn't play like it on Saturday, going down 1-0 in a hapless display against Aston Villa. The loss allowed Arsenal to snatch City's second place away. The Blues can ill afford many more bad days if they want to keep pace with the Red Devils and Gunners.
10. FC Porto
15-0-2 (league); 5-0-1 (Europe League)
The only other undefeated team in a major European league, Porto is on a seven-game winning streak after having beaten Beira-Mar on Saturday with, who else, Hulk scoring the only goal. Now eight points ahead of Benfica and 19 of third-place Sporting Lisbon, Porto will likely claim the Portuguese title for a 25th time.
---
* eliminated from continental competition
Disagree with our rankings? Argue your differences in the Comments section below.
The continental competitions and top-tier leagues from the following countries were included for consideration in the above rankings: Argentina, Australia, Brazil, CONCACAF Champions League, Copa Libertadores, Denmark, England, France, Germany, Italy, Mexico, Norway, Portugal, Russia, Scotland, Spain, Sweden, Turkey, UEFA Champions League, UEFA Europa League, Ukraine, United States.
Leander Schaerlaeckens is a soccer writer for ESPN.com. He can be reached at leander.espn@gmail.com.

Contributing writer, ESPN.com
Leander Schaerlaeckens is a contributing writer for ESPN.com. He has previously written for The Guardian, The Washington Times and UPI.