Commentary
Contrast in styles for Asian Cup final
Updated:
January 27, 2011, 3:49 PM ET
By
Michael Cox
| Special to ESPN.com
On-pitch action at this year's Asian Cup has received little attention. It hasn't helped that the tournament is being played midway through the European football season. Naturally, the major focus has inevitably been on the host country. Qatar's suitability for staging a major football competition has been debated at length since December's decision to play the 2022 World Cup there. This event is a step into the unknown, and the empty stands for many games have been something of a worry.
The standard of the football has been mixed, with a very large difference in quality between the strongest and weakest sides in the competition. For that reason, the group stages were fairly uneventful, but the knockout rounds have been interesting. Relative unknowns such as Qatar and Uzbekistan impressed at times, but the established names have proved to be too strong. South Korea, Japan and Australia have been the best sides, with Japan and Australia contesting in the final on Saturday.
Tactically, the competition has offered relatively little of note. Often, these regional competitions give us a chance to see a different style of football, but the 4-2-3-1 that dominated last year's World Cup has also been the popular system here. The final will be contested by two European managers. Japan is coached by Italian Alberto Zaccheroni, while Germany's Holger Osieck is in charge of Australia. Both were appointed after the World Cup. This is their first real test.
Zaccheroni has been using a 4-2-3-1 formation. This is a surprise, as he's always been a fan of three at the back. Indeed, it's difficult to think of another manager as attached to a system as Zaccheroni is to his 3-4-3. But a closer look reveals that he hasn't completely abandoned it. Japan's fullbacks take turns charging forward; one flies down the flank while the other stays in position. Most frequently, left-back Yuto Nagatomo has made overlapping runs, which has provided natural width and allowed new golden boy Shinji Kagawa to move into the center of the pitch.
[+] Enlarge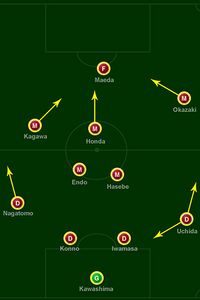 Michael Cox/Zonal Marking(Click to enlarge.) Japan has been using a 4-2-3-1 formation, with left-back Yuto Nagatomo making overlapping runs to give the side some width while Keisuke Honda adds a creative spark in the final third.
Kagawa has been ruled out of the final because of injury, so attention turns to Keisuke Honda to provide a creative spark in the final third. While Honda garnered a lot of attention at the World Cup for his outstanding play, he's had an inconsistent tournament so far. Still, there's an argument to be made that Kagawa's absence will make Honda the clear attacking playmaker.
The real star of the side, however, is captain Makoto Hasebe. He plays in a deep-central midfield role and seems to start almost all of Japan's promising attacks, often by firing low-reverse passes accurately into the feet of the forwards. Qatar coach Bruno Metsu described Japan as "the Barcelona of Asia" last week. That may be taking things a little too far, but Hasebe fits into that mold well. Whereas Kagawa and Honda are the Lionel Messi and David Villa characters who do magical things in the final third, Hasebe is the Xavi of the side, using the ball intelligently from deep positions and keeping the play flowing.
How will Australia counter? Osieck is likely to let Japan have the majority of possession. The Socceroos' 6-0 victory over Uzbekistan in Tuesday's semifinal was a counter-attacking classic. Uzbekistan's defenders had time on the ball, but when they played it into the center of midfield, Australia suddenly sprung to life, getting men around the player with the ball, regaining possession and passing the ball forward.
Australia will have to be slightly more careful in the final because Japan's midfielders have the technical quality to play around anyone who tries to close them down. But it would be a surprise to see a fundamentally different approach by the Aussies. Brett Holman, who spent the Uzbekistan game drifting between a right-sided midfield role and a central playmaking position, will find himself having to be more disciplined to combat the threat of Nagatomo. Tim Cahill might also be expected to close down a midfielder, such as Hasebe.
[+] Enlarge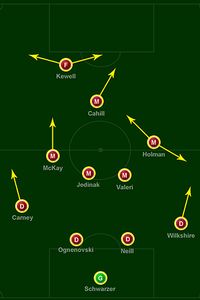 Michael Cox/Zonal Marking(Click to enlarge.) Australia will rely on a counter-attacking style in which Tim Cahill and Harry Kewell will play off each other. In the midfield, Brett Holman will have to cover a lot of ground to help blunt Japan's slick passing.
Cahill is used mainly as a forward, though, in tandem with Harry Kewell, a duo that offers a combination of aerial ability and mobility. Osieck has used them in different roles against different opponents -- sometimes Kewell has played off Cahill, sometimes vice-versa. Against Japan, Osieck might be tempted to go for a strikerless formation (after all, neither Kewell nor Cahill is a pure striker) by using Cahill deeper to connect with the midfield and asking Kewell to work the flanks to exploit that Japan's fullbacks often get forward, leaving the area behind them exposed.
There's a clear contrast in styles, but in terms of ability Australia and Japan are well-matched. With many bookmakers, there is simply no favorite for this final -- the two are priced up at the same odds to lift the trophy. The suspicion is that if both were to play their absolute best football, Japan would be the victor, thanks to its slick passing moves.
But the key to the game might be fitness. In this tournament, we've seen various teams looking exhausted late in matches, and therefore the nature of the semifinals will come into play. Japan had to battle hard for 120 minutes against South Korea, while Australia's game against Uzbekistan was all but over after an hour, allowing the Socceroos to conserve energy for the final.
The match is likely to be interesting rather than exciting, and in keeping with a lot of international finals in recent years, we might see something of a cagey match. The winner will be whichever executes its game plan most effectively, which should make for a good tactical battle.
Michael Cox is a freelance writer for ESPN.com. He also runs zonalmarking.net.