Commentary
The tackle felt 'round the world
Updated:
January 28, 2011, 5:09 PM ET
By
David Hirshey
| Special to ESPN.com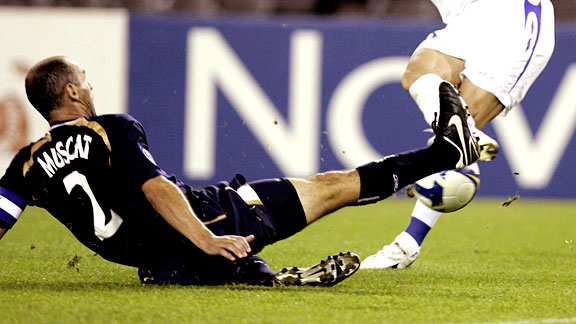 Icon SMIKevin Muscat is no stranger to dirty tackles, as his time in the U.K. -- 95 yellow and 12 red cards -- attests. Now he's wreaking havoc back in Australia.
It's been four years since Arsenal was allowed to enter a Wembley final without paying for a ticket, so the news that the Gunners will play Birmingham City at English soccer's most hallowed ground for the not-particularly-grandiose-but-I'll-take-it-anyway Carling Cup has me toggling between two emotions.
On one hand, I am thrilled. This is, after all, the Gunners' best chance to stick it to those who tediously bleat and tweet about Arsenal failing to win a trophy since Napoleon's march through Europe.
On the other, I feel nauseated, because whenever I think of facing Birmingham City, I see Eduardo's shin bone sitting outside of his leg, rather than firmly nestled within it.
Martin Taylor's attempted amputation of the Croatian striker's limb was one of the most gruesome things I've seen -- and that includes the David Hasselhoff hamburger video. Two years on, the bludgeoning tackle still haunts my dreams like some sort of soccer Zapruder film, the screaming of Eduardo as cleats shattered bone forever seared into my brain.
And then last week, I saw this.
The victim is 20-year-old Melbourne Heart winger Adrian Zahra, who is just the latest name on the viscera-stained blotter of Australia's serial maimer, Kevin Muscat. And A.Z. is luckier than most. He can still walk. Sort of.
Despite the brutality of the assault -- the violent torque of the impact catapulted the Melbourne Heart winger off the ground and turned him into a human pinwheel -- Zahra suffered only a partial ligament tear, damage that, while serious enough to finish his season and send him to the operating room, could have been a lot worse.
For instance, he could have ended up like Charlton Athletic midfielder Matty Holmes, who after being Muscated nearly 13 years ago was left with a hole in his ankle and a $660,000 settlement from England's highest court for his troubles.
[+] Enlarge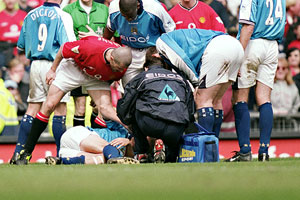 Gary M Prior/Getty ImagesUnited's Roy Keane exacted his revenge on City's Alf-Inge Haaland in 2001. Keane later wrote that his tackle was a deliberate attempt to injure the player.
In all, Muscat earned a total of 95 yellow and 12 red cards during his combined stints at Crystal Palace, Wolverhampton, Rangers and Millwall before taking his bloodied studs to the Melbourne Victory in Australia's A-League, where his foul on Zahra got him sent off for the second consecutive game.
The surprise is not that the 37-year-old goon received an eight-match suspension, but rather that the Australian FA didn't ban him for life. Is there some magic number of fractured ankles, shredded metatarsals, twisted knee ligaments and broken skulls you need to inflict before the sport's guardians administer a lethal injection? Even an unabashed cheerleader for the take-no-prisoners style of English soccer like Andy Gray (remember him?) wouldn't have had the temerity to say Muscat isn't "that kind of player."
Although you could legitimately argue that it is high time soccer weeded out TKOP before the violence of the sport overwhelms its verve, the Muscats and Taylors of the world didn't just spring full-blown. They have some fearsome forebears.
"A lot of people watch the English Premier League because of the tackling and the physical side of the game," Birmingham defender Liam Ridgewell told reporters. "If you ask some of the older players, they would say that the tackling was harder in the olden days."
Consider the not exactly "olden" Roy Keane. The Irish midfielder was as pugnacious a player as he is hapless a manager, and he was an expert at holding and cultivating grudges. In 1997, with United trailing Leeds, Keane attempted to tackle the Whites' defender Alf-Inge Haaland but ended up hurting his own ACL. When Haaland subsequently accused Keane of playacting to avoid punishment, he all but signed his own death warrant.
Four years later, Keano exacted his revenge, going in studs-up on Haaland's knee and ensuring that the Norwegian would never play again. Keane, never one to let a controversy slip quietly into the night, wrote in his autobiography that his tackle was a deliberate attempt to injure Haaland after the defender's foolish taunt and was rewarded with an eight-match ban for "bringing the game into disrepute."
David Hirshey

For more from David Hirshey, check out his columns on all things soccer.
• The All-EPL Team, 2011-12
• Saying goodbye to Chinaglia
• Time to dethrone King Kenny Dalglish?
• In praise of Fulham
• The comeback artists
• Call it a comeback
• Death by Manchester
• The battle for third
• Spurs' title credentials
• EPL's best starting XI
• City handed first EPL loss
• Chelsea pushed to brink
• Fragile egos crossing
• City and United
• Is Newcastle for real?
• The bad-behavior derby
Fast-forward to today's prized EPL hard men, players such as Wolves' Karl Henry, Newcastle's Joey Barton, Sunderland's Lee Cattermole and Man City's Nigel "Kung-Fu Fighting" de Jong, who tackle with bite and venom -- sometimes even legally. These send-a-message challenges are known as "reducers" because, when executed properly, they tend to diminish the opponents' appetite for the fight. The problem is, more often than not, they simply reduce the number of players on the field.
"The pace in which some players go into tackles now is ridiculous," Fulham's Danny Murphy has told the press. "There are no brains involved in the players who are doing that. If you are going at someone at a certain pace and you don't get it right, you are going to hurt them. Players should be culpable for that, in terms of punishment."
And if, like Kevin Muscat, for 20 years you've been making tackles that should be cited for human rights violations, the punishment should have some lasting impact as well.
As in three limb-mangling strikes and you're out.
David Hirshey has been covering soccer for more than 30 years and has written about the sport for The New York Times, Time, ESPN The Magazine and Deadspin. He is the co-author of "The ESPN World Cup Companion" and played himself (almost convincingly) in the acclaimed soccer documentary "Once in a Lifetime."