Commentary
The World Power Rankings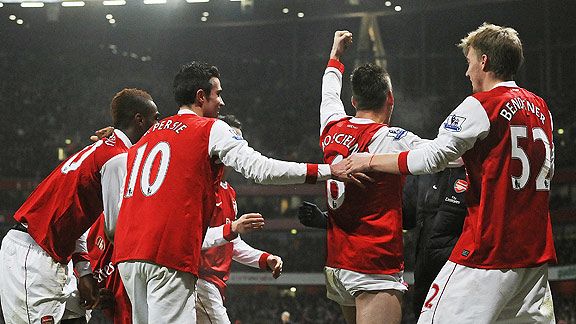 Carl De Souza/AFP/Getty ImagesGood times for the Gunners: They're still alive in four competitions.
In the tumultuous second week of ESPN.com's World Power Rankings, all but three teams shifted spots, as some clubs were derailed by domestic cup competitions and others wouldn't be denied in their march into the top 10. And one is simply in an all-out crisis.
1. (Last week: 1) Barcelona
19 wins, 1 loss, 1 draw (league); 4-0-2 (Champions League)
Another week, another eight goals for Barcelona. Last Wednesday, it didn't take much to beat Almeria 5-0 in the first leg of the Copa del Rey semifinals. On Saturday, Barca didn't run away from Hercules until late for a 3-0 win, but never looked in danger of losing either. Although there are 17 games left to play in the league, the Blaugranas are now seven points clear of Real Madrid, making a third consecutive La Liga title more than likely.
Oh, and in its leisurely stroll to one record after another, Barca added two more. The Almeria game took its all-competitions goal tally for the season to 102 (since raised to 105). That's the fastest the team has ever reached triple digits. Its club record of 158 goals was set in 2008-2009, head coach Pep Guardiola's first season. Also of note: Barca won its 15th consecutive league game, tying a record set by Real Madrid in 1960-1961.
2. (2) Manchester United
15-0-9 (league); 4-0-2 (Champions League)
United's 27-game league unbeaten streak looked dead and buried when it went behind 2-0 against Blackpool last Tuesday, with its game out of sync and its tiny opponent looking much the better side. But a furious, not to mention well-deserved, comeback through two goals by Dimitar Berbatov and one by Javier Hernandez kept the streak alive and opened a five-point gap with Arsenal. In the fourth round of the FA Cup against third-tier Southampton on Saturday, United scratched out another comeback win, emerging with a 2-1 victory, thanks to another Chicharito goal, as well as one by Michael "Is he still alive?" Owen. This was followed by an uncomplicated 3-1 win over Aston Villa on Tuesday on the back of a brace by the resurgent Wayne Rooney.
3. (5) AC Milan
14-3-6 (league); 2-2-2 (Champions League)
It took a lot of effort, but Milan won two more matches this week, riding two Pato goals past Sampdoria in a 2-1 Coppa Italia quarterfinals win last Wednesday, and then getting contributions from Robinho and Zlatan Ibrahimovic against Catania on Saturday. This, however, Milan followed up with a highly frustrating 0-0 draw with Lazio on Tuesday, in which Milan should have scored at least three times and in one case, when an already-cheering Zlatan hit both posts on a single shot, even thought it had got at least one tally. Nonetheless, the Rossoneri have solidified their chances for their first Serie A title since 2004.
4. (4) Borussia Dortmund
16-2-2 (league); 2-1-3 (Europa League)*
Another straightforward win for Dortmund as it discarded the glaringly Edin Dzeko-less Wolfsburg 3-0 on Saturday. Wolfsburg, like so many other German contenders, has struggled mightily, while Dortmund saunters merrily on to the title.
[+] Enlarge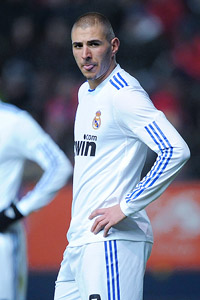 Denis Doyle/Getty ImagesIt's been a frustrating week for Karim Benzema and Real Madrid.
5. (3) Real Madrid
16-2-3 (league); 5-0-1 (Champions League)
The win against Sevilla on a lone Karim Benzema goal in the Copa semifinals last Wednesday was unconvincing. Saturday brought disaster, as the Merengues spilled points for the second time in three league games. Against lowly Osasuna, Real mustered just a handful of chances, none of which Benzema had an answer to. And so Osasuna held pat to win 1-0. Real has scored just four goals in its past five games -- with Emmanuel Adebayor providing no relief on his debut against Osasuna -- and is a gargantuan seven points behind Barcelona in the standings. Alarm bells are ringing in Madrid.
6. (7) Inter Milan
11-5-5 (league); 3-2-1 (Champions League)
It was a pivotal point in Inter's campaign. After losing its first game under Leonardo to Udinese this past weekend, Inter had to bounce back strong to stand a chance at silverware this season. A win against Napoli on penalties in the Coppa on Wednesday was followed by a comeback performance against perennial overachievers Palermo on Sunday. After going down 2-0 (and almost 3-0) at the half, Inter rallied in the second act on two goals by Sampdoria recruit Giampaolo Pazzini, a saved penalty by Julio Cesar and a penalty earned by Pazzini and converted by Samuel Eto'o. Inter's reward: Rather than being out of the race, it climbed to fourth place with a game in hand, which could put it in third place and just six points off the lead.
7. (--) Arsenal
15-5-4 (league); 4-2-0 (Champions League)
Arsenal was wronged by an offside goal against Everton on Tuesday, but willed its way to three points on goals by Andrei Arshavin and Laurent Koscielny. Having already discarded Wigan 3-0 the weekend before last on a Robin van Persie hat trick, cruised past Ipswich 3-0 in the semifinals of the Carling Cup this past Tuesday and gotten a 2-1 result against Huddersfield Town -- albeit on a late penalty -- in the fourth round of the FA Cup on Sunday, the Gunners are on the march in four competitions.
8. (10) FC Porto
16-0-2 (league); 5-0-1 (Europa League)
With yet another unceremonious win, this one against Nacional Madeira this past Wednesday, Porto has not dropped points in the league since November. The only one of its competitors that also played, Sporting Lisbon, won its own game against Maritimo 3-0 on Monday, maintaining the status quo. Porto is undefeated and 11 points ahead, but has played an extra game. Noteworthy: With two more goals against Madeira, bulky Brazilian Porto striker Hulk now has 20 in 15 league appearances.
9. (--) Bayern Munich
10-4-6 (league); 5-1-0 (Champions League)
If only Bayern, just a game from a treble a year ago, hadn't spilled so many points throughout its campaign, its current run might have put the team into the thick of things in the Bundesliga. Instead, it is 14 points off the top. With a 4-0 DFB-Pokal quarterfinals win over Alemania Aachen this past Wednesday and a somewhat fortuitous 3-1 win over Werder Bremen on Saturday in the league, Bayern has run its streak to eight games without a loss (and only one draw), in which it outscored its opponents 30-9.
10. (--) Napoli
13-5-4 (league); 1-1-4 (Europa League)
Glory days have returned to Napoli, 20 years after Diego Maradona's departure. Behind playmaker Marek Hamsik and striker Edinson Cavani's strong play, Napoli sits in second place in the Serie A, four points off the lead. It bolstered its position on Sunday by recording the biggest win of the Italian weekend by battering the Antonio Cassano- and Pazzini-less Sampdoria on the back of Cavani's fourth hat trick of the season. That made it three league wins in four games for Napoli.
---
* eliminated from continental competition Disagree with our rankings? Argue your differences in the Comments section below. The continental competitions and top-tier leagues from the following countries were included for consideration in the above rankings: Argentina, Australia, Brazil, CONCACAF Champions League, Copa Libertadores, Denmark, England, France, Germany, Italy, Mexico, Norway, Portugal, Russia, Scotland, Spain, Sweden, Turkey, UEFA Champions League, UEFA Europa League, Ukraine, United States.
Leander Schaerlaeckens is a soccer writer for ESPN.com. He can be reached at leander.espn@gmail.com.

Contributing writer, ESPN.com
Leander Schaerlaeckens is a contributing writer for ESPN.com. He has previously written for The Guardian, The Washington Times and UPI.