Andy Najar still undecided on country
Andy Najar, D.C. United's much-heralded 2010 MLS Rookie of the Year, has yet to decide between representing his native Honduras and the United States at the international level, contrary to reports.
Several reports surfaced out of Honduras Wednesday that Najar had picked Honduras when, in fact, he had merely said in a radio interview that it would be an honor to wear the Honduran jersey, should he hypothetically choose to play for Los Catrachos. He then said the same about playing in the U.S. uniform.
[+] Enlarge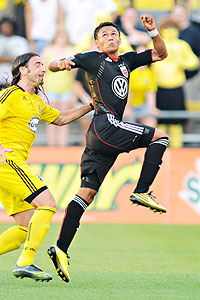 Jamie Sabau/Getty ImagesAndy Najar has yet to commit his international future, despite conflicting reports out of Honduras.
According to Najar's agent, Chris Megaloudis, his words were taken out of context. "The words were twisted slightly," he said. "He never came out and said, 'I'm going to play for Honduras.' "
"What came out yesterday was portrayed inaccurately," Megaloudis said. "Andy said, based on the country he would play for, that he would give his everything and sweat for everything that shirt represents. They seemed to take that as him saying he'd play for Honduras. But there's still been no contact with the Honduran or the U.S. federation."
Najar is, however, closer to making a decision. He is expected to announce his choice in the coming months.
"We've had some time to think what he's going to do internationally and like we've said all along, he's going to take care of some things on a personal level like school and reworking his contract, getting his family's living arrangements in order, etc.," said Megaloudis. "A lot of those things are done. As soon as he has his high school equivalency diploma, Andy wants to make a decision. But he's smart enough to know not to go ahead and commit himself to anything without first hearing what everybody has to say."
This is not the first time that the Honduran media has falsely reported that Najar will represent Los Catrachos. "If we took every report out of Honduras to heart, Andy would have played for Honduras ten times already," said Megaloudis. "They have been pretty inaccurate in the things he said."
Honduras has been keen to secure Najar's international services and has tried calling him up several times, which Najar has so far resisted. Playing in a single official senior game for Honduras would bar Najar from playing for the U.S. for the rest of his career.
The 17-year old attacking midfielder was born in Honduras but migrated to the Washington, D.C.-area when he was 13. Najar isn't eligible to play for the U.S. for what is thought to be another few years, given that he hasn't had his green card long enough to apply for citizenship.
ESPN's Jeff Carlisle contributed to this report.
Contributing writer, ESPN.com
Leander Schaerlaeckens is a contributing writer for ESPN.com. He has previously written for The Guardian, The Washington Times and UPI.