Commentary
It's payback time
Updated:
February 4, 2011, 12:55 PM ET
By
David Hirshey
| Special to ESPN.com
While the rest of the uncivilized world will be tuning in to the 96 hours of Super Bowl pregame coverage on Sunday, I will be welded to my bar stool watching the Stupid Money Bowl featuring filthy rich Chelsea and those extravagant romantics from Liverpool.
The fiscal insanity of the Fernando Torres and Andy Carroll deals aside, both of these clubs are desperate to make a statement this weekend -- one other than, "Please tell me we didn't just blow more than $150 million combined in the January transfer market."
[+] Enlarge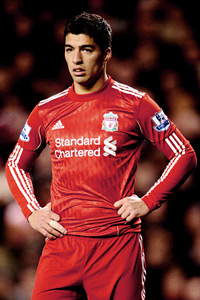 Michael Regan/Getty ImagesLuis Suarez scored in his debut for Liverpool on Wednesday.
And through sheer dumb luck -- English soccer's greatest currency (see: 1966) -- the EPL schedule-makers chose the first weekend after the window to showcase the league's biggest January spenders and their new expensive toys. Or three of them, anyway, since Carroll is still nursing a thigh injury and will be viewing the festivities from the stands.
In addition to not having their $55 million striker available, the Reds aren't exactly overjoyed at the prospect of facing the El Nino-led Blues, if we're to believe reports in the English papers that Liverpool attempted to keep its greatest star in a decade from lining up against it at the Bridge.
And how pathetic is that? Don't the Reds know that kind of craven gambit only applies to loan deals? Where are the stones, the braggadocio about how Liverpool's new $92 million strike partnership of Carroll and Luis Suarez would add bite (sorry) to the attack and wipe Judas Torres from the hard drive of the Anfield faithful?
I guess Suarez's debut goal against Stoke simply wasn't enough to fuel confidence in the understandably fragile psyches in the Kop. Especially now that Chelsea is once again looking like its big, bad, double-winning self, reinforced by a lusty $80 million outlay for a world-class striker and $33 million in pocket change for a Brazilian center back in the form of David Luiz. The Blues' 4-2 demolition of Sunderland this week was a scary exhibition of power and pace with Nicolas Anelka -- who Chelsea tried to offload in the Torres deal and the man most likely to step aside for the Spaniard -- doing a passable imitation of Zinedine Zidane as the midfield maestro.
"We've read things that people don't fear us anymore," John Terry told reporters, "but the message from our dressing room is 'don't fear us at your own peril.'" Terry may be more talk than walk these days as his body, speed and social skills continue to erode at an alarming rate, but as the Chelsea captain, he personifies the renewed combativeness of his side. It's even possible that the speed of Luiz will serve as the aging warrior's Fountain of Youth. It's also possible Andy Gray and Richard Keys will headline at the 2011 Lilith Fair.
Given the apparent weak-kneed Liverpudlian anticipation of Sunday's match, I wonder how the Reds will greet He Who Shall Not Be Named in his blue No. 9 shirt. With warm embraces? With stony silence? With a "you're dead to me" contemptuous glare? And then there's the little matter of what would happen if Torres, scorer of seven against Chelsea (his most versus any club), were to pump one in against his old team. How will he react? The gamut of emotions could run from a cool-as-you-like return to the center circle to a frenzied Adebayor-esque death-wish slide in front of the traveling Liverpool supporters.
This much is certain: All the elements are in place for an explosive encounter. Chelsea's chances of defending its title are looking about as slim as Dasha Zhukova with the Blues 10 points behind a Manchester United side that now has a resurgent Wayne Rooney finding the net again.
[+] Enlarge
(AP Photo/Alexander ZemlianichenkoTrophy life: From Dasha Zhukova to Fernando Torres, Roman Abramovich always adds to his collection.
But this week's display of financial muscle wasn't about Roman Abramovich's desire to collect another EPL trophy to use as an anchor for his mega-yacht. Rather, it was about his relentless quest for soccer's elusive Holy Grail, Champions League bling.
There is enormous pressure on Carlo Ancelotti to integrate Torres into his lineup so the Chelsea juggernaut can finally conquer Europe. A rejuvenated Liverpool figures to be a stern test of the Blues' new Frankenstein front line featuring Torres, Didier Drogba and Anelka or Florent Malouda.
The Reds have their own agenda, of course. New England Sports Ventures didn't shell out mind-boggling amounts of cash merely to add Carroll's ponytail to its Hair Club for Men (president: Sotirios Kyrgiakos). Kenny Dalglish has convinced his players that with a full-bodied, well-conditioned run-in over the next couple of months, they can brush some teams aside and scissor their way into a Europa league spot. Much, however, will depend on how a fit Carroll adjusts to King Kenny's hair-raising style of play. So far at least, the hirsute show pony is saying all the right things.
"I need to do what I have to do to prove the money [Liverpool paid] was worth it," he said at his introductory news conference on Wednesday. "I am here to score goals and create chances for the team."
Only a cynic -- or a disgruntled Newcastle fan -- would divide Carroll's goal haul into 55 million to arrive at his true worth. Ultimately, his success will be measured by his ability to prove to Liverpool fans that there is life after Torres.
David Hirshey

For more from David Hirshey, check out his columns on all things soccer.
• The All-EPL Team, 2011-12
• Saying goodbye to Chinaglia
• Time to dethrone King Kenny Dalglish?
• In praise of Fulham
• The comeback artists
• Call it a comeback
• Death by Manchester
• The battle for third
• Spurs' title credentials
• EPL's best starting XI
• City handed first EPL loss
• Chelsea pushed to brink
• Fragile egos crossing
• City and United
• Is Newcastle for real?
• The bad-behavior derby
The beginnings of that leap of faith were evident on Wednesday night against Stoke. With Dirk Kuyt filling in for Carroll as the main striker -- a position he's not occupied since the Bush administration -- and Steven Gerrard and Raul Meireles wreaking havoc in midfield, the Reds appeared every bit the pass-and-move side of Dalglish's storied playing days. The second goal may have been sloppy -- Suarez scuffed his shot into the net via a deflection in his 30-minute debut -- but the fact the Reds looked menacing in attack and dominated possession was another reminder that they have left behind the muck and mire of the mercifully truncated Roy Hodgson era.
With the selling of its prized asset, Liverpool hopes to make Torres a footnote to the Phoenician rebirth of the club, a reengineering that might even culminate in their 19th league title. But first, they have to get by El Nino and Chelsea.
David Hirshey has been covering soccer for more than 30 years and has written about the sport for The New York Times, Time, ESPN The Magazine and Deadspin. He is the co-author of "The ESPN World Cup Companion" and played himself (almost convincingly) in the acclaimed soccer documentary "Once in a Lifetime."