Commentary
The World Power Rankings
It's hello to Liverpool and goodbye to Bayern Munich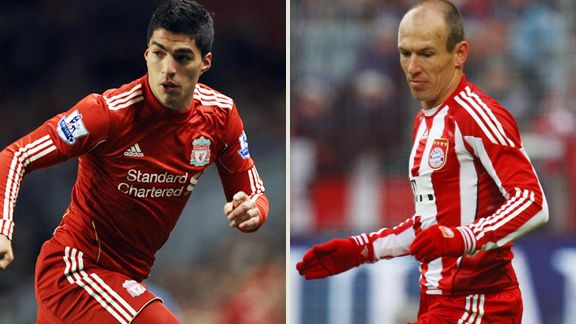 Getty ImagesUnder Kenny Dalglish, Liverpool looks to have well and truly turned the corner, while Bayern Munich has dropped out of the top 10.
In the past week, we've seen it rain goals. No lead was safe. And one undefeated team finally stumbled. As a result, eight teams shifted spots in our World Power Rankings, Bayern Munich dropped out and reborn Liverpool made its debut on the charts, a move which would have seemed unthinkable even just a few weeks ago.
1. (Last week: 1) Barcelona
20 wins, 1 loss, 1 draw (league); 4-0-2 (Champions League)
3-0 win in the Copa del Rey semifinals second leg against Almeria on Wednesday … Zzzzzz … 8-0 aggregate win … Zzzzzz … Another incandescent Messi hat trick against a loaded Atletico Madrid side on Saturday for a 3-0 win … Zzzzzz … Record-setting 16th consecutive league win … Zzzzzz … Barca on pace to end season with plus-100-goal difference … Zzzzzz …
2. (5) Real Madrid
17-2-3 (league); 5-0-1 (Champions League)
Real finalized arrangements to meet Barcelona in the Copa del Rey final on April 20 by beating Sevilla 3-0 on aggregate in the semifinals on Wednesday. To get there, Jose Mourinho's men needed a labored 2-0 win, frustrated by striker-in-name-only Karim Benzema, who missed two colossal chances and a good one. Once he came off in the late going, Mesut Ozil and new signing Emmanuel Adebayor were each freed from Benzema's curse to score. On Sunday, in the league, Kaka and Cristiano Ronaldo each scored their first goals in a while -- a month and four games, respectively. Ronaldo eventually got another, his 24th in the league, before Adebayor netted his second for the club. And, just like that, everything looks fine and dandy again for the Merengues.
3. (2) Manchester United
15-1-9 (league); 4-0-2 (Champions League)
On Wednesday, the soccer world was rocked by the news that Manchester United defender Gary Neville, who everybody thought had retired years ago, would be retiring effective immediately. Neville had played in just 41 league games in the past four seasons. On Saturday, though, United did what it so seldom had in the Neville era: lose. United's unbeaten start to the season was ended by last-place Wolverhampton of all teams, which overcame a lovely early goal by Nani and managed to hold the Red Devils off the rest of the way.
[+] Enlarge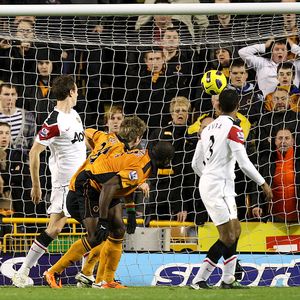 John Peters/Man Utd via Getty ImagesKevin Doyle scored the second goal against United in the 40th minute.
4. (6) Inter Milan
13-5-5 (league); 3-2-1 (Champions League)
While it wasn't the most high-profile eight-goal affair of the weekend, Inter's 5-3 win over Roma on Sunday was yet another antidote to the old notion that Italian soccer doesn't offer any goals -- a view that holds less true as Serie A has suffered from diminishing cash and cachet. The game, which wasn't as close as the score line suggests, came on the back of Inter's 3-0 win over Bari on Thursday in which playmaker Wesley Sneijder, who was instrumental in both wins, made his return from injury. Under Leonardo, Inter has now won eight out of 10 and is just five points off the lead with a game in hand.
5. (4) Borussia Dortmund
16-2-3 (league); 2-1-3 (Europa League)*
Facing archrival Schalke 04, owner of a losing record, on Friday, Dortmund proved fallible after all, failing to get the much-desired win of wins. While Schalke managed to create all of one chance, Dortmund's goal-aimed machine-gun fire was thwarted by outstanding work by Manuel Neuer and his trusted goalposts, the game ending in a 0-0 dud.
6. (3) AC Milan
14-3-7 (league); 2-2-2 (Champions League)
After its endless efforts to score fell short against Lazio in a 0-0 draw this past Tuesday, Genoa didn't look at all outmatched by the Rossoneri on Sunday. Although Pato put Milan ahead, shoddy defending allowed Genoa to equalize. Milan mustered just one other half-crack at goal, with Pato blasting over a shot from the edge of the box. With just two points from six this past week, Milan's lead in Serie A is shrinking fast.
7. (8) FC Porto
17-0-2 (league); 5-0-1 (Europa League)
Another week, another win, another clean sheet for FC Porto. A 1-0 victory over Rio Ave, this time around. The clean sheet was Porto's third in a row, fourth in six games and 13th of the year. Since Sporting Lisbon once again dropped points, tying Naval 3-3, it is now 21 points behind Porto, with a game in hand. As such, only Benfica -- 11 points back on one fewer game -- has a chance to prevent Porto from winning its 25th league title.
8. (7) Arsenal
15-5-5 (league); 4-2-0 (Champions League)
In one of the season's most entertaining games, Arsenal took a 1-0 lead after just 42 seconds away at Newcastle on Saturday. After 2 minutes and 44 seconds it was 2-0. After 10 minutes, 3-0. And after 26 minutes, it was 4-0. Then Abou Diaby got himself sent off for the Gunners shortly after the second half began, and so unraveled Arsene Wenger's side. By the time the final whistle liberated the Gunners, it was, incredibly, 4-4.
[+] Enlarge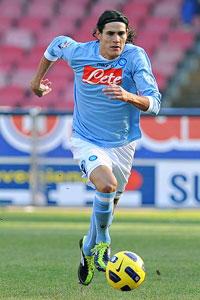 Giuseppe Bellini/Getty ImagesEdinson Cavani got himself another goal, pushing his league-leading tally to 18.
9. (10) Napoli
14-6-4 (league); 1-1-4 (Europa League)
Despite dropping its midweek game to Chievo, 2-0, second-place Napoli closed the gap with leader AC Milan to three points by beating Cesena 2-0 without any major impediments on Sunday, adding emphasis to the argument that this Napoli is for real. It goes without saying (although we'll say it anyway) that Edinson Cavani got himself another goal, pushing his league-leading tally to 18.
10. (--) Liverpool
11-10-5 (league); 2-0-4 (Europa League)
On Wednesday against Stoke, Luis Suarez made his debut and followed up a 47th-minute Raul Meireles thunderbolt with a goal (OK, it probably was an Andy Wilkinson own goal) that trickled over the line for a 2-0 win. In Sunday's highly anticipated affair with Chelsea, which had just poached Liverpool's master poacher Fernando Torres, a mostly uninteresting game saw the Reds take one out of two good chances when Meireles scored yet again (his fourth in five games). Chelsea, it should be noted, had claims with some merit for two penalties but failed to create a real chance from the run of play. Under Kenny Dalglish, Liverpool looks to have well and truly turned the corner, having now won four league games in a row and scrapping its way back up to sixth place in the Prem.
---
* eliminated from continental competition
Disagree with our rankings? Argue your differences in the Comments section below. The continental competitions and top-tier leagues from the following countries were included for consideration in the above rankings: Argentina, Australia, Brazil, CONCACAF Champions League, Copa Libertadores, Denmark, England, France, Germany, Italy, Mexico, Norway, Portugal, Russia, Scotland, Spain, Sweden, Turkey, UEFA Champions League, UEFA Europa League, Ukraine, United States.
Leander Schaerlaeckens is a soccer writer for ESPN.com. He can be reached at leander.espn@gmail.com.

Contributing writer, ESPN.com
Leander Schaerlaeckens is a contributing writer for ESPN.com. He has previously written for The Guardian, The Washington Times and UPI.