Commentary
Saving Juan Agudelo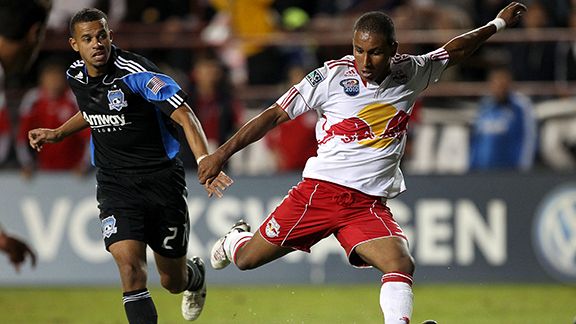 Ezra Shaw/Getty ImagesWill Juan Agudelo become U.S. men's soccer's first true superstar? Or will he flounder like all other Next Big Things?
Don't call Juan Agudelo a rising star.
Don't call him special, a super-prospect, a prodigy, or even worse, the Next Big Thing. Skip the snappy nickname; spare him the YouTube tributes. In fact, forget you've ever even heard the 18-year-old Colombian-American striker's name.
Yes, he was mighty impressive in his first two professional starts for the New York Red Bulls in the MLS playoffs this past October. And, yes, he scored a game-winning goal in his debut for the U.S., becoming the national team's youngest goal scorer ever at 17, and earned a game-equalizing penalty in his second appearance. But just leave him be.
Just this once, let's not treat a promising young player as a vehicle for everything we wish that American soccer could be. Because those vehicles never make it to their intended destinations. They go off the tracks.
If we'd like to see Agudelo arrive on the big stage, we'll have to let him set out in peace. Otherwise, he'll one day be remembered not as America's first true superstar, but as yet another victim of the hype machine.
A bad start
The trouble with making a smashing start to your professional career in the U.S. is that people notice you. And when they do, reason is the first casualty of their excitement. In the weeks after Agudelo's breakout performances, U.S. soccer reporters and bloggers predictably wrote him up in a frenzy: Yahoo! Sports called him "brilliant"; The Wall Street Journal a "precocious star" and a "potential phenom"; AOL Fanhouse a "sensation"; and the SoccerByIves blog a "potential star in the making." Restraint was shown by The New York Times, which merely called him "promising."
Agudelo's playing position doesn't help, either. "Because he's a striker and he's scored a goal and because we have an incredible need to fill that role, because we haven't had a striker score a goal in the past two World Cups, it's compounded," said former U.S. defender and ESPN commentator Alexi Lalas.
[+] Enlarge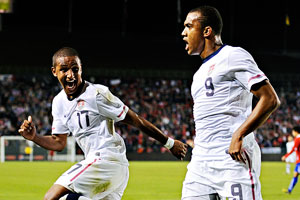 AP Photo/Mark J. TerrillTeammates Agudelo and Teal Bunbury celebrated during the U.S.'s 1-1 tie with Chile in January.
"In the world that we live in these days, there's the tendency to go overboard early," U.S. national team head coach Bob Bradley said. "But there's no guarantee that success at the youth level is going to carry over."
Indeed, the case of Agudelo brings up the bigger issue of player development -- and specifically why the U.S. can't seem to produce a global star.
An attempt at an explanation, Part I
Explaining the lack of a true American soccer superstar, now or at any time in the past, is tricky.
Wales has a superstar (Ryan Giggs). So did Bulgaria (Hristo Stoitchkov), Peru (Teofilo Cubillas), Northern Ireland (George Best) and Trinidad & Tobago (Dwight Yorke). Small countries with pedestrian national team programs all, yet each has succeeded where the U.S. hasn't in developing a player considered among the finest of his generation. So how can it be that the most athletic country in the world, a nation of obsessive star-breeders, fails to produce more than a handful of solid EPL players?
Although the U.S. has had a smattering of young players show exceptional promise, not one has ever delivered fully on his potential. Freddy Adu, Jamar Beasley, Nikolas Besagno, Eddie Johnson and every other young American once tabbed for greatness has flamed out. Plateaued. Left for Europe too early. Picked the wrong club and atrophied on the bench. Even Landon Donovan and Tim Howard haven't blossomed as much as expected. Donovan has played all of two high-quality months in Europe, and Howard was supposed to be Manchester United's starting goalkeeper for a decade, rather than a year. Clint Dempsey has become the sometimes savior of a middling EPL side, Fulham, but he won't be confused for an all-time great.
Our failure to raise a truly transcendent player is mostly a consequence of our Next Big Things never graduating to just plain Big Thing. But why?
The myth that U.S. soccer gets only the residue of the truly gifted young American athletes who typically go into basketball, football or baseball has already been debunked by ESPN.com's Patrick Hruby. And the answer doesn't lie in the spectacular dropout rates of youth soccer players either. Because although soccer in the U.S. remains a rite of passage of youth, not unlike sleepovers and trick-or-treating, the truly gifted are highly unlikely to quit.
So what makes our best and brightest young players stall? Let's start by looking in the mirror.
Like overbearing stage parents living out their hopes and dreams through their children, the American soccer scene has a habit of projecting. We called Adu a "prodigy" and "the new Pele"; we made him the No. 1 pick in the MLS draft. He was 14 years old. Indeed, we have a self-defeating habit of overrating our prospects, seeing more than is really there, wanting so badly to matter in world soccer that we try to elevate our players' abilities through sheer willpower.
But, wondered Dr. Eddie O'Connor, a sports psychologist who often works with young athletes, "How exactly is that going to help somebody play better? If you're getting to a high level where you're being brought up in the media and every soccer fan in the United States is now counting on you, it's human nature to want to please, but it can also be a powerful distractor."
In the psyche of an inexperienced younger athlete, Dr. O'Connor said, that distraction is much harder to block out, often proving detrimental to his game. "It's a natural psychological process for your own protection that your mind searches out things to worry about and what could go wrong. But worrying about how things will be perceived can pull away your focus from the game and from doing what you're trained to do." This leads to worrying about the game's outcome rather than the game itself. That, in turn, leads to an inferior performance, which is followed by scrutiny, more pressure and an even bigger distraction, potentially setting the Next Big Thing on a path to becoming the Next Big Flop.
[+] Enlarge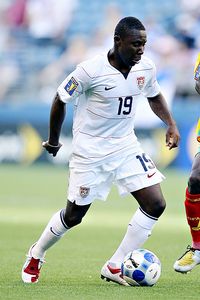 Otto Greule Jr/Getty ImagesFreddy Adu was supposed to be the Next Big Thing.
"It was kind of a whirlwind," recalled Chris Albright, an overhyped forward coming out of the University of Virginia in 1999 and now Agudelo's teammate on the Red Bulls. "You feel those expectations in the game. As a young kid, when you haven't had that experience, you're questioning yourself if success doesn't come right away after you have that hype. That's tough to deal with as a young kid. I think, in my case, I wasn't ready for it and wasn't ready for the level of expectations."
A prospect to protect
When Agudelo scored that goal against South Africa, Red Bulls manager Hans Backe knew change was afoot. "I said to our general manager [Erik Soler] that now we have to be aware that things are going to be crazy," said the charismatic Swedish head coach. "I said, 'We have to sit down with Juan and talk to him about how it's going to be.'"
The two have since struck up a regular dialogue. "I try almost every day to make him aware of the situation and [tell him] to be strong, to turn things down," said Backe. Mostly, that means fending off agents. "He just has to turn down every agent who has promises of Europe," Backe said. "I tell him not to listen too much to the agents who tell you to dream and promise you big things in the future because you're so young and you have so, so many things to learn. I also talk to him a lot about what he needs to improve [on] because it's too early to lose focus on the game and his training sessions because everything is floating around in his head probably."
According to Soler, several Spanish clubs made the Red Bulls an offer for Agudelo after he toured Spain with other young MLS standouts in December. But the agent machinery was already in motion. "As soon as you're in the first national team, there are agents from all over the world on whose lists your name pops up and who have a club for you," Soler said.
That makes perspective paramount. "It's very, very important but it's also very difficult to find the right way to protect a young player," Backe said. "You can never control agents in Europe starting to call him and his mother and suddenly he loses focus. Many of these players move too early to Europe, because of the big money, of course, and then they can't develop."
What you can control is exposure. So Backe set out to minimize Agudelo's. "We told our press guys we have to protect him from the media guys chasing him," he said. Agudelo's availability to the press was curtailed to a few minutes once every week or two after his U.S. debut.
Soler gave clear instructions to the club's and the Red Bull company's marketing staff. "There are requests for a kid like him," he said. "He could be doing commercials. We don't want to do that, we don't think to blow up a young kid and present him as the next world star is the right thing. We keep him away from nearly everything."
So far, so good. "He's done fantastic and he's a great kid," Soler said. "There's nothing you can sense on him that he's now a national team player. He does the same things as last year. He's sensible. He works hard."
"I don't think he's believing the hype," Albright said.
However, Agudelo confessed to the pressure being "just a little tough." He sometimes feels it breathing down his neck. "Before the game I do," he said, "but when I step onto the field I forget about everything else and act like I'm playing with my friends."
His take on it all seems healthy. "All the media, all that stuff," he said, "you just have to get that out of the way and move it to the side and mainly focus on the soccer. I was surprised that everything came at me so fast. It feels good to be unique, but I don't pay attention to the media stuff."
Agudelo is well aware of the legacy of his Next Big Thing predecessors. "I just noticed that with other people that you can't take things for granted at the beginning and have to keep on working hard because things might not go the way people hyped them up to be," he said. "I know that this can happen to anybody and also to me, and it scares me a little bit. But I also know that I'm from a good family and there's no way I'm going to let this happen to me."
An attempt at an explanation, Part II
To turn someone like Agudelo from a prospect into a star is to do battle with the odds. The majority will fail. The trick is to produce enough good prospects for a few to squeeze through. So maybe the reason no American Next Big Things make it is that U.S. soccer doesn't produce enough of them.
There are a few different schools of thought about the most pertinent issue frustrating U.S. youth development. What is clear is that we're not taking full advantage of all the kids who come through the country's youth soccer programs.
U.S. men's national under-20 head coach Thomas Rongen traces the problem to coaching at a young age. "Our youth soccer system doesn't have the Dennis Bergkamps coaching the under-10s like at Ajax [until recently]," he said. "The better coaches are at the higher levels. There's not a lot of coaching at the young ages. I think the coaching is what we don't do well in this country compared to the more sophisticated countries. The best coaches in other countries are coaching kids between 6 and 12, which is the most important stage of the career. When we get them [at the elite U-17 national team academy] in Bradenton when they're 17, it's too late." In the U.S., the nascent academies run by pro teams start only as young as 14, whereas in Europe, a 6-year-old is already exposed to professional-level coaching.
"

Agudelo has played well for the Red Bulls in certain games and he gets in a game for the U.S. and gets a goal and that's just such a small start. You have to really be careful not to set players up to fail.

"

-- Former U.S. captain John Harkes
Another problem is the college system. "I know players lose it a little bit when they go into college," said Eddie Pope, former U.S. defender and director of player relations for the MLS Players Union. "The promising players in other countries are entering into the first or reserve team [of a professional club] by that age. Our players don't get enough playing time in college. I experienced that personally when I was in college and played against Argentina's U-23s and those guys were professionals at that point and they just beat us off the field."
Others point out that the American youth soccer culture is too focused on structure and outcome, rather than process and progress. "Coaches at a younger age group will favor and emphasize the winning more so than the actual development," said former U.S. captain John Harkes, who also has spent time as a youth coach at D.C. United. "The more the kids play in pickup games, that's where you see the creativity, the desire, the passion -- all of those things are variables when you talk about producing a high-quality player. I think sometimes in the structured environments, you get away from that."
Simply put, the U.S. is failing to develop players for the challenges that lie ahead once they leave the country. "They are not prepared to handle top international soccer in most components -- technical, tactical, physical and mental," Rongen said.
This brings us back to our initial problem of prospects succumbing to their own hype. With too few potentially elite talents presenting themselves to the public for inspection, the select few who do materialize are made to shoulder the concentrated expectations.
Case in point is Adu, who was tabbed as the new Pele before he needed to shave. "No one but Freddy Adu can speak better as to how much pressure he probably felt," Pope said of his former teammate. "For an adult that would be a lot of pressure, but for a child, that's a ton of pressure and very difficult to live up to."
ESPN FC on Twitter
Don't miss a moment of the latest soccer coverage from around the world. Follow us on Twitter and stay informed. Join »
Agudelo is now facing similar pressure to perform. "You look at Juan Agudelo," Harkes said. "He has played well for the New York Red Bulls in certain games and he gets in a game for the U.S. and gets a goal and that's just such a small start. You have to really be careful not to set players up to fail and to let them fall too early in their careers."
"We have to learn from the past and recognize that [Agudelo] might be the best thing since sliced bread, but that history has taught us that … one game does not a career or a superstar make," Lalas said.
For his part, all Agudelo can do is block out the cries of infatuation, ignore the calls of his impending greatness. All he can do is try to win a starting job for the Red Bulls, which is by no means assured this season, and try to deliver a slightly better touch each time the ball rolls to him.
And all we can do is hope that the hype doesn't go to his head. Otherwise, he could become yet another cautionary tale.

Contributing writer, ESPN.com
Leander Schaerlaeckens is a contributing writer for ESPN.com. He has previously written for The Guardian, The Washington Times and UPI.