Commentary
In praise of Spurs' two unsung heroes
Updated:
February 16, 2011, 11:09 AM ET
By
Michael Cox
| Special to ESPN.com
"Attacking football is what got us here in the first place," Harry Redknapp told reporters shortly before Tottenham's victory over Milan on Tuesday. "We have had a go all through this competition, so we will have a right go again."
It was only half-true. In the group stage, Spurs were endearing because they seemed hopelessly na´ve -- in the qualifying round away at Young Boys and in their previous trip to the San Siro against Inter, they found themselves 3-0 down after less than half an hour. On the other hand, they were superb in front of the goal, becoming the first side in Champions League history to score at least two goals in each of its six group stage games.
That scoring run was brought to an end last night, but only after a brilliant, disciplined performance that many didn't think Spurs were capable of. They didn't storm forward and leave their back four exposed. Instead, they broke quickly when they had the opportunity to do so, and at other points focused on keeping possession of the ball, something they'd struggled with on their European travels. It was all the more impressive because they were without their best player on the counter-attack, Gareth Bale, and their best passer of the ball, Luka Modric, until he came on as a sub in the 62nd minute.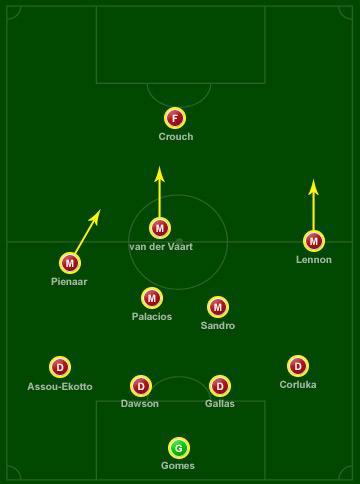 Michael Cox/Zonal MarkingAgainst Milan, Wilson Palacios and Sandro embodied Spurs' display -- solid, disciplined and controlled -- while Aaron Lennon caused all sorts of problems down the right flank.
To say it is a "new" Tottenham would be something of an overreaction. The team played this way before; last season's 2-1 victory at home over Arsenal, for example, was another intelligent display. Knowing that Arsenal likes to play through defenses, Redknapp instructed his defense to play deep and narrow, forcing Arsenal to go around the outside and cross the ball. Tuesday's performance was very similar in many ways, although with Milan playing a narrow 4-3-1-2 formation with nothing close to a winger on show, Redknapp's strategy was even more effective.
It was Aaron Lennon and Peter Crouch who combined for the goal, but it was two of Spurs' unsung heroes who were their standout players. The unfamiliar combination of Wilson Palacios and Sandro in the center of the pitch worked very nicely. They stayed close together and concentrated on making sure Clarence Seedorf, Milan's playmaker, had no time on the ball. With Seedorf acting as the link between midfield and attack, Milan couldn't get the ball forward if it couldn't find him, and when Seedorf departed at halftime, Robinho had the same problem when he moved into that role.
"Palacios and Sandro did a fantastic job," Redknapp said. "Sandro is a lad with no real experience, he's only played a few games for us, and I felt him and Wilson responded to each other, got after them, didn't give them space to play and were excellent for us. Milan didn't play because we didn't let them play."
Palacios and Sandro could turn out to be key players in the rest of Spurs' season. Modric needs a destructive enforcer alongside him, and while Tom Huddlestone is a fan favorite because of his excellent long-range passing, he is much better when Spurs are in control of the game and on the front foot. Increasingly, Spurs play on the counter-attack, and they need someone defensively strong to help soak up pressure. In Huddelstone's continued absence through injury, Palacios and Sandro have a chance to make themselves critical to Tottenham's campaign.
Palacios has been frustrating in a Tottenham shirt. An immensely powerful player, he has been frequently criticized for diving into tackles, going to the ground too soon and picking up bookings that make that style of football unsustainable. Against Milan he was superb, though, and notably much more intelligent in the way he defended. It has been speculated that Palacios' recent problems have been mental, which is entirely understandable considering he's had to deal with the kidnap and subsequent murder of his young brother back in his native Honduras. Throughout that horrible period, he's also been praised for being a great professional and a hard worker, however, and perhaps a good performance in a historic victory for Spurs is exactly what he needed to help him regain his confidence.
Sandro, 21, might be an even better long-term bet. While he hasn't made an instant impression on the Premier League, that seems to be a common theme with Brazilian central midfielders -- Lucas, Ramires, Denilson and Anderson have all had similar problems. But Sandro possesses plenty of talent and while Redknapp points to his inexperience, he has caps for Brazil and won last year's Copa Libertadores, the South American equivalent of the Champions League. In Milan, he showed that he has the temperament for the big occasion and summed up Spurs' display -- solid, disciplined and controlled.
The biggest positive for Spurs is that the second leg against Milan at White Hart Lane on March 9 looks likely to play into their hands. With Milan needing an away goal, Max Allegri's side must come forward and attack Spurs, potentially leaving spaces at the back. We've already seen how Lennon can hurt Milan on the counter-attack, and with Bale -- who should be back to fitness by then -- doing the same thing on the opposite flank, we could be in for yet another great Champions League night from Tottenham.
Michael Cox is a freelance writer for ESPN.com. He also runs zonalmarking.net.