Commentary
Gunners beat Barca at their own game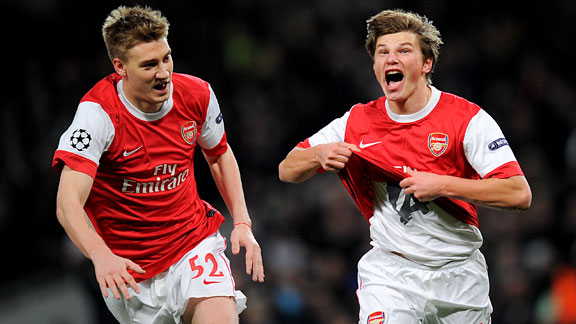 Lluis Gene/AFP/Getty ImagesArsenal defeated Barcelona for the first time with a stunning 2-1 comeback at the Emirates.
In the first leg of the round of 16, a rematch of last year's Champions League quarterfinals, Arsenal took the game to Barcelona once more. But unlike last year, when Arsenal mustered only a 2-2 draw at home and got Messi-ed away, it was able to walk out of London ahead 2-1, thanks to a masterful display of beating the world's best team at its own game.
Here are four observations from the stunning comeback win at the Emirates.
1. Arsenal beat Barca at its own game
Last year in the Champions League, the Gunners tried to beat Barcelona at its own attacking game and failed. That could still happen, as the two teams must meet at Camp Nou in three weeks, with Arsenal up 2-1 on aggregate but with Barca having the key away goal. On Wednesday night, however, Arsenal took the game to Barcelona.
Rather than shrink into its own half and hope for the best like every other club in the world, Arsenal went for it whole hog. It played a high line -- usually a lethal mistake against Barca's prodding through balls -- and did its best to disrupt its opponent with strong blocks. Then Robin van Persie & Co. used their superior athleticism to go on the attack in short, concentrated bursts, taking advantage of their speed through the midfield. Although Messi connected with David Villa in the first half for the opening goal, Arsenal never stopped its frenetic style of play, setting out on its trademark counterattacks often and with venom.
This paid dividends, forcing Barcelona to set up its tippy-tappy game further away from the goal than usual. In the second half, Pep Guardiola's men looked unusually perturbed by Arsenal's approach, even going so far as taking off Villa for an extra midfielder to hold down the fort.
Arsenal's high-quality moments of attack yielded a handful of chances for target man van Persie, who was finally able to take advantage of one in the 78th minute, when a lovely ball by left back Gael Clichy gave him some space on the left side of the box. The in-form Dutchman then ripped his shot through the minuscule angle he had open at Victor Valdes' near post.
About five minutes later, Samir Nasri was off on another furious breakaway for Arsenal, making his way into the box and doing the unselfish thing by taking his time and picking out the onrushing substitute Andrei Arshavin, who coolly placed the ball in the opposite corner.
Which is all to say that there are now two ways of beating Barcelona. Inter shut down the Catalans in the Champions League semifinals last year with rock-solid defense. On Wednesday, the Gunners accomplished the feat with excellent defense but, most noticeably, through their inexhaustible work rate, intensity and attacking speed, particularly on the wings.
2. Jack Wilshere is the real deal
We already knew that Arsenal's 19-year-old midfielder is a huge talent. We knew that he's probably the best prospect the London side has seen since a 16-year-old Cesc Fabregas started getting into first-team games, too. What we learned today is that he's much further along in his development than anybody could have dared hope for. Playing the best team he has ever faced, Wilshere not only held his own but was the best midfielder on the park for his team. He put in several razor-sharp challenges to win balls without needlessly fouling opponents. He made a daring run through the middle in the first half that gave van Persie a good look. He distributed the ball well, over distances both long and short. And he passed his way out of pressure.
Wilshere even got a decent shot off just after the half and played himself into the box beautifully in the 77th minute to win a rare corner. It was, in short, a mature performance from a player whose immaturity would be most forgivable. It's already impossible to imagine him not starting for Arsenal and it should surprise no one if very soon he is counted among the world's best central midfielders.
3. Messi had an off day
Nobody's perfect. Not even Messi, who was out of sorts today, laying bare how vulnerable Barcelona is when he's not at his best. He had a splendid chance to open the score in the 15th, getting Wojciech Szczesny to commit and dive only to miss the goal just wide of the far post -- a chance you would bet your right and left arms on him converting. In the 23rd, he tried to chip Szczesny from the edge of the box once more, only sending it straight into the latter's hands this time. But credit the Gunners, too, because they prevented Messi from cutting in from the right and blasting the ball off his left foot, something you see week in, week out in La Liga. And when Messi finally did get the ball into the net on a scramble and a header, he was rightly called offside on account of Pedro's blocked shot. All in all, a night Messi would probably like to forget.
4. A bad night for wing backs
From the very start of the game, Arsenal right winger Theo Walcott made his intentions very clear -- to go at Barcelona left back Maxwell.
And that made all the difference.
Walcott's dominance over Maxwell created early chances in each half, when he twice arranged promising opportunities for van Persie. On the other side, Nasri and Arshavin did much the same to Dani Alves, a fine back going forward who is overrated defensively. The space that Arsenal was able to exploit behind Alves and Maxwell was Barca's Achilles' heel.
On the other side of the ball, to be fair, Arsenal's guardians of the rear had similar issues. It was Clichy who kept Villa onside on Barca's only goal. And Emmanuel Eboue looked slow and unable to connect with his teammates. Unlike his three counterparts, he was just lucky enough that Barca seldom attacked over the left.
Leander Schaerlaeckens is a soccer writer for ESPN.com. He can be reached at leander.espn@gmail.com.
Contributing writer, ESPN.com
Leander Schaerlaeckens is a contributing writer for ESPN.com. He has previously written for The Guardian, The Washington Times and UPI.