Commentary
World Power Rankings
Making sense of a wild week in football
The return of Europe's premier competition threw some wrinkles into the power dynamics of international soccer, making domestic leagues subservient to the chase for the big cup once more. After half of the first legs of the round of 16 in the Champions League were played, here are the 10 hottest teams in the world.
1. (Last week: 2) Real Madrid
18 wins, 2 losses, 3 draws (league); 5-0-1 (Champions League)
It wasn't pretty, but Real scraped out another win, picking up two points on Barcelona -- the difference between the teams now stands at five in La Liga. Away at Espanyol this past weekend, goalkeeper Iker Casillas got himself sent off for fouling Jose Callejon just outside the box in the first 90 seconds. But that wasn't what made Real's day difficult. It was that other than Marcelo thumping in a goal from the left side of the box, Jose Mourinho's men failed to convert chance after chance. Emmanuel Adebayor, brought in to replace flubmaster Karim Benzema, looked downright Benzemaean, missing three huge chances. Still, a 10-man Real did pick up ground on the league leader.
2. (1) Barcelona
20-1-2 (league); 4-1-2 (Champions League)
It was a sober week for Barcelona. On Saturday, its A-team spilled points for the first time in 17 league games, ending its 16-game winning streak at Sporting Gijon. Gijon took an audacious lead against the rulers of the universe when Gerard Pique uncharacteristically let his man wrestle by him and get all the way to goal to make it 1-0. A through ball from Lionel Messi, finished by a brilliant chip by David Villa, evened the score. The Blaugranas then missed a flurry of chances, including a sitter by Pedro. On Wednesday, they got a taste of their own medicine away at Arsenal in the Champions League. The Gunners matched Barca pass for pass in the middle of the park and turned around a first-half deficit to take a 2-1 lead into the second leg on March 8. Barcelona's defense looked porous, and its tippy-tappy play was fallible for the first time all year.
3. (3) Manchester United
16-1-9 (league); 4-0-2 (Champions League)
United wasn't terribly far from slipping up for the second time in two weeks against rival Manchester City on Saturday. The Red Devils had lost 2-1 to Wolves the weekend before last, their first defeat of the season, and at times they struggled to keep up with City. If it weren't for David Silva's close-range miss in the fourth minute, United would have gone behind, too. Instead, it took a lead on an excellent finish by in-form, if trigger-happy, Nani. City equalized on a flukey goal by Edin Dzeko. That set up the game winner -- and goal of the year: Wayne Rooney's acrobatic bicycle kick. And so United stayed on course for a record 19th title.
[+] Enlarge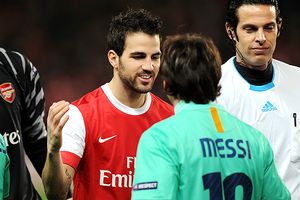 ADRIAN DENNIS/AFP/Getty ImagesCesc Fabregas and Arsenal finally got the better of their stylistic soulmate, Barcelona.
4. (8) Arsenal
16-5-5 (league); 5-2-0 (Champions League)
On Wednesday, Arsenal made the international breakthrough it had sought in recent years, defeating Barcelona 2-1 at home on splendid goals by Robin van Persie and Andrei Arshavin. Theo Walcott led sharp breakaways, and Jack Wilshere played like a soon-to-be superstar. And this past Saturday, Arsenal dispatched giant-killers Wolves in a simple 2-0 win (it could have been 5-0), with van Persie scoring twice -- first on a handsome volley, then putting the finishing touch on a shrewd fast break set up by Cesc Fabregas and Walcott. That made it nine league goals in five games for RvP.
5. (4) Inter Milan
14-6-5 (league); 3-2-1 (Champions League)
On Wednesday, Inter needed all the luck it could carry at Fiorentina, going ahead on an own goal six minutes into the Serie A makeup game, before having to face a barrage of good chances created by purple jerseys. Despite Julio Cesar's best efforts, Manuel Pasqual's cross sailed in for the equalizer. It was Samuel Eto'o's quality that saved the day for Inter, after a strong move on the right allowed Giampaolo Pazzini to score an underserved winner. The Sunday prior, Inter's contest with rival Juventus could have turned out either way. As it happened, new Juve striker Alessandro Matri headed in the first (and only) goal in the 29th on a great cross from Milos Krasic. In the late going, Eto'o was denied the equalizer by Gianluigi Buffon and then, unforgivably, by the cross bar. Inter paid for dropping points, as rivals Milan, Napoli and Lazio all won this past weekend. With the game in hand now made up, Inter (8-2 in the league under Leonardo) is five points off the lead when the gap could have been just two.
6. (7) FC Porto
18-0-2 (league); 5-0-1 (Europa League)
In an unpredictable plot twist -- not! -- Porto breezed past host Braga 2-0 this past Sunday. Argentine defender Nicolas Otamendi scored both goals, giving him four for the season. Because Porto's last remaining rival for the title, Benfica, also won (3-0 at Guimaraes), the league leader is still 11 points ahead with a game in hand. Even more remarkable, with 20 of 30 games played, Porto has a goals for/against ratio of 46-to-7.
7. (5) Borussia Dortmund
16-2-4 (league); 2-1-3 (Europa League)*
So luxurious is Dortmund's league lead in Germany that it could afford to drop points by drawing with its opponent for the third time in four Bundesliga games and still find itself 10 points ahead of Bayer Leverkusen and 13 ahead of Bayern Munich. This time around, it was a 1-1 tie away at Kaiserslautern. Nevertheless, given Bayern's red hot form -- 6-1-1 in the league since Dec. 8 -- if ever the Dortmunders were starting to feel antsy, it's right about now.
8. (9) Napoli
15-6-4 (league); 1-1-4 (Europa League)
In a tight affair at AS Roma, second-place Napoli exchanged good chances with its opponents in the early going but didn't get a winner until the second half, when -- who else? -- Marek Hamsik was brought down in the box by minimal on-the-run contact. Edinson Cavani hit both posts with the penalty before hammering in the rebound. Late in the game, Cavani netted his second goal, his 20th league tally of the year.
[+] Enlarge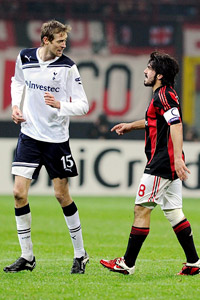 Claudio Villa/Getty ImagesThings got heated at the San Siro, but Spurs held their ground.
9. (--) Tottenham Hotspur
13-5-8 (league); 4-1-2 (Champions League)
As they have all season, Spurs put on a show in the Champions League on Tuesday, soundly outplaying favored Milan, which could only resort to violence in response. Aaron Lennon's tormenting of Luca Antonini, and ultimately setting up Peter Crouch's winner, was a thing of beauty. And even with their spate of injuries -- most notably to key contributors Gareth Bale and Rafael van der Vaart -- Spurs still won Saturday against Sunderland. It took goals from Michael Dawson and Niko Kranjcar to come from behind for the 2-1 victory. Spurs have lost just twice in their past 20 games.
10. (6) AC Milan
15-3-7 (league); 2-3-2 (Champions League)
In a shameless display of gamesmanship and thuggery, Milan, which must surely be the most unlovable club in soccer, tried to contain vastly superior Tottenham in the second half of their Champions League round of 16 first leg in Milan on Tuesday. Spurs exposed Milan's slow defense to make it 1-0, but almost ended up blowing it when Milan almost got a last-ditch equalizer -- if it weren't for Zlatan Ibrahimovic's bicycle kick being rightly called off for his shoving a defender out of the way. All this was a bit of a surprise, considering how dominant the Rossoneri had been against Parma on Saturday, when Zlatan, Clarence Seedorf, Robinho and Antonio Cassano brilliantly cooperated for four unanswered goals.
---
* eliminated from continental competition
Disagree with our rankings? Argue your differences in the Comments section below. The continental competitions and top-tier leagues from the following countries were included for consideration in the above rankings: Argentina, Australia, Brazil, CONCACAF Champions League, Copa Libertadores, Denmark, England, France, Germany, Italy, Mexico, Norway, Portugal, Russia, Scotland, Spain, Sweden, Turkey, UEFA Champions League, UEFA Europa League, Ukraine, United States. Leander Schaerlaeckens is a soccer writer for ESPN.com. He can be reached at leander.espn@gmail.com.
Leander Schaerlaeckens is a soccer writer for ESPN.com. He can be reached at leander.espn@gmail.com.

Contributing writer, ESPN.com
Leander Schaerlaeckens is a contributing writer for ESPN.com. He has previously written for The Guardian, The Washington Times and UPI.