Commentary
MLS 2011 team preview: New York
New York Red Bulls
2010 record and finish: 15-9-6 (first place in Eastern Conference)
Key additions: M, Jan Gunnar Solli; F, Luke Rodgers; F, Corey Hertzog; M, Matt Kassel; D, Sacir Hot; D/M, Teemu Tainio
Key losses: D, Mike Petke; M, Seth Stammler; F, Juan Pablo Angel; F, John Wolyniec; D, Jeremy Hall; M, Luke Sassano; M, Sinisa Ubiparipovic
Key questions facing this team:
1. Can it take the next step?
New York was a favorite heading into the postseason last year, but lost to the San Jose Earthquakes in the Eastern Conference semifinals. And despite winning their conference during the regular season, the Red Bulls didn't look like they were anywhere near their potential. Head coach Hans Backe indicated that more time together as a team and better conditioning would see his side improve in 2011. "We've started the preseason on a much higher level compared to last season," Backe said. "Fitnesswise, every session has been a quality session and that's a key factor to having a successful season." The Red Bulls have also worked on keeping possession and eliminating unforced errors. But can they do all of the aforementioned while also managing to create more chances and spread the offense out with more players?
2. Is the defense up to snuff?
New York's major weakness last season was its defense. Save for super rookie Tim Ream, the back line never quite got into a groove. If New York is to absorb the first-class attacks of Seattle, Los Angeles, Dallas and Colorado this season, it will have to shore up its defense. Backe sees improvements. "I can see our defending shape looks very good early in the season," he said. "After one year with practice almost every week together, they look a lot more comfortable now."
[+] Enlarge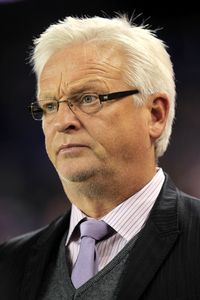 Chris Trotman/Getty Images"We've started the preseason on a much higher level compared to last season," said head coach Hans Backe.
3. Are the kids ready?
It's easy to confuse New York for a team of veterans, based on the presence of Thierry Henry, Rafa Marquez and the likes of Chris Albright, who help make up about half the roster. But below that high-profile surface, the club is loaded with young prospects too. Thirteen players on the roster are 23 or younger. And most are inexperienced. Because while defender Tim Ream might have played every minute of every game in 2010, the much-hyped forward Juan Agudelo still has played only 14 regular-season minutes and in four MLS games overall. Then there are eight rookies and Brazilian midfielder Marcos Paullo, who came over from Atletico Paranaense but has never played in a senior game either. Returning players such as Giorgi Chirgadze and Austin Da Luz have yet to make their senior debuts. Many of them will be called upon this season to compliment the veterans.
Biggest X Factor: Thierry Henry
Given his $5 million-plus annual price tag, Henry gave little bang for New York's buck after coming over from Barcelona in July. A campaign marred by injury yielded just 11 appearances, two goals and three assists. With Juan Pablo Angel, scorer of 58 regular-season goals in four seasons with the Red Bulls, off to the Los Angeles Galaxy, 33-year-old Henry will have to shoulder much more of the offensive load. He should be well within his abilities to accomplish this, even if he's lost a step, but the Red Bulls will be in dire straits if Henry fails to produce the goods.
Breakout player to watch: Juan Agudelo
Agudelo made two solid starts in the 2010 playoffs and impressed in quick flashes with the national team. But in the grand scheme of things, he is unproven. That said, he will have a chance to win more playing time this year. Henry won't play every minute, and the likely second starter up front, Luke Rodgers, is injury prone.
ESPN FC on Twitter
Don't miss a moment of the latest soccer coverage from around the world. Follow us on Twitter and stay informed. Join »
Outlook:
Given the size of New York's payroll, which should be down only slightly from the record-setting $15 million ballpark it was in last year, the star power and the potent supporting cast, anything short of a first MLS title will constitute failure for the Red Bulls. With one of the best coaches in the league at the helm and the most talent ever assembled on a single MLS team, New York has a chance to do something special. But, warned Backe, everybody will have to learn to pick up some of the dirty work, one of the club's structural flaws last season. With superb talent both young and old and a nice blend of veterans and rookies, a dynasty could be born. Or it can be the league's biggest ever disaster by some distance.
Leander Schaerlaeckens is a soccer writer for ESPN.com. He can be reached at leander.espn@gmail.com.
Contributing writer, ESPN.com
Leander Schaerlaeckens is a contributing writer for ESPN.com. He has previously written for The Guardian, The Washington Times and UPI.