Commentary
Thanks for nothing, Becks
Updated:
February 26, 2011, 1:44 AM ET
By
David Hirshey
| Special to ESPN.com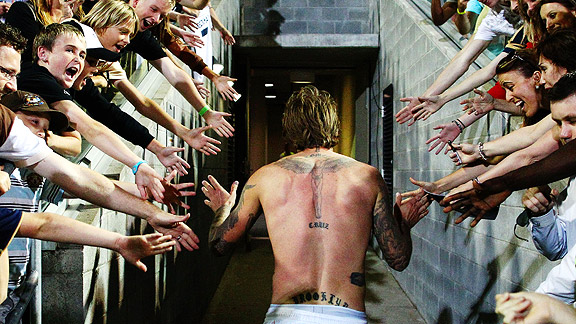 Brendon Thorne/Getty ImagesDavid Beckham still receives this sort of reception in most corners of the world -- just not in L.A.
Great news, everybody: David Beckham is back!
Remember when those words meant something? When the thought of Becks stepping onto an American soccer field made your heart soar because he was going to transform the Los Angeles Galaxy into the second coming of the Cosmos? When it was presumed he would spread the gospel of MLS around the world, just as Pelé did with the NASL back in the day?
Yeah, I remember those 20 minutes too.
But here's what actually has happened in the four years since Becks descended from the soccer heavens, Goldenballs ex machina, onto L.A.'s field of dreams:
1. The Galaxy sold a lot of tickets and jerseys.
2. The gospel that Becks spread was his own.
So, for most people -- at least those not employed by the Galaxy's merchandising department -- the news that Beckham is finally returning from his headline-grabbing, middle-finger-to-MLS sojourn with Spurs is not exactly a reason to pop the Cristal.
It's no secret that Becks would much rather remain in the warm bosom of Harry Redknapp, with whom he has been training since January, after AEG -- the consortium that owns the Galaxy -- wisely blocked his bid for a loan. The fear was that Beckham would injure himself playing for Spurs, as he did so spectacularly last season while on loan at AC Milan.
David Hirshey

For more from David Hirshey, check out his columns on all things soccer.
• The All-EPL Team, 2011-12
• Saying goodbye to Chinaglia
• Time to dethrone King Kenny Dalglish?
• In praise of Fulham
• The comeback artists
• Call it a comeback
• Death by Manchester
• The battle for third
• Spurs' title credentials
• EPL's best starting XI
• City handed first EPL loss
• Chelsea pushed to brink
• Fragile egos crossing
• City and United
• Is Newcastle for real?
• The bad-behavior derby
The Galaxy grudgingly agreed to let Beckham train with Tottenham until Feb. 9, when he was due to report to L.A.'s preseason camp with the rest of his teammates. But the Englishman's handlers coerced the Galaxy into letting him continue his training with Spurs until Feb. 22 because, well … he's David Beckham.
"My main objective was to get fit for the Galaxy and for the MLS season," Becks said in his own defense upon reporting to L.A.'s training camp Thursday. "My main objective wasn't to play for a Premiership team."
Sorry, I don't buy it. Even though, according to the MLS Players Union, AEG is paying him a reported $32 million over five years, Beckham's primary loyalty is to himself -- not the Galaxy, the MLS or even Tom Cruise.
Not that he isn't a charmer.
The two times that I've spoken with Beckham -- I was the American editor on his autobiography -- he couldn't have been more gracious and affable. It's no wonder England chose to trot him out for its (successful) Olympics bid and (failed) World Cup bid. After all, if you're looking to present your best face to the world, who are you going to select, John Terry?
From every account, Becks threw himself into his role of England's soccer ambassador with far greater urgency than any recent tackle, shaking hands and playing footsie with foreign dignitaries who couldn't wait to have their picture taken with him before voting for Russia.
So yes, Beckham is enormously charismatic, generous with his time and adopts very few of the airs that we associate with a pampered superstar. He even played Sir Galahad during his most recent stay abroad, when he rescued a family whose car had broken down on a roundabout near his 17-acre home, Beckingham Palace. So grateful was the driver for Beckham's help pushing his car out of harm's way that, according to the English press, he blurted out, "Thank you, David. I love you, mate!"
If only Beckham displayed this type of leadership and commitment toward his Galaxy teammates and benefactors.
As FIFA's next president, Grant Wahl, revealed in his terrific book "The Beckham Experiment," one night in Los Angeles, Becks didn't even pick up the check at a Galaxy team dinner that included several young players earning less than what he pays for his hair gel. Then this past winter, he scampered over to North London all but begging for a loan to Spurs. Fearing another calamitous injury, AEG set the loan fee and insurance requirements at such exorbitant levels that Goldenballs was reduced to training with Spurs.
Of course, there's still time for Beckham to show his true talent on the American stage and produce one final season of set-piece excellence. But he'll need to stay both fully fit and focused on playing for the team that signs his checks. And what are the odds of that happening, especially with Prince William's wedding coming up in late April?
Becks is wise enough, though, to never make the same mistake twice. So this past week, just before he was dragged kicking and screaming from White Hart Lane, he sprung for a pie-and-mash feast as a farewell gift to his fellow Spurs players. Never mind that Redknapp later explained "the foreign lads were not sure what to make of" the blue-collar British delicacy. It was the thought that counted, and you can bet your Spice Girls CD collection that a fellow Cockney like Redknapp, who confessed to inhaling three meat pies, will remember the gesture when Beckham's Galaxy contract is up in November. "You couldn't meet a nicer fellow, absolutely a top-class person," 'Arry said, tiptoeing right up to the ever-popular "Thank you, David. I love you, mate!" line.
Alas, the BLQ (Beckham Love Quotient) is not quite as high on this side of the pond. In America, Beckham was supposed to be the MLS Moses, the prophet who would rescue the league from the scorn and derision of the rest of the world. But injuries and a wanderlust for pseudo-England appearances (he is so obsessed with his place in the hierarchy of most-capped English players that he has been willing to fly 3,000 miles to make a 15-minute cameo), have conspired to keep Beckham from having the same impact on the field as he has had off it, where he has sold more tickets and jerseys than all other MLS players combined.
As for his contributions actually playing for the Galaxy, the numbers tell the story, and it isn't pretty:
Two MLS games (no goals) in 2007, thanks to a sprained MCL; 25 games (five goals) in 2008-09 despite the never-been-done-but-we'll-make-an-exception-for-Becks "timeshare" deal with Milan; 15 games (two goals) in 2009, and then the shredded Achilles that kept him out of all but the Galaxy's last eight matches. That adds up to 50 games -- or barely 40 percent of the total minutes -- he could have played since joining the club.
Of course, there's still time for Beckham to show his true talent on the American stage and produce one final season of set-piece excellence. But he'll need to stay both fully fit and focused on playing for the team that signs his checks. And what are the odds of that happening, especially with Prince William's wedding coming up in late April?
Surprisingly, the staunchest defender of Becks' most recent disappearing act came from his onetime most-vocal critic, teammate Landon Donovan. In an interview with Soccer America, the Galaxy's leader said, "David is doing what he thinks is right for himself, and none of us should judge that."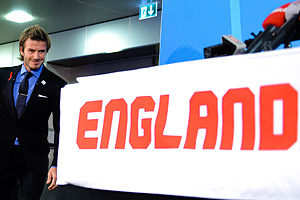 Fabrice Coffrini/AFP/Getty ImagesIf David Beckham had embraced his role as Galaxy midfielder and MLS ambassador with the same care as he did England's Olympic and World Cup bids, his stateside stint might be a happier story.
Sure, but if every player did what he thought was right for himself and felt that he would play better if, say, he went clubbing all night and slept until midday on normal training days, or hiked the Himalayas with his personal Sherpa to strengthen his legs, then there would be no need for preseason camp. Obviously, it's Becks' drum, and Bruce Arena and the rest of the Galaxy gang just march along to it.
"The thing about David that's actually different from a lot of the other older guys is that he genuinely loves to play," Donovan added. "You can see it. He trains like a 20-year-old who's trying to make the team. That's infectious; guys see that and guys like that."
With that kind of circle-the-wagons support, it begs the question as to why the 35-year-old midfielder chose to train away from the warmth and glamour of Southern California? There are two perfectly reasonable answers: Beckham obviously has a low regard for the level of soccer within MLS, so much so that he feels he can only get fit and sharp by cozying up to EPL players (Arsenal last winter and now the other club in North London). And, no doubt, Becks has one eye on what will happen after his Galaxy contract runs out. The more chances he had to impress the Spurs brain trust, the better shot he has of wearing a Tottenham jersey in the middle of the next EPL season.
More importantly, with Redknapp very much in the running to inherit the post-Fabio Capello national team, who knows how far Beckham's latest ingratiating dance might take him?
But for the next nine months -- unless, of course, he gets injured! -- Beckham and the MLS are stuck with each another. You'd think he might want to go out the same way he arrived, on a wave of hype and hope. But the whole thing feels to me like a drive-by, as if Becks is simply making a guest appearance at the Home Depot Center on his way to his EPL revival show. That's hardly fair to either Galaxy fans or the MLS. As far as I'm concerned, Becks can live out the twilight of his once-blinding career in the bleariness of North London.
The pie and mash is on me.
David Hirshey has been covering soccer for more than 30 years and has written about the sport for The New York Times, Time, ESPN The Magazine and Deadspin. He is the co-author of "The ESPN World Cup Companion" and played himself (almost convincingly) in the acclaimed soccer documentary "Once in a Lifetime."