Commentary
MLS 2011 team preview: Toronto
2010 record and finish: 9-13-8 (5th place in Eastern Conference)
Key additions: D/M, Nathan Sturgis; F, Javier Martina; F, Nick Soolsma; M, Elbekay Bouchiba
Key losses: M, Joseph Nane; F, O'Brian White; F, Fuad Ibrahim; F, Mista; F, Chad Barrett; M, Martin Saric; D, Maxim Usanov; D, Nick Garcia
Key questions facing this team:
1. Does Winter understand the league?
New coach Aron Winter, who is Dutch, has a tough job ahead of him. Foreign coaches traditionally do poorly in MLS unless they've spent time in U.S. soccer before joining the league. The only other Dutch coach to parachute in from Europe, Ruud Gullit, failed spectacularly, mostly because of his lack of knowledge of MLS's intricacies. There are success stories: Hans Backe in New York, for one. Can Winter follow in his footsteps? It would mean everything in the revolution Toronto FC is hoping to bring about with his arrival. And early signs suggest Winter knows what he's doing.
2. Is De-Ro on board?
A player angrily mimicking the signing of a check after he scores a goal tends to forebode trouble. So it wasn't surprising that Dwayne De Rosario, who signed an extension only a few years ago that prevented him from becoming a free agent today, popped up as a trialist with Celtic in Scotland without TFC's authorization during the offseason. The move, designed to force Toronto to either give him a raise or sell him to Celtic, came to nothing in the end. But disgruntled employees tend to be less productive, so De-Ro might get his raise after all. "It's a distinct possibility," club director Paul Mariner said. "We've sat down with him and his agent, and had an excellent conversation."
3. Can TFC compete?
The club has made wholesale changes in the front office, bringing in Mariner as a director, Winter, Bob de Klerk as an assistant coach, and former Bayern Munich and Germany coach Juergen Klinsmann as an adviser. It also cut a lot of dead wood out of its squad, intended primarily for Winter to start with a clean-ish slate and to create space under the salary cap previously gobbled up by the likes of Spanish flop Mista. On the flip side, TFC entered training camp in Turkey with just 13 players under contract. Needless to say, there are more holes to fill than there are well-settled positions. So it's doubtful Toronto will be competitive this season.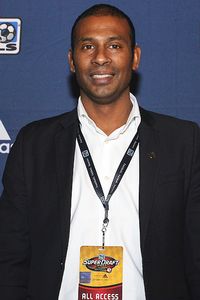 Andy Mead/YCJ/Icon SMIAron Winter hopes to bring Total Football to Toronto FC.
Biggest X factor: The Ajax system
One of the major reasons Winter was brought to Toronto was his intimate knowledge of the famed system employed by Ajax Amsterdam -- a combination of attractive, attacking wing play and an aggressive policy of raising technically skilled youth players who fit into it. "We think with the diverse population we've got in Toronto and Ontario that we can produce the players," Mariner said. But for the players remaining from the previous regime, this also has required a lot of tutoring. "It's not been like a classroom session every day, but there's been a lot of educating on changing the style of play," Mariner said. This isn't an easy system to master, especially if you weren't inculcated in the ways of the Ajax system from an early age. So Winter has brought in two Dutch wingers in Martina, who emerged from the Ajax academy, and Soolsma, straight out of the Dutch amateur leagues, who understand the system. But the growing pains and blowback from the transition could be laid bare for all to see on the field this year.
Breakout players to watch: The academy crop
One of Klinsmann's primary recommendations, which also aligns with the Ajax idea, is to make more use of the club's academy and allow for a smooth integration of its products into the first team. With four academy players in training camp, that commandment is being carried out. So it's possible that one of them will have an Andy Najar-like emergence this year, as the transition season will no doubt leave plenty of opportunities for prospects. The club thinks very highly of fast, physical central defender Doneil Henry, playmaker Oscar Cordon, quick winger Keith Makubuya and hardworking central midfielder Matt Stinson. Any of them could emerge as a significant contributor in 2011.
ESPN FC on Twitter
Don't miss a moment of the latest soccer coverage from around the world. Follow us on Twitter and stay informed. Join »
Outlook:
If Toronto were to compete for a spot in the playoffs this year, it would be accidental more than anything else. And that's OK. Toronto is embarking on a noble quest that will take time. Simultaneously, it is hoping to transition from a team that has always depended on one or two players -- most notably De Rosario -- to one that wins on the backs of academy products. This should bring structure and stability to a club that's yet to live up to its sizable potential. The price probably will be a tumultuous year on the field.
Leander Schaerlaeckens is a soccer writer for ESPN.com. He can be reached at leander.espn@gmail.com.

Contributing writer, ESPN.com
Leander Schaerlaeckens is a contributing writer for ESPN.com. He has previously written for The Guardian, The Washington Times and UPI.