Commentary
Sending out an SOS
Updated:
March 2, 2011, 6:23 PM ET
By
Michael Cox
| Special to ESPN.com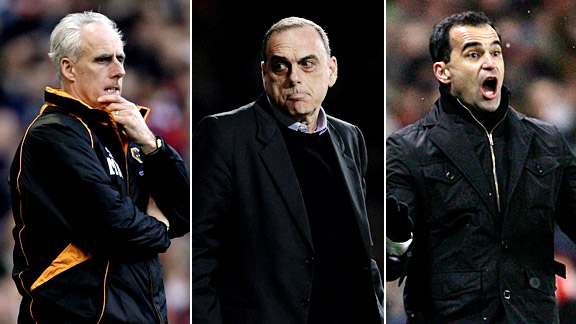 Getty ImagesMick McCarthy's Wolves, Avram Grant's West Ham and Roberto Martinez's Wigan are all in the drop zone. Throw in 17th-place West Brom and the EPL's relegation battle is shaping up to be a killer.
All too often, the Premier League's relegation battle isn't particularly exciting. Sometimes three sides can be cut adrift at the bottom long before the end of the season; other times, the quality of more than three sides is so poor that for a neutral observer, it becomes almost irrelevant which team goes down. We sometimes feel obliged to take an interest, almost out of courtesy rather than genuine curiosity.
Thankfully, this season's scrap at the foot of the table is one of the most exciting in years. Every club seems to be capable of a great performance here and there -- West Brom has beaten Arsenal, Wolves have beaten Manchester United and Chelsea, Wigan has beaten Tottenham, and West Ham has beaten Liverpool. A couple of weeks ago, it would have been easy to put forward an argument that this simply reflects poorly on the sides at the top of the table, implying that there's no standout club this season and that the quality is unremarkable at the top.
However, following Arsenal and Tottenham defeating the current Spanish and Italian league leaders in the first leg of their Champions League clashes, it's clear that the sides at the top of the Premier League are among the best Europe has to offer. The fact that the bottom sides can get results against them reflects well on them, and on the Premier League as a whole.
The points tally of the clubs at the bottom makes for interesting reading, particularly in comparison to the final points total of the three relegated clubs last season: Burnley, Hull and Portsmouth. Their final points tallies (not including Portsmouth's nine-point deduction for going into administration) were 30, 30 and 28. This season's Premier League sees the three bottom clubs at 28, 28 and 27 already -- with ten games to go. The standard of competition is at its highest for almost a decade. West Ham was relegated in 2002-03 with a record points tally of 42, and this may be another rare occasion when a side is relegated despite picking up more than an average of a point per game.
The impressive form at the bottom is also reflected in the lack of managerial changes. Newcastle, Blackburn and Liverpool sacked managers earlier in the season, but those clubs were in midtable. And in the cases of Blackburn and Liverpool, new ownership played a big part in the turnover. Only Roberto di Matteo has gone from a relegation-threatened club this season. Compare that to last year, when all three bottom-dwellers sacked their managers, and 17th-placed West Ham sent its manager packing as soon as the season was over.
ESPN FC on Twitter
Don't miss a moment of the latest soccer coverage from around the world. Follow us on Twitter and stay informed. Join »
West Brom
Ironically, it is the club currently outside the drop zone that appears to be in the most trouble. Carlos Vela's last-minute equalizer at Stoke on Monday night lifted West Brom into 17th place, but its record of one win from the past 12 games is unquestionably relegation form. Since di Matteo has left the club, the team has picked up three consecutive draws. That suggests West Brom is ready for a fight, but as mentioned earlier, a point per game isn't enough. The Baggies must start winning to stay in the top flight.
Having been praised for its attacking football earlier in the campaign, West Brom appointed a famously cautious boss in Roy Hodgson last month. In theory, the two shouldn't go together well, but surprisingly, the Baggies have actually been more attacking under Hodgson, if you look at their number of shots on target. In the three games since sacking Di Matteo, they've recorded 10, 8 and 11 shots on goal. In Di Matteo's 25 games in charge, not once did West Brom record more than 7 shots on target. If Hodgson can keep that record up while tightening things at the back, West Brom might be all right.
Wolves
Wolverhampton Wanderers are a strange side. They've beaten Manchester United, Chelsea and Liverpool this campaign, but haven't yet defeated any of the other "W" clubs at the bottom. Mick McCarthy's team has been strengthened by the loan signing of Jamie O'Hara, however, and its 4-0 weekend win over Blackpool restored confidence at a crucial time in the season. It's tricky to judge how difficult a club's end-of-season fixture list is, especially with Wolves' contradictory record against sides at the top and the bottom, but theirs does look favorable. Of their final ten games, only one is against a current top-four side, and one is against a current bottom four. Playing midtable teams late in the season is often better than playing relegation strugglers, as they don't have as much motivation.
[+] Enlarge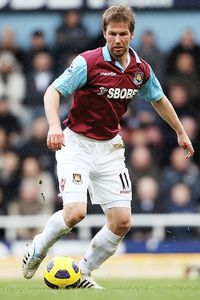 Scott Heavey/Getty ImagesNow that he's fully fit, Thomas Hitzlsperger might be a turning point in the Hammers' campaign.
West Ham
If you look at the past eight matches West Ham has played, it's comfortably midtable, in 11th place. However, the Hammers' disastrous start to the season means they currently sit in the bottom three. Their exciting 3-1 win over Liverpool this past weekend was very promising -- the delayed introduction of Thomas Hitzlsperger might prove to be the turning point in their campaign, as his partnership with Scott Parker in the center of the pitch seems to work very well. That said, the concerns have always been at either end of the pitch, but Demba Ba has scored three times in two starts, while Carlton Cole has four tallies in his past three appearances, suggesting that things might turn out OK up front. West Ham's back line will decide its survival. Confidence has seemed fragile throughout the campaign, but James Tomkins and Matthew Upson won 10 of the 11 challenges they attempted against Liverpool. If they can keep up that record, West Ham should be in the Premier League next season.
Wigan
Amazingly, this is the first time Wigan has found itself at the bottom of the table all season. The Latics seem to have the least quality on display in the division, having scored the fewest goals and won the fewest number of games. But they have generally been able to pick up unspectacular results throughout the campaign. Wigan is on a poor run of form, however, and its problems at the back seem to be increasing, having conceded 15 goals in its past six games. It is arguable that Wigan would be more heavily affected by relegation than any other club, since West Ham, Wolves and West Brom all have the experience of bouncing back up to the Prem after being relegated to the Championship. But Wigan has always been punching above its weight, and might not recover from going down.
The relegation zone is about more than the four Ws, however. Look at the Premier League table and it's difficult to know where to put the cutoff line to signal which clubs are safe and which are not. Fulham, Blackburn, Blackpool and Birmingham are all nervously looking over their shoulders. Those clubs would do well to remember the tale of Italian club Verona in 2001-02. It wasn't in the relegation zone at any point throughout the season, apart from after the final game. One club always gets sucked in late, so we should be in for a tremendous battle come May.
Michael Cox is a freelance writer for ESPN.com. He also runs zonalmarking.net.
Michael Cox
ESPN.com writer